As religious belief loses steam in the western world, people must look elsewhere for ways to flex their moral superiority muscles. After all, without a core belief to espouse, you look rather silly while standing on a soap box. Sure, your primary reasons for occupying the pedestal are to feel good about yourself while simultaneously letting those around you know how awesome you are, but pretext can be important for one's self-image.
An unfortunate side effect of this impulse has been the politicization of the sciences. Rather than treating human knowledge as incomplete and ever evolving, many have chosen to treat scientists as a priestly cast, from which all decisions in life should be primarily informed. Many scientists balk at this role, while others embrace it. The Union of Concerned Scientists wants to know if you've got Science, and they provide a handy quiz in order to be sure. As a fun exercise, I thought we might take this as a group.

As one of the dozen or so human beings on the planet who has wasted a portion of their lives actually reading the IPCC's reports, I actually know the answer to this one.
In many temperate countries, there is clear seasonal variation in mortality (Sakamoto-Momiyama, 1977; Khaw, 1995; Laake and Sverre, 1996); death rates during the winter season are 10-25% higher than those in the summer. Several studies indicate that decreases in winter mortality may be greater than increases in summer mortality under climate change (Langford and Bentham, 1995; Martens, 1997; Guest et al., 1999).
I clearly Science, Bro. Global Warming will likely save lives on the net. Who doesn't like it hot? Let's see our result.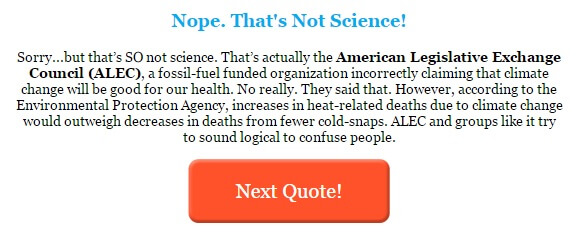 Wait, who's ALEC? I've never even heard of them. I'm quoting the UN panel that studies climate change. They won the Nobel prize along with Al Gore. Don't tell me they are in the pocket of big oil too!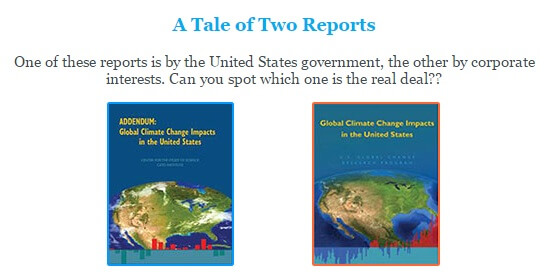 This feels like cheating, but I can clearly see one report features a Michael Mann-style hockey stick increase in temperatures on the cover, while the other shows a murkier picture of temperature fluctuations. Since the government can't justify intrusive policies in our everyday lives without a crisis, I'm going to say the right one is the government report.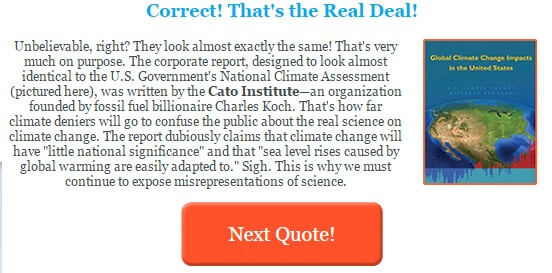 Did they type out the word "sigh?" Do you even English, bro?
The report on the left was created by the Cato institute (Koch! Billionaire! Oil! Heretic!), and has been criticized as trying to confuse the public by masquerading as a government report. The same public that cannot name the vice president of the United States is supposedly aware enough of government environmental reporting to be deceived by the similar appearance and title of the Cato report.
What does Cato have to say in its defense?
The front cover of our report, smack in the middle of the page it says "Center for the Study of Science, Cato Institute." That's deceptive or misleading? The back cover is completely blank except for the prominent Cato Institute logo. There is a letter of introduction (p. 3 in both documents) written and signed by (then) Cato President Edward Crane. And "The Cato Institute" is included in the running header of every left-hand page in the document.
Likely story, Koch heads, but what about your "dubious" sources?
Both reports draw primarily from the peer-reviewed scientific literature. That our report includes a large number of peer-reviewed studies directly relevant to climate change impacts in the United States that were not included in the USGCRP report, and which support a more modest impact, in and of itself speaks volumes. Instead of quibbling over the number of references, the USGCRP co-authors ought to be apologizing profusely for producing such an incomplete and one-sided report on the taxpayers' dime.

Though I fail to see where this Union of Concerned Scientists are going with this question, there is only one answer for any human being with a beating heart in their chest: Please let this be true!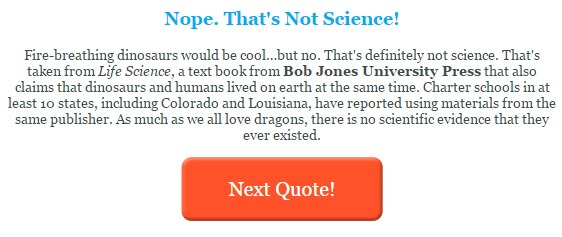 Just so I'm clear, this text book isn't used in any charter schools, but "materials" from the same publisher are? Do any of the materials actually used have anything objectionable in them? I assume if they had, you would have referenced that instead. This criticism appears to be a guilt-by-association fallacy. Do you even logic, bro?

I've seen higher estimates than 30 million acres, so I have little doubt that 30 million is a reasonable number.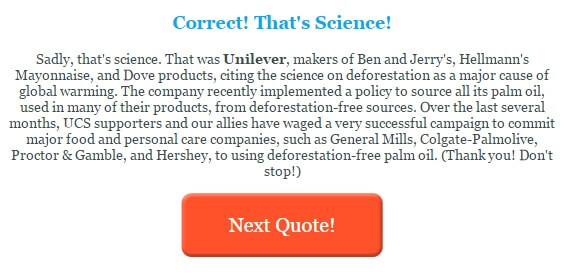 What this union of scientists seem unconcerned with is the human lives affected if we were to stop cutting down trees.
According to the United Nations Framework Convention on Climate Change (UNFCCC) secretariat, the overwhelming direct cause of deforestation is agriculture. Subsistence farming is responsible for 48% of deforestation; commercial agriculture is responsible for 32% of deforestation; logging is responsible for 14% of deforestation and fuel wood removals make up 5% of deforestation.[9]
Monsters. Cutting down trees for food and heat. Why can't you just die, and ensure that temperatures don't increase by minuscule amounts over the span of centuries?

It is fun to tear apart overly generalized comments about an otherwise valid point, isn't it?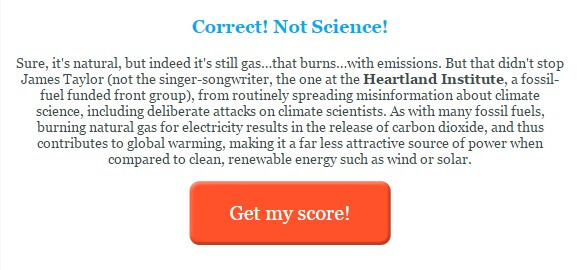 The UCS is technically correct (the best kind of correct) in this answer. Of course natural gas has emissions when burned. What our scientist friends have neglected to mention is that burning natural gas results in about half the carbon emissions of coal. U.S. carbon emissions are down largely because of increased use of natural gas.
But by all means, please allow the perfect to be the enemy of the good.

Good news everyone: You can defend science with bumper sticker slogans. I was afraid it might be something hard like reading the opinions of those who disagree with you and considering their arguments in good faith.