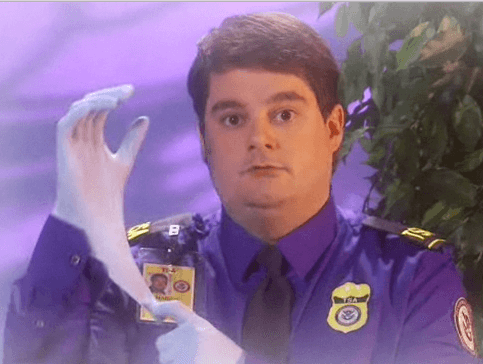 Fourteen years is more than enough time for the so-called services of any government agency to go from "controversial inception" to an "untouchable entitlement." No agency exemplifies this quite like the the Department of Homeland Security and its enforcement minions at the TSA.
Why is this so? Much of it is due to the managed expectations of Americans themselves. Far from being resentful, many Americans seem grateful at the FAA's overturning of its long-overdue ban on such brazenly unpatriotic behavior as reading a Kindle after the plane has left its gate.
No longer is the government the last one in the room to get the joke – that attribute belongs to government's primary constituency: progressives.
Like most Americans old enough to remember what flying was like before the 9/11 attacks, I'm also too old to remember exactly what it was like. I do recall, however, that men wore more ties and fewer tank tops — and definitely less lingerie. But since Washington D.C. has become less a geographic location than a state of mind, everyday experiences — and the bald-faced lies of government officials like James Clapper — have become a clarion call to all air travelers weary of being deemed guilty until proven innocent.
Risk-aversion seems to be a defining feature of the federal government and not just when it comes to public safety. Americans have habituated themselves to risible, not to mention intellectually vacuous, apologies from formerly respected entities such as the U.S. Army, which recently donned a hair shirt for using the unpardonable phrase chink in the armor.
Because concepts like "liberty" are considered more suspect than "peer-reviewed" by the Bush wing of the Republican Party, below are five proposals for reforming the TSA while keeping it it alive for liberals' and government's sake.
1: Screen passengers for weapons.
No weapon, no boarding the plane. The TSA may still satisfy its primal urge to ban guns but it will require all passengers above the age of 18 to carry brass knuckles, small knives, or other pocket-size weaponry (oversize weapons must be checked-in at the gate).
In addition to thwarting terrorists, this would have the added benefit of increasing in-flight civility.
2: Complimentary shoehorns for all passengers.
Until the our federal government acquires the unfathomable technology that allows travelers in Europe to board planes without removing their shoes, TSA agents shall provide all passengers with a complimentary shoehorn.
3: No more "back-of-the-hand pat-downs".
All passengers previously subjected to a "back-of-the-hand" pat-down on "sensitive" parts of their body shall now be entitled to a proper, palm-down pat-down. Hapless cries of "Female assist!" shall be banned in deference to, among other government-approved groups, gay males who, upon request, shall be entitled to a female pat-down (lest they find a male pat-down "too arousing").
4: No more security scanners.
About the best thing you can say for them is that they lend the "Hands up, don't shoot" narrative a patina of truth.
5: Airline peanuts shall no longer require a warning.
Yes, I, too, am aghast that the peanuts served on many airlines are processed in a facility that produces… nuts. While understanding that this is less an issue for the TSA or Homeland security than the gluten-phobes at the National Institutes of Health, it nonetheless nicely dovetails with the anti-American, risk-free approach to life and liberty of our federal government.
Do you have ideas for making your flying experience more safe and less onerous? Leave them in the comment section below.