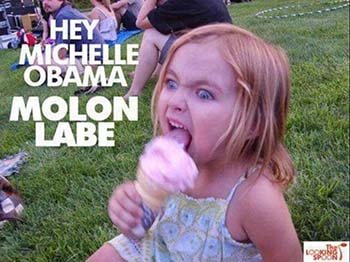 It is well documented that big government is creepy. They're all up in our business from cradle to grave, and they just keep getting more and more intrusive. Our government seems to have a never-ending supply of new and creative ways to violate our privacy. The Free Beacon reported that the U.S.D.A. would like to weigh and measure children in daycare. Seriously.
This data is being collected as part of the First Lady's Healthy Hunger-Free Kids Act, and also will include what meals are served and how much physical activity the kids undertake during their day. A notice in the Federal Register states that "Good nutrition is a key to proper childhood development, but not enough is known about the food children are eating in childcare and related programs." What they mean, of course, is that not enough is known the by government. Perhaps that is because it has nothing to do with running a country.
The data collection would fall into three categories: surveys, forms and interviews. They include menu surveys, and data collection around costs, but the really creepy part is under "Child intake and weight status," which includes the following four bullet points "child food diary (completed by parents), standing height and weight form (collected by study staff), infant food intake form, and parent interview." They want a government representative to weigh and measure your child like a piece of livestock, and then will ask the parents to report every bite that the child eats. To the government.
While it's unreasonable enough that they even want this information, what does it say about how permissive we've become that they are actually taking steps to collect it? These invasions of privacy won't stop until we make them stop. Now seems as good a time as any to start pushing back.