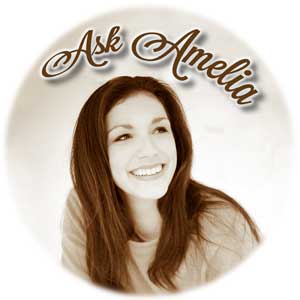 It's Friday and Amelia Hamilton is here to answer your questions on life, love, and sweet tea.
Dear Amelia,
My mother-in-law drives me nuts. What should I do?
Signed,
Every Husband Who Ever Lived
Dear Husband,
You maybe should have signed that "every married person," as I also hear this regularly from the wives. By now everyone should know that when they marry a person, they marry that person's family. Healthy boundaries are important in all relationships, including yours with your mother-in-law and your wife's with her mother.
If you feel that your MIL is overstepping in a way that is crossing a line, talk to your wife about how to solve the issue. If she's just annoying, it's probably not going to change. You'll probably just have to suck it up and get on with life. Don't go rocking the boat, but maybe take up a hobby that gives you an excuse to leave the room when she's around. That basket isn't going to weave itself.
Dear Amelia,

Why do wives continue to make food with ingredients they know good and well their husbands absolutely hate?

Signed,
Hungry Hubby
Dear Hungry,
Perhaps she wants you to eat healthy meals so that she may enjoy your company for years to come. Perhaps she is tired of cooking dinner every day and trying to think of something that will please the entire family, so she just does her best. Presumably you know where the kitchen is. I'm sure you're welcome to help yourself.
Dear Amelia,

Sweet tea is the drink of the gods, but I have a friend who's a heretical apostate and refuses to drink it. My question is: are his taste buds broken and, if so, can they do a transplant.

Signed,
Southern Boy to the Bone
Dear Southern Boy,
Now that Michelle Obama has spoken out against sweet tea, is it possible that he's on her bandwagon? If that's the case, you should definitely torch your friendship.
If he just doesn't like it, I think you'll have to weigh your friendship overall. Does he bring anything to the table that is more important than sweet tea? Sleep on it, I know that's not an easy question.
Agree? Disagree? Have something to add? Leave a comment!
Want to submit a question? Tweet using #AskAmHam, leave the question on my Facebook page, or e-mail [email protected] So many options!