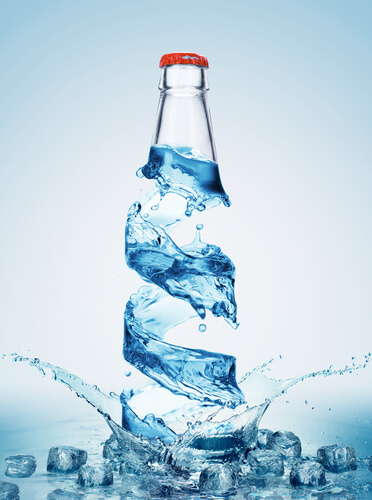 Salon, your instructional guide to your daily outrage over the imperfectability of mankind – sorry, sorry, humankind! Sexism! It's so institutional! – had a piece about how Big Beverage forced you to pay a lot of money for bottled water. (Since the industry has Big in its name, you know you're supposed to boo and hiss, unless it's Big Government, in which case you should fall to your knees so fast you crack the marble.) Bottled water isn't any better than good ol' municipal water, so you've been swindled with booshwa, and paid dearly for your ignorance. Big Bev compelled you to waste your money with marketing and advertising, and like most people whose brains are shallow dishes of agar waiting for the implantation of capitalism's horrid spores, you went right along.
Well. Let's take a look at the target market for bottled water. For the most part, people who fret about Toxins Toxins Everywhere, and prefer their produce to have been banked with night soil instead of pesticides, and abhor anything that has been genetically modified. They regard drinking tap water as the equivalent of Tchaikovsky drinking from a stagnant pail during a cholera epidemic, and besides: if the bottle says FIJI WATER it's a sign to everyone else that you're the sort of person who would like to go to exotic places, providing the tour operators paid the locals a living wage and contributed 10% of their profits to saving the reefs, somewhere.
In other words, the Salon audience.
I am unable to gin up the outrage over other people paying a lot of money for cleverly packaged water. Today in the grocery store with my daughter I tried to strike a balance between admiring the varieties offered, the talent involved in the label design, and counseling her to resist Fancified Water for the sake of fiscal probity. On the other hand, I bought her a bottle of the stuff once because she was besotted by the bottle's shape, and even though she reused it over and over I can imagine the Salon writer clucking in disapproval.
The other day I was recommending a Keurig K-cup-type coffee pod that made the best damned cup of coffee I've ever had, only to learn that my interlocutor didn't have a Keurig because she couldn't live with the guilt of the waste the cups produced. "Well, that's just one of the reasons I like them," I said, but pointed out how these were special pods that had 42% less plastic. Can they be composted? Well, if you want to rip them open and dump the tiny amount of grounds into your Filth Bin, sure.
To be on the left these days seems to be an unending series of scrapes and abrasions, with every manifestation of American culture giving offense. Question: what will it take to make them happy? Banning plastic water bottles and K-cups is just the start, of course.