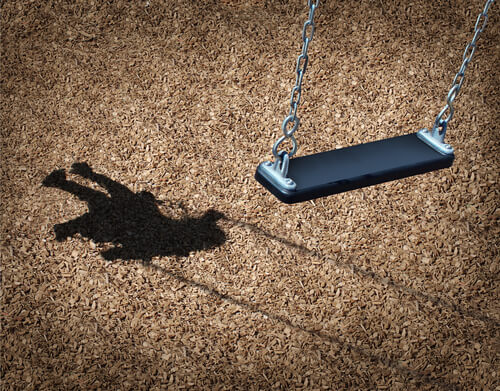 Tell me if this story sounds familiar. It's about this weird dystopia where a married couple with two young kids is looking to buy a new house and is desperate to find a neighborhood simply populated with other children. They currently reside on a suburban block that — not so many years ago — had young kids in almost every home, but now has more dogs than children on the sidewalks. It's as if the neighbors stopped having babies for some mysterious, unknown reason. Thinking the lack of offspring may have some weird relationship to the proximity to an urban core, the couple finds itself looking at homes further and further out to find families with young kids.
As they look for a new home, the couple pays less attention to the houses themselves than the number of swing sets, sports equipment, and toys strewn in their potential neighbors' yards. Whenever a neighbor is spotted near a potential home, he is accosted with questions of how many little ones are around. The wife of the couple even suggests following the local school bus after class lets out to see where kids live but the husband sees this as a step too far into creepy madness and a good way to get arrested. This may sound like the latest Syfy original movie premiering on Thursday after Sharknado 3, but it was how I spent my last weekend.
We recently received an offer on our home and are looking for a new place. One of the requirements for our new neighborhood is that it have young children around to be our kids' friends. We currently live in one of the near Chicago suburbs, and everyone on the block has older kids (generally junior high or high school; great for babysitting, but not for playing wiffle ball or Legos with a first-grader), are empty nesters, or don't have kids. Everyone has at least one dog, except us. The neighbors are perfectly pleasant and we like socializing with them, but we imagine an area where our kids can find a chum to interact with without getting into a car to visit. Many of our college friends with kids are stuck in underwater condos bought as "investments" ten years ago in the city. The few families with little kids in our town are scattered every other block or so, like ill-placed fire hydrants.
I'm a child of the seventies – not exactly an era known as a baby boom – but I don't remember children being so scarce. When I was a kid, there was even a family a block away with ten sons and daughters; if it were today they'd probably have their own reality show. When my extended family gets together for Christmas these days, the kids' table includes those up to age thirty so that my kids are not alone.
Perhaps all this time we have been worrying about the extinction of some lame slug or random breed of owl we should have had more concern for own future.