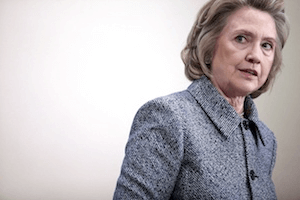 Hillary Clinton bowed to the inevitable yesterday and fielded reporters' questions regarding her use of private e-mail for both public and private business while serving as U.S. Secretary of State.
About the press conference (which wasn't a full-fledged "I'm gonna stand here and take every question until you've worn yourselves out" — like this one, held by New Jersey Governor Chris Christie during his Bridgegate controversy): the last time Mrs. Clinton was in a bind like this was well over two decades ago, when she gave the famous "pretty in pink" press conference at the White House in hopes of putting a lid on the Whitewater scandal.
Back then, Mrs. Clinton held court for 72 minutes. Yesterday's presser: a little over 20 minutes, with an abrupt ending.
Some observations:
1) The Good News: She Wasn't Rusty. Clinton hasn't taken any questions from reporters since last fall. Still, she was on her game — crisply ticking off why she did what she did. Unfortunately, it was also Mrs. Clinton at her worst — like her husband, when also cornered in a controversy, defensive and falling back on lawyerly skills. For example, she claimed she set up the private system as a matter of "convenience." It's hard to believe she was too lazy to carry around an extra BlackBerry (or have a traveling aide lug it). And it won't fly with reporters who often carry around two devices — one for home, one for work.
2) The Bad News: She's Still Nixonian. As suggested by some reporters, the Clintons believe the media are out to get them. Thus, we had a line of defense that seemed guarded and nuanced ("I believe I have met all of my responsibilities"), plus protective of what she thinks is her property and not the feds' (Nixon wouldn't voluntarily give up his tapes; Hillary's refusing to surrender her server). Rather than promising transparency, Mrs. Clinton doubled down on secrecy, thus perhaps putting her on a collision course with Congress (more on that in a minute).
3) Tres Trey. Don't let the bad haircuts and zoot suits fool you. Rep. Trey Gowdy, the South Carolina Republican and chair of the House select committee investigating the Benghazi attack, is also a skilled prosecutor. Not that Servergate is in the same league as Watergate, but the Nixon Administration may not have realized what it was getting when the Senate investigation was led by a North Carolinian who referred to himself as "just an old country lawyer." Not to overuse the Watergate parallels, but Gowdy already is talking about gaps in Mrs. Clinton's email records.
4) The Elizabeth Warren Watch. Both the Massachusetts senator and Vice President Biden appeared this week before a D.C. gathering of the International Association of Firefighters, giving her usual shtick about the government doling out subsidies for big corporations while doing less and less for working families. Keep an eye on her travels over the next few weeks, as well as whispering within Democratic circles that maybe Mrs. Clinton needs some earnest competition.
Some additional thoughts:
This Isn't Going Away. The thrust of Mrs. Clinton's talking points — that "the vast majority" of her emails went only to State employees and she held back only her private e-mails that are not related to her past job (does she really do yoga?) — doesn't change anything. At the heart of the controversy is her cherry-picking what she sent to State — as opposed to someone at Foggy Bottom deciding what's public and what's private. It would seem that Mrs. Clinton and a Republican Congress are headed for a showdown: demanding (subpoena?) that she let congressional investigators look at the server.
If You're Going To Get In, Get In Early. The last time she ran for president, Hillary Clinton entered the contest early — in January 2007 ("I'm in and I'm in to win"). But that was a race in which she faced serious competition — namely, then-Sen. Barack Obama, who joined the race the following month. This time around, and absent a perceived threat, the Clinton strategy has been to delay an announcement for as long as possible (originally it was for later this summer; now, maybe in April). Unfortunately, that's put both the candidate and her campaign in limbo — lots of hires leaked to the press and promises of bringing people on board, but no real structure in place to knock down a bad story like Servergate.
Which leads us to . . .
The Value of Good Communications. The two qualities of the response to the e-mail controversy by Clinton acolytes: hackneyed and potentially long-term toxic. To the former point: nothing says tired politics like trotting out the likes of James Carville, Paul Begala, and Lanny Davis to beat down the media. And by suggesting that the press is working off conservative talking points, it risks setting the stage for a contentious candidate-media relationship over the nearly 20 months until Election Day. If Mrs. Clinton had an actual campaign in place — a press operation recognizing the severity of the problem, and an advisor willing to tell the candidate what she doesn't want to hear – might Clinton World have kept the controversy from metastasizing?
A Political Decision. The bottom line: Hillary Clinton is a polarizing figure. Her supporters will rally around her; her detractors, if they watched the press conference, will dislike her even more. The question: what about the undecideds and the persuadables? My guess: Clinton will watch her numbers — both head-to-head with Republicans and the public approve/disapprove. If those numbers sag, look for Mrs. Clinton to ease up on the secrecy.