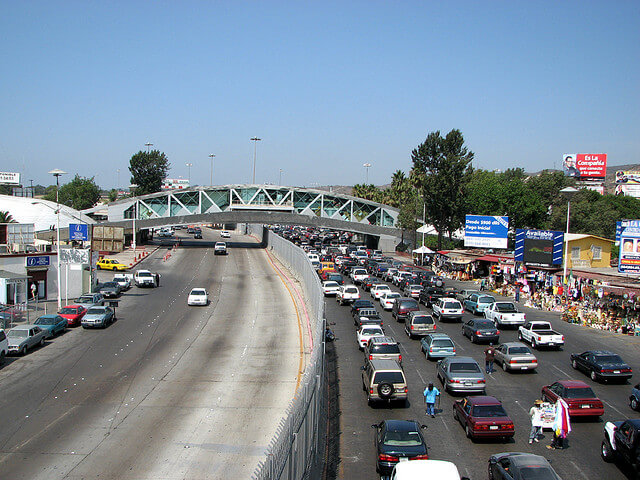 President Obama supports amnesty for foreigners who are in the United States illegally, as well as their prompt re-categorization as legal permanent residents with access to the full gamut of valuable benefits: Medicaid, Medicare, Social Security, Obamacare subsidies, in-state college tuition, earned income tax credit payouts, Daylight Saving Time (to bring them out of the shadows), etc. The President selectively refuses to enforce existing immigration laws, and sues the border states to stop them enforcing laws that he will not. He establishes a program of expedited resettlement for minors from the poorest and most dysfunctional states of Central America into U.S. communities. The President does all this administratively, thwarting Congressional oversight, and frustrating state and congressional attempts to ascertain where migrants are being held and resettled. He loudly advertises these policies to our southern neighbors, directly precipitating a massive humanitarian border crisis and ensuring its chronic repetition. Meanwhile, his nominee for Attorney General states in her confirmation hearing that she supports the right of illegal immigrants to freely compete with Americans in the labor market. This is not Alice in Wonderland – it's the United States in 2015. Or, in the words of one David Mamet character, "the United States of Kiss My [Expletive]."
These executive actions amount to a de facto open borders immigration policy, specifically favoring the lowest of low-skill populations in the hemisphere. Yet this policy enjoys nearly unanimous support from the president's party. It's almost as though the Democrats see political advantage in deliberately ginning up an immigration catastrophe.
Why are Democrats unanimously bending over backwards in support of a policy that is unpopular, unlawful, and manifestly harmful to one of its core constituencies? Given that the party pretends to champion those most at risk from this policy, the degree of unanimity is surprising. But in fact the strategy makes sense for a number of reasons.
The most obvious appeal of an open borders strategy is crass, long-term vote-farming. The Democrats have been the party of urban immigrants since the days of Tammany Hall, so this motive is, in a sense, perfectly logical, time-honored, and understandable. Illegal immigrants and their U.S.-born children will some day become voters (assuming they aren't already), and they will know whom to thank. The game-changing nature of the Hispanic vote has been repeatedly overstated for the last several election cycles – Texas is still solidly Republican despite being 40% Hispanic — but overall it is hard to fault the logic of importing a new electorate to guarantee a future permanent Democratic majority. Tammany on a national scale? What's not to love?
Second, for many Democrats, changing the country's ethnic profile is an end in itself: a form of radical counter-racism that, to any sane Martian, would be indistinguishable from ordinary racism. As I suggested in an earlier post, many Americans – and all Democrats – have, to a greater or lesser degree, internalized Susan Sontag's disgusting slogan that "the white race is the cancer of human history." (Sontag later backed off this metaphor, explaining that it was unflattering… to cancer.) Since the late 1960s, therefore, Democratic immigration policy has had the frankly oncological purpose of making the United States less white. This kind of score-settling appeals most to the party's race-racket gutter (Jeremiah Wright, Al Sharpton, Luis Gutierrez, Eric Holder, La Raza), but also to many mainstream white liberals for whom the race-guilt angle is a perverse form of moral exhibitionism.
Third, the more intelligent Dems understand that changing the country's demographics, in addition to having many useful electoral and sundry side benefits, also serves a more traditional left-wing ideological purpose: in the absence of assimilation, large-scale immigration — both legal and illegal — inevitably leads to tribalism, and tribalism is the devil's playground of Big Government. It is this third, slightly less obvious reason that deserves more attention.
The smart Dems have read Harvard's Robert Putnam, who reluctantly but systematically documents in Bowling Alone (and in this academic paper ), how large-scale immigration breaks down community solidarity and reduces social capital, creating a vacuum where civil society used to be. Let's all try to guess who steps in to fill this vacuum. Voluntary associations, bowling leagues, the Scouts, 4-H, the Elks, church fellowships – all of Tocqueville's little platoons – give way to a phalanx of social workers, therapists, education bureaucrats, program administrators, community activists, and other publicly funded unionized busybodies.
Racial bean-counting has been at the heart of the welfare state since the Great Society, as Tom Wolfe memorably documented in Mau-Mauing the Flak Catchers. Government sees large immigrant communities composed predominantly of poor, low-skill, low-education youths as a natural client class to be made permanently dependent on state services. More insidiously, the social and economic disparities that these communities represent relative to the rest of society invite intervention by the grievance-industrial complex, with its disparate impact lawsuit payouts, direct affirmative action-based wealth transfers, and scrutiny by the federal civil rights bureaucracy.
In the welfare state context, tribalism makes big government bigger. But the relationship is mutually reinforcing. The government uses census data to distribute more than $400 billion in federal aid and to draw political districts based in part on racial classifications. Given these stakes, there are enormous incentives for community organiz… sorry – political entrepreneurs – to game the system in favor of their particular tribe. You might think that a term like "Hispanic" is absurd and incoherent, encompassing both the Bourbon King Felipe VI of Spain and a Quechua-speaking peasant from the Peruvian highlands. But to a political entrepreneur, they are the same because he wants to make sure that his tribe is as large and inclusive as possible. This way the tribe gets a bigger piece of the pie and the political entrepreneur gets more political clout. By insisting on officially designated racial and ethnic categories, the government subsidizes social fragmentation and encourages the formation of powerful ethnic lobbies.
So the welfare state creates strong incentives for clustering around tribe. Since political organization around tribal identity is relatively low-cost compared to organizing around other criteria, such as common economic interests, the feedback loop between big government and ethnic pressure groups is self-perpetuating and permanently transforms the political system into an arena for competition among large rival racial blocs. This is something not fully anticipated in Federalist 10.
All of this explains why the Democrats (admittedly, with the assistance of Richard Nixon) destroyed the melting pot model of immigrant assimilation — the ideal of which was a single homogenized American national identity — and replaced it with a morally and intellectually obtuse Diversity Cult that they elevated to the level of an official state religion, with its own saints, martyrs, festivals, and catechisms.
The larger lesson here is one we already knew: from poverty to disability abuse to illegal immigration to illegitimacy to racial strife, if it is bad for society in general, it's probably good politics for the Democrats. What possible incentive do they have to fix any of these problems if they aren't in any sense "problems," but rather pillars of political power? The party is the living, slouching, suppurating embodiment of moral hazard.
What can be done about any of this? A good first step might be to get rid of the census race and ethnicity racket and to constitutionally prohibit government from using racial and ethnic categories altogether for any purpose whatsoever.
Please stop laughing.
Rhetorical point-scoring side note. I find it odd that, at the same time that the president is orchestrating large-scale settlement of the United States by foreigners, he is very indignant about Israeli Jews settling in the West Bank and certain neighborhoods of Jerusalem, which the Administration considers to be illegal and immoral. Without taking sides on the West Bank settlement question, this is logically puzzling. Some fun questions for the Administration might be:
What moral and legal distinctions does the president draw between these two groups of settlers?
Would the President support amnesty and legalization for Jewish West Bank settlers? If not, why not?
Would it be appropriate to refer to "undocumented immigrants" in the United States as "illegal settlers" or "illegal colonists"? If not, why not?
Image Credit: Flickr user Ben Amstutz.