Chafing under criticism that they aren't taking the threat from ISIS seriously, the State Department has launched an initiative to bring the barbarian terrorists to heel. Foregoing crude tactics like the threat of force or aggressive diplomacy, the Obama Administration has returned to what it knows best. They have created a logo: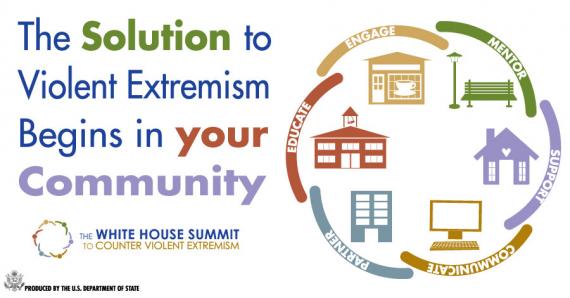 This doesn't offend me as an American; it offends me as a graphic designer. That is a rough-looking pile of clip art. But if the seven fonts and eight colors prove insufficient to scare away the jihadists, State also has a blog post outlining their strategy to defeat Islamist terror solve violent extremism.
Their detailed plan? To ask commenters for suggestions:
This week, the White House hosted a Summit to Counter Violent Extremism to highlight domestic and international efforts to prevent violent extremists and their supporters from radicalizing, recruiting, or inspiring individuals or groups in the United States and abroad to commit acts of violence. These efforts have become even more imperative in light of recent, tragic attacks throughout the world. At the Summit, Secretary of State John Kerry said, "Our goal today is to take this chance to think broadly about how to prevent violent ideologies from taking hold, and how to prevent terrorist networks…from linking up with aggrieved groups elsewhere, and how to prevent them from thereby expanding their influence."

Secretary Kerry described this effort as the "the defining fight of our generation" and a task not just for governments but everyone, including civil society, the faith community, foundations and philanthropists, and the private sector. The Secretary urged the Summit participants to provide their ideas and suggestions on how we can counter violent extremism, and we ask you:

What solutions do you think are most critical to countering violent extremism?
We are so screwed.
If you would like to submit your ideas to the team that shipped James Taylor to Paris, here's the link. But if you advocate a solution that requires a carrier group instead of MS Paint, get ready for a detailed IRS audit. The Obama administration might wear kid gloves when dealing with the Islamic State, but they'll switch to brass knuckles for domestic critics.