Vice President Joe Biden's gaffes are legendary, but they've quickly devolved from amusing to concerning to downright creepy.
There are myriad harmless, "good ol' Uncle Joe" moments when he embarrasses a crowd with a malaprop or faux pas. Mixing up peoples names, saying Obamacare "is a big [expletive] deal," or praising Obama's foreign policy with, "the president has a big stick. I promise you."
Then there is the casual racism. Like when Biden told an Indian-American that "you cannot go to a 7-Eleven or a Dunkin' Donuts unless you have a slight Indian accent. I'm not joking." He called predatory bankers "shylocks" and claimed Obama was "the first mainstream African-American who is articulate and bright and clean and a nice-looking guy."
But uglier impulses are often at work. At a 2012 campaign rally, Biden warned a primarily African-American audience that if Mitt Romney became president, he was "gonna put y'all back in chains." He angrily snapped at a lowly manager of a Wisconsin custard shop, calling him a "smartass" for telling a mild joke about taxes. Then there was the time Biden claimed fiscal conservatives in Congress "have acted like terrorists" for daring to disagree on policy.
But now our vice president regularly dives head-first into creepy behavior, mostly with females. There was Biden seeming to grope D.C. reporter Amie Parnes at a 2013 holiday party.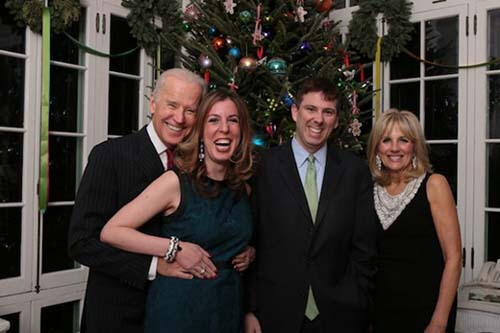 Then Biden's creepy display last month with Sen. Chris Coons' daughter at the Delaware senator's swearing-in.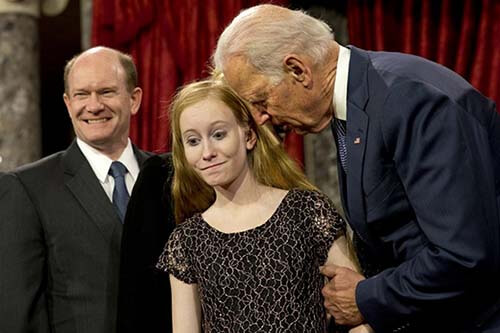 Today Biden manhandled the wife of new Defense Secretary Ashton Carter while Carter was standing in front of both, oblivious. The Vice President held Stephanie Carter's shoulders, leaned into her hair and whispered into her ear. It was a "Creepy Rob Lowe" ad come to life.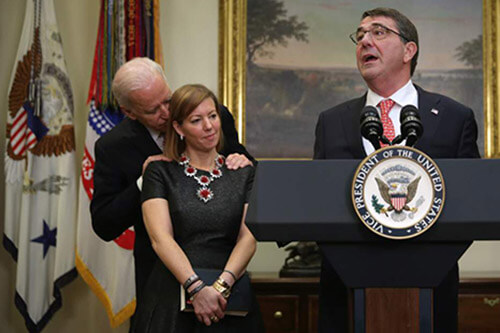 As usual, the press laughed off the disturbing behavior as just Joe being Joe. But in today's culture of third-wave feminism and constant gender-based outrage, how long can Democrats overlook the leering, grabbing creep that they elected twice?