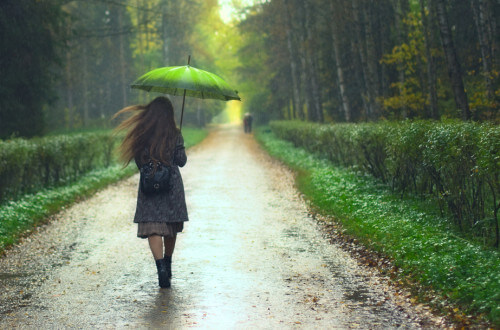 I'd probably make a lousy prostitute, I concluded. Time to swallow my pride and move back home. 
It wasn't my parents' fault. Almost always, children have to be taught to be less whiny, not more. Virtuous parents rightly hold up stoicism as a model for their children's behavior. Most problems you face at any given moment will eventually go away if you simply toughen up. Unbending persistence in the face of pain is the key to ultimate success.
Except when it isn't. Looking after my respiratory problems – which, after all, could be life-threatening – would have been enough for any parent. When I began having funny aches in my bones, too, my parents said, "It's just growing pains. Have another banana." Or, "Walk it off." Or, "You must've slept on it funny." They said this day in and out for years. And I took their advice like a good girl, stifling whining and backchat, day in and day out for years. Eventually I got sick of bananas, though much addicted to long walks by myself, especially in chilly weather, when the numbing ache of the cold obliterated other sensations.
Despite my stoic aspirations, I was a sad child, prone not to whining but to glum — almost hostile — silence, and rare but alarming outbursts of the kind of inconsolability that leaves a parent feeling powerless. Maybe I was sad because my body hurt, or maybe my body hurt because I was sad. It can be hard to tell. Since I kept testing negative for the usual markers of childhood arthritis, perhaps the pain was all in my mind. But the idea of a mind that hurt so badly that it could injure the body frightened my parents, especially my father. I learned to become the sly dissembler – systematically concealing the worst signs of my unease in order to avoid upsetting them. Evasiveness, furtiveness, and plastic laughter. It's how I lived. So much for me being the good, honest kid.
As I got older, though, it became harder for my parents to force me to go to school on days when I was feeling really bad. I barely graduated high school because of deficient attendance, though with honors once attendance was sorted, and a reasonably prestigious (though, alas, not well-paying) scholarship to a good college. College, far away from my parents, seemed like the ideal chance for a fresh start. But even the novelty of college couldn't obliterate whatever it was that was nagging me.
After having dropped down to part-time student status because of recurrent ill-health, I found myself one day about a mile from campus, curled up in a little ball on the sidewalk, sobbing in fury at myself, the sobs all the more violent from the shame of being on public display. So many others, I knew, had endured so much worse than I had, yet done better: how come I — a middle-class kid with relatively minor impairments in the larger scheme of things — couldn't even manage?
A stranger in a house nearby found me, too, called the police to report me as a drug addict, and pretty soon an ambulance showed up. The EMTs threatened me with arrest if I wouldn't go with them voluntarily. Not being sure of my rights, I went. The folks at the ER, not knowing what to do with me when my drug test came back negative, presented me with a choice: I could voluntarily commit myself to the mental health ward for observation, or they'd do it for me against my will. Again, not sure of my rights (a friend working as an EMT later told me they probably couldn't have detained me if I refused), I agreed. It ended up being an expensive waste of time. Evidently, there was something wrong with my outlook on life, but I wasn't crazy enough for an overworked hospital psychiatrist to get a bead on it. I spent the very long weekend in the prisonlike ward computing eigenvalues in crayon in an attempt to keep up with my coursework, since mental-health inmates aren't allowed sharp objects like pencils.
So there I was, now officially a crazy person with hospital bills to pay, no means of support left except my parents, but no way of knowing how to even tell my parents what had just happened to me, much less how to ask them to help. Telling them would break their hearts, as well as prove to them – and myself – that I was still an immature child, not an independent adult.
Well, if you're a young woman – even a sickly, virginal one – you've always got one asset you could sell. I pondered this option for three days straight, perusing classifieds where dirty old men place want ads for compliant young women. Ultimately I concluded that prostitution, besides being unchristian, would be something I'd be so bad at that I couldn't survive on it. In other words, I'd be a failure even as a prostitute.
Time to move back in with the parents.
From a conservative point of view, there is no good way to spin this move back home. Believers in grit and rugged individualism will question whether it was really necessary, or just a weak-willed manifestation of my generation's "failure to launch". Family-values voters will be singularly unimpressed that I managed to become so estranged from my parents in the first place that I considered prostitution as an alternative. Still, the move back home was likely for the best. Back home, it was easier to get timely medical checkups. The move also brought me closer to my parents. My mom and I can now frankly discuss what's really bugging us; at least some of the time. My dad and I never developed that kind of of rapport, but we did grow closer in other ways, close enough for me to be on-call 24/7 for him when his kidneys failed (though I hardly could have refused, since my parents had taken me back in when they no longer had to).
What causes the aching that's nagged me since I was a kid? We're still not certain. Prednisone, a powerful anti-inflammatory steroid, can eliminate the aching temporarily, though (of course) at a cost (neither the pain nor the asthma is crippling enough to warrant prednisone regularly). That, along with other evidence, suggests that the aches begin in the body, though they affect the mind and are affected by it. There are perhaps a dozen different things that might have caused the aching. But all these "mights" ultimately live in the lovely Land of Might Have Been. If humans could reach that land, we already would have.
An irrational part of me had hoped that perhaps some cosmic sense of fair play might mean that a creaky, arthritic youth would mellow into vibrant health later in life. So far, no dice. I was able to pretend to good health long enough to snag myself a wonderful husband, who fortunately doesn't resent my not being as healthy as initially advertised (you're a dud in the mating market if you present as sickly up front – or rather, you attract exactly the wrong kind of attention).
Sometimes, stuff gets better for a while. Other times, something new and unexpected breaks. Long trips to the desert seem to help.
When measured against what was initially expected of me – including the tacit expectation that I would be more adept at managing the body I was born with – my life isn't a success, but a failure. But a failure less bad than it could have been. I'm not a prostitute. I'm not on a slab in the morgue dead from suicide, drug abuse, or self-neglect. I might be healthy enough to have kids now, and I might be able to keep myself together well enough to be a good mom to them. In short, I could have become the person that everyone wrote off in hindsight as "the bad seed," "cursed from the start". But I didn't, because even "bad seeds" have some choice in the matter, impoverished as the choices they face may seem at the time.
Failing to become "the bad seed" is the last possible good way to fail. I suppose that's saying something.