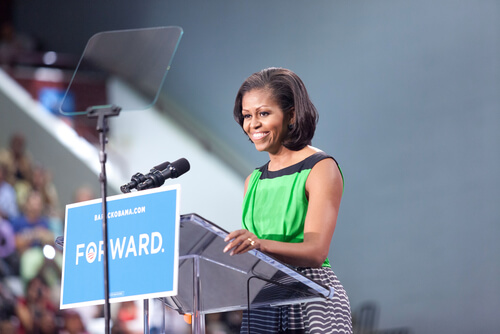 Yesterday, Aaron Miller started a conversation about Michelle Obama's decision to not bow to customs in Saudi Arabia. Before that, the illustrious Jon Gabriel expressed a desire to see my take on the issue (taking second place behind another editor, since this was a conversation shared with a few). Being fair, or honestly wanting to mull over exactly how I would approach this topic here, I did write about the manliness of Mrs. Obama elsewhere first.
Yes, that was a correct choice for a couple reasons. First, Mr. Miller brought up quite a few questions, but the last ones he posed — "Did the President learn something from his critics? Why cater to foreign customs then and not now? Or are the President's concerns irrelevant to his wife's behavior?" — seem particularly important to my generally strategic mind. There was a significant change in the behavior of the president this time around in Saudi Arabia: no bowing. The clothing choice of Mrs. Obama was only part of the "big deal" on this trip, and was quickly observed by a journalist I know. Dustin Hoyt, host of "America Our Way" on Vigilant Liberty Radio was quick to observe something very important about not only the lack of head scarf:
However, with her choosing not to AND shaking the King's hand, she showed some serious spine for America. It was great.
Hoyt, an expatriate who lived in the eastern province of the Kingdom, is obviously one of the first people I can choose to consult on matters concerning Saudi Arabia. I've seen a fair number of guesses on why Mrs. Obama behaved the way she did, and made a couple myself already.
However, I've been thinking on Miller's final question as to whether the First Lady cares. This wouldn't be the first datapoint suggesting that she doesn't. Most will recall the selfie incident at the memorial for Nelson Mandela. Mrs. Obama was obviously not pleased with her husband's behavior there, and even forced the issue by insisting on a change in the seating arrangements. Yes, many conservatives poked fun at her jealousy, but now? Combine that general antipathy she showed then (and many times since) with what I wrote in that earlier piece, and the handshake that so impressed Hoyt takes on a whole new meaning. If Mrs. Obama has designs on a political career after 2016, it is probably foolish to think that her actions in Saudi Arabia have anything to do with showing strength for the sake of her husband or even our country. It was all about her.
Again, this is something that conservatives would be happy to say, since it would indicate that Mrs. Obama truly isn't concerned about anything but herself. But, be careful. We've been down this road before, and Democrats will not see it as self-concerned political ladder climbing. The only upside is that, unlike President Clinton, Obama will probably need to wait a while before anyone other than his true believers will warm up to him after his presidency. That may cool Mrs. Obama's heels a bit, if she really is eyeing a post-presidential political life.
Image Credit: meltechfoto / Shutterstock.com