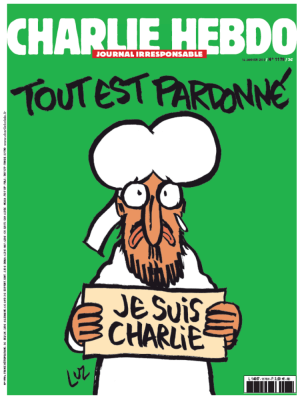 The website spiked-online.com has an interesting thought experiment: could Charlie Hebdo have published in Great Britain, that ancient bastion of free speech and an independent press?
They come to answer in the negative, because complaints from all sorts of left-wing groups would pressure organizations to refrain from carrying the magazine, and it would have gone under from lack of revenue.
Now, I think that's a fair prediction as far as it goes, but so what? Shouldn't individual citizens be free to organize and express their displeasure about a magazine? As long as violent coercion and/or the power of the state are not brought to bear, are these not the methods societies should use to moderate themselves?
But, the thought experiment did make me think it could be illustrative for people to ask "Could Charlie Hebdo publish in my country?" and also to ask "If not, then why not?"
Up until recently, Charlie Hebdo almost certainly would have been ruled illegal in the Great White North, or at least litigated into bankruptcy thanks to the (now deprecated) language of the Canadian Human Rights Act.
Even today, there's still a "blasphemous libel" law in our Criminal Code. It's really old, and completely unenforced, but it's still on the books.
Furthermore, there are exceedingly few print magazines in Canada that do not receive government subsidies in the form of reduced postage rates or even direct grants. It's highly unlikely that a magazine like Charlie Hebdo would qualify.
How about in the U.S?
I don't think there would be any legal impediments for a magazine like Charlie Hebdo. Market forces would, however, probably kill it, or at least keep it reduced to a regional 'zine or underground newsletter.
The closest the U.S. got was Mad magazine. In its heyday it might have published the sort of stuff that Charlie Hebdo puts out, but Mad has been entirely neutered under Time-Warner's ownership.
Basically, I simply don't see a magazine like Charlie Hebdo getting any traction with the companies that distribute print media in America. It could publish independently, or online, but without access to commercial distribution networks a print edition would be smothered in its cradle.
Thoughts?