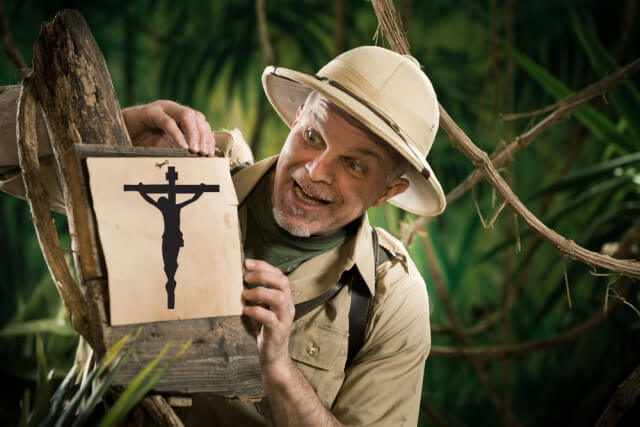 It's Christmastide, so it's time once again for Newsweek to flex its theological muscles and slam Christians for their intolerable reading of the Bible. It's a cheap trick. It's easy to throw bombs at Christians. They'll refute your claims, but they are not going to strap on a vest of explosives.
I've read the article, "The Bible: So Misunderstood it's a Sin," and — as a favor to you, and to help you preserve time to prepare your New Year's Eve — I'm offering up time that would otherwise have been completely wasted (as opposed to mostly wasted) to fill you in on what you already know.
In 2013, Newsweek's balance sheet showed the magazine in fiscal bankruptcy, so it's little surprise that the magazine now demonstrates its moral bankruptcy by publishing an article bashing Evangelical Christians for their alleged Biblical ignorance and — naturally — for their refusal to stand with the current zeitgeist. No sensible person will pay attention to, or pay for, the magazine. However, plenty of senseless readers will glom onto the end-of-the-year edition, eager to read something that bucks up what they are sure they already know. Newsweek needs those readers and will fill them full of what they need just to stay afloat.
The writer, Kurt Eichenwald, writes for Vanity Fair, the New York Times, and a few other fish wraps. He's written some books. Read all about him here. But when I Googled his name I couldn't find anything that established his bona fides as a Biblical scholar. But I didn't really need to research Eichenwald credentials. The article fully reveals the depth of his scholarship. He must have spent minutes actually trying to understand the history and theology of Sacred Scripture.
But scholarship is not what's intended. This is a simple hit piece against (you guessed it) Evangelical Christians:
They wave their Bibles at passersby, screaming their condemnations of homosexuals. They fall on their knees, worshipping at the base of granite monuments to the Ten Commandments while demanding prayer in school. They appeal to God to save America from their political opponents, mostly Democrats. They gather in football stadiums by the thousands to pray for the country's salvation.

They are God's frauds, cafeteria Christians who pick and choose which Bible verses they heed with less care than they exercise in selecting side orders for lunch. They are joined by religious rationalizers—fundamentalists who, unable to find Scripture supporting their biases and beliefs, twist phrases and modify translations to prove they are honoring the Bible's words.
And that, dear friends, is just the opening shot in what Eichenwald insists will be an impartial and deep reading of the sacred text:
Newsweek's exploration here of the Bible's history and meaning is not intended to advance a particular theology or debate the existence of God. Rather, it is designed to shine a light on a book that has been abused by people who claim to revere it but don't read it, in the process creating misery for others."
To borrow a phrase favored by Bill Clinton, it takes a lot of brass to say you're not advancing a given point of view when you begin your argument by trashing your targets.
When the illiteracy of self-proclaimed Biblical literalists leads parents to banish children from their homes, when it sets neighbor against neighbor, when it engenders hate and condemnation, when it impedes science and undermines intellectual advancement, the topic has become too important for Americans to ignore, whether they are deeply devout or tepidly faithful, believers or atheists.
Now if you want to read the same tired propaganda about the Bible, Eichenwald is as good a place as any to start. At sixteen pages long, it could spare you the trouble of reading Richard Dawkins or Sam Harris. Just make some mighty strong coffee. It will keep your eyes open as Eichenwald makes the standard, tired accusations: the books of the Bible are inconsistent; the English translations are poor to awful; many of the texts were just sort of crammed together, etc. It's the usual cornucopia of non sequiturs and bombast.
Of course an actual Bible scholar — including, I would guess, some of those Eichenwald cites — would likely reply: "So?" The Bible is not, strictly speaking, a book. It is a library containing just about every genre of writing in human history. There are histories like the books that record the times of Solomon and David. There's poetry, as in the Psalms. Deep reflections on God and the men he created such as Job and Ecclesiastes. The mysterious and mystical imagery of the Book of Revelations. And the Gospels, which are one part biography and one part pedagogy. The Bible is, at its heart, a theological text.
Now I am a Roman Catholic with an understanding of the Bible that sharply differs from that of my Evangelical friends. But lest anyone be confused, it is politics, not Biblical exegesis, that motivates Eichenwald. The essence of the article is an attack on Sarah Palin, Michelle Bachmann, Pat Robertson, Bobby Jindal and Rick Perry — all of whom make appearances in the piece — and all those Jerkwater Evangelicals who dare speak views at odds with liberal tropes. That's what is really on Eichenwald's mind. His criticism is leveled at Evangelicals who bring their faith into the public square so that. as Eichenwald explains, it is "no longer a matter of personal or private faith."
Curiously, though characters such as Jeremiah Wright, Al Sharpton, and Jesse Jackson — who, supposedly, have made careers of bringing faith to the public square — are wholly absent from the piece. To Eichenwald, Evangelicals have invaded sacred space.
I suppose it's a function of age and lassitude that I find the angry wrath of the Eichenwalds of the world amusing and and not a little sad. It's obvious Eichenwald never met a conservative Christian he didn't hate. And I suspect that he — like the magazine for which he writes — worships the Second Coming of the current leftist deity who occupies the White House. Naturally, Eichenwald will rage, since it looks like the secular messiah's cloud has evaporated. Also, if God is good, the new Republican majority will be a gigantic stumbling block.
So let Eichwald throw his tantrum. It's certain that tolerance of opposing views is something he cannot tolerate. I've already deleted my link to Newsweek and am off to cuddle up with a Good Book.