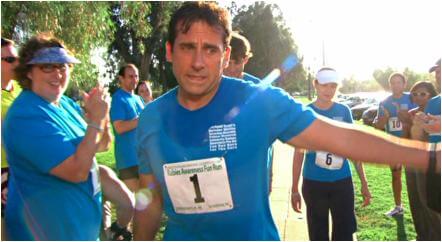 The first problem I have with 5K walks and races is that I have no idea how far I am going. Who decided that we should utilize the metric system for measuring the length of fun runs? As has been well documented on Ricochet in the past, the metric system is wrong. To further prove the point, just think of some people who have used the metric system (Hitler and Stalin) and some who did not (St. Paul and da Vinci). I mean, honestly, enough said, right?
Anyway, the point of this post is not to rail against the metric system (as enjoyable as that is), but rather to discuss an odd phenomena of the past few decades called the charity walk or run. During this season of giving, only a deranged member (such as me) would nitpick the specifics around charity events and not just accept them as a fun way to raise money for a good cause. With that said, let's get a few things out of the way before we go further. No, I am not in favor of disease, poverty, drowning puppies, or denying orphans their multi-vitamins. However, I am asking the question: why do we tie walking or running in circles with "doing something" to help others? Why can't we just quietly donate money as our ancestors did without putting on the short shorts and overpriced tennis shoes (please don't see this as an indictment of charity race participants. I was in a 5K myself a few weeks ago, I just find the practice odd)? I argue there are two reasons some (not all) folks need the race and ribbon and don't just make the donation.
Some people (again, not all) want/need to make an act of giving partly about themselves
In the age of bumper sticker politics, some people feel a need to have a venue to tell you what they find important rather than donating anonymously
Now, I am a man of my times and accept that these events are not going anywhere, so I propose the first annual Ricochet 1K walk. I have no idea how far 1K is, but it could not be that far, so we could probably just make it one lap around Lileks' palace in Minneapolis. I suggest we shoot for the first week of June, as it is the only tolerable period in between the two seasons of Minnesota, Snow and Mosquito. The first 10 people to register will have their membership status automatically upgraded to the prestigious Thomas E. Dewey level which includes a Chicago Tribune with the headline of your choice (probably).