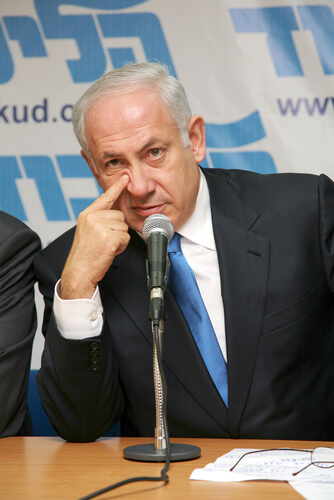 Jeffrey Goldberg's article last month in The Atlantic about the Obama administration's disdain for Israel raised eyebrows with its now-infamous galline-related expletive. Analysts also highlighted a more substantial concern: that the administration was gloating that it had neutered Israel vis a vis Iran. But there was a third insult in the article as well, one that touched a certain group very deeply:
Over the years, Obama administration officials have described Netanyahu to me as recalcitrant, myopic, reactionary, obtuse, blustering, pompous, and "Aspergery." (These are verbatim descriptions; I keep a running list.)
Advocates for those with disabilities have rightly criticized the administration for using "Aspergery" as a slur.
On Wednesday, Ruderman Family Foundation, a major disability advocacy organization based in Boston, released a statement singling out the word "Aspergery" and called for action from the administration.

"While it is perfectly acceptable for people to be critical of each other, it is unacceptable to use a term of disability in a derogatory manner," said Jay Ruderman, the foundation's president. "The term "Aspergery" was used in a manner that is insulting to the millions of people around the world with Asperger Syndrome. It is never OK to insult someone by referring to them by using disability in a negative manner."
I don't have statistics, but my experience leads me to suspect that autism spectrum disorders are more common among Ashkenzi Jews than the general population (like Jerry Seinfeld, I wouldn't be surprised if I myself were undiagnosed). What the comment in the Goldberg article made me think of is another, older, news item about autism in Israel.
In Israel, Jews are drafted into the military after high school. Exemptions are granted in various cases, but serving is an important socializing force. It provides training that is useful for later employment, and people make lifelong interpersonal connections. Even for people who don't leverage those connections for professional networking, army service is a common denominator, an experience other Israelis can (almost) always relate to. When those with more severe autism cannot serve, it puts them at a further social disadvantage.
So it warmed my heart when — earlier this year — the IDF revealed a theretofore secret weapon:
The Israeli Defense Force achieved a series of operational successes in recent years thanks to a group of soldiers with autism who contributed their unique abilities to Intelligence Unit 9900….

The Israeli Satellite Intelligence Unit provides essential information used by the military to execute highly complicated operations. This data is gathered using satellites orbiting Earth, high above the combat arena. In addition to satellites, Unit 9900 uses manned and unmanned aircraft, and advanced sensors.

The autistic young men and women who serve in Unit 9900 can sit for hours in front of electronic maps spotting the minutest changes, Channel 10 said. This is a rare ability that eludes most non-autistic soldiers.
Some of the commenters on the above article expressed concern about exploitation, but parents of those with Asperger Syndrone gently corrected them. Not only does this unit offer a gateway for those with AS to enter mainstream Israeli society, and not only does it offer an opportunity for them to serve their country in a meaningful way, it allows them to use their particular skills and talents to do a critical national security job with unique competence. As one commenter wrote:
I am autistic.. IQ 155. I can sit also for hours and ultra focus..that is an autistic/aspergers [sic] specialty…. its not abuse…we love it… [] if more people would use AS people's talents..the world would be an incredible place…
Now that's what I call win-win.
I leave the last word to Michelle K. Wolf, who wrote about the Goldberg article:
But from my perspective, "Aspergery" also has many positive connotations, such as the ability to have a laser-like focus on one issue, painstaking attention to detail and most interesting of all, a desire to tell the truth all the time. As one young adult with Aspergers [sic] wrote on a an online message board, "I have Aspergers and people tell me that I tend to blurt things out without thinking of how others would take it. I don't quite understand this. If someone asks me a question I tell them the honest answer – I don't dress it up or dance around the subject. "

Now, I am not a fan of Netanyahu, but I am a strong supporter of Israel's right to exist and defend itself from the multiple terrorist and military threats it faces now and in the immediate future. And if the Prime Minister of Israel came across to Obama officials as a little obsessed about security issues and didn't observe all the social nuances of diplomatic dialogue, well that's ok by me.
And that's okay by me too.
Image Credit: mikhail / Shutterstock.com