Rays of sunlight burst from above, bathing the very air itself with my spirit as the deep rumble of a motorcycle across the lot heralds the arrival of another veteran. He just parked his bike, regarding me from across the parking lot. Sometimes they walk right up to me, and I recognize them, though the lines in their face betray the years and the pain, their eyes searching for a brother in arms. Sometimes they walk all 288 feet, though often times the emotions overwhelm them and they have to break away. Other times, however, their grief is too strong and they watch me from a distance before riding away in silence.
Very seldom do I hear someone say that a comrade or loved one's name is etched in these panels. Instead, they say, "My grandfather is on the wall," or as one Purple Heart Recipient said yesterday, his eyes welling up, "twelve of my friends are up there." I see all who gaze my direction. I remember the time my granddaughter came to visit. She was born long after after I arrived here, of course, and I recognized her long before she saw my name. It hurt harder than anything to see the tears stream down her young face.
I was young when one of my teachers last saw me and, in a sense, I suppose I'm now forever young. She came to see me just yesterday. Wizened, walking slowly and carefully, she placed a white flower on the ground under my name and then reached out, her fingertips tracing the letters. Her eyes, as keen and sharp as they were that day in English class when she referred to me as the "the epitome of asininity," were a study in compassion and love. I wish she could have heard me as I thanked her for her steady and strong influence.
At one of my stops each year, a buddy used to bring two bottles of beer late at night, drinking one and leaving the other unopened, propped up, for me. He wasn't there this year. Time is now exacting on my friends that damage which the war couldn't inflict.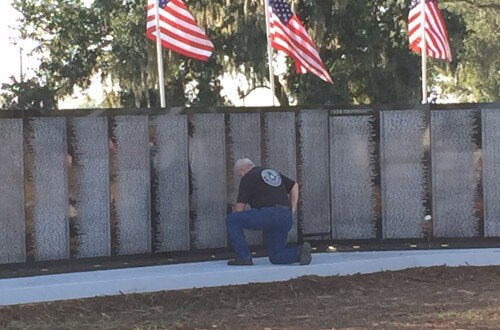 On another night, a veteran arrived just as one of the older volunteers was preparing to leave for the evening. It was the first time I had seen him since that firefight so many years ago. He was one of my soldiers, and I was his lieutenant. We had both been injured. I lost an arm in that one, and I knew my time was up. The last time he saw me, I was walking away, deep into the jungle while the medivac took him away. He came to see me late one night, and I remember the look in his eyes when he told the elderly volunteer my name, because that volunteer was my dad. "Let me tell you about your son," my troop from long ago said, as they looked at my name, the tears flowing. What I wouldn't have given if, only for a moment, I could have reached out to them somehow.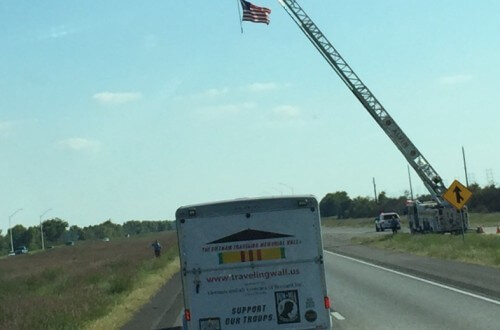 These are the kinds of memories that accompanied me to Lake Jackson, Texas, where I've stood in solemn and muted reverence for three full days as friends, family members, school children, along with warriors past and present filed quietly by. Last Wednesday, police officers, firefighters, motorcyclists, and even a military-themed 18-wheeler truck escorted me from Pearland, Texas down to Lake Jackson. The authorities blocked the highway to traffic as our motorcade, which stretched several miles, made its way south.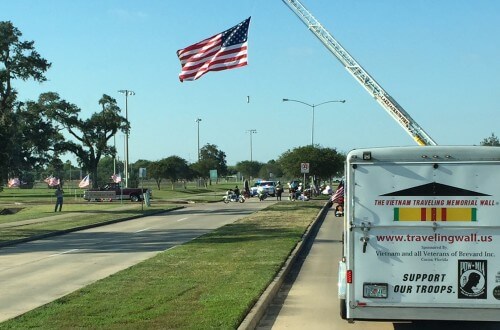 In one town, a local fire truck was parked on an overpass, an American flag flying from a ladder extended over the highway while in another town, a large crane was parked by the roadside with a huge American flag suspended directly over us. I saw the cars parked alongside the road, their occupants standing outside as my trailer rolled by. I saw veterans standing at attention, rendering perfect salutes as our procession entered the flag-lined entrance to MacLean Park, our arrival announced by a thundering herd of motorcycles.
Perhaps the happiest moments here were on Thursday, when veterans showed up to unload me from the trailer and prepare me for display. First they stood at the back of the trailer and bowed their heads in prayer, giving thanks for the sacrifices of those whose names are carved on my panels and asking for wisdom and strength for those who even now stand guard on freedom's front lines. With great care and solemnity they carried me to display and secured my place on the rails. Vietnam vets, Desert Storm vets, Korean War vets, some Purple Heart recipients, all with one purpose, carefully assembled my parts and prepared the area.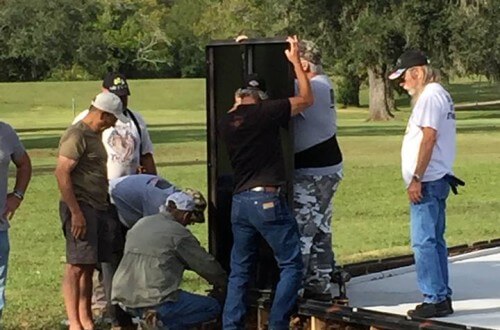 I remember their laughter when a comrade who had earned a Purple Heart as a door gunner when his chopper was shot down, observed a little bicyclist riding toward us who was wearing some ridiculously tight fitting outfit and something that looked like Aphrodite's shell on his head. "I think he may be a terrorist," said the door gunner. Another veteran replied, "He probably thinks we're the local chapter of Hell's Geriatrics." "Don't worry," answered the gunner, "if he attacks, I'll go get help." We all laughed.
The school children arrived on Friday, one class after another, as Greg Welsh, who has brought me from place to place and overseen my events for many years now, told the children about me. Greg and his wife, Maureen, are retiring this year, after which I will be entrusted to the capable of hands of Doc Russo. The children walked quietly by, some reading the names aloud, others searching for names assigned to them by their teachers.
They held a ceremony on Saturday. A local musician sang about taking a break on long trip and seeing a military cemetery.
"I don't know why, but I stood there,
And I stared out at the field.
And I wondered just how many stones,
Stood there cold and still.
Young and old, black and white,
A place where heroes go.
They died for our country's sake,
So many years ago.
And it hit me as I read the names of soldiers carved in stone,
There names will live forever, or their memories' all gone.
They're all fallen heroes, though they died in different wars.
Heroes, … all American boys."
Then, Greg spoke for me in addressing the assemblage:
Most importantly, what this wall is about is the Vietnam veteran. Some of them may be coming for the first time. They might only get as far as that parking lot. They might make it to the curb, or they might even be able to make it all the way to the wall. But the fact is that they took the first step in the healing process to cope with what happened so many years ago.
Those people, my comrades from another time, those who render a slow salute, those who look as tough as nails and yet weep uncontrollably when their eyes meet mine, my heart would beat for them if it could still beat at all. I would weep with them, if I could but weep. Surely there is a special place in Heaven for these people who have already served so much time in Hell.
In a little while, the names of local heroes who were killed in battle will be read. A 21-gun salute will follow, each report of the rifle registering as a thunderbolt through the hearts of those who lost someone dear in war. Then, after the mournful notes of "Taps" are played and everyone goes home, I'll still be standing here in the quiet night, waiting for the friend, the comrade, the child or grandchild, the mother or father, teacher, sister or brother to spend a few moments with me.
That veteran on the motorcycle just stopped, his engine idling while he looks dead at me, his white beard moving in the breeze as he contemplates me from a distance. He just turned his head as if to see if anyone was watching before bowing his head in a moment of quiet before reaching up under his sunglasses to dry an eye. My God, if only I could cry too! Another rev of the motor and he rides slowly away, unseen by most, but I know him. I know them all, my brothers and sisters in arms, because ultimately, they are my family.