For a number of years, Republicans have been told that demographic shifts will ensure their party is reduced to a permanent minority status. Democrats have consoled themselves through many electoral losses by sobbing gently into the pages of The Emerging Democratic Majority, and similar tomes. A mixture of more minority voters, and a generation of young people who find the Republicans to be out of touch, has been scheduled to doom the GOP in national elections.
Or will it? In what will surely come as a surprise to Democrats, young people do not remain young forever. Time marches forever onward. A new crop of barbarians arise each year, and their voting preferences aren't as straight forward as Democrats would prefer.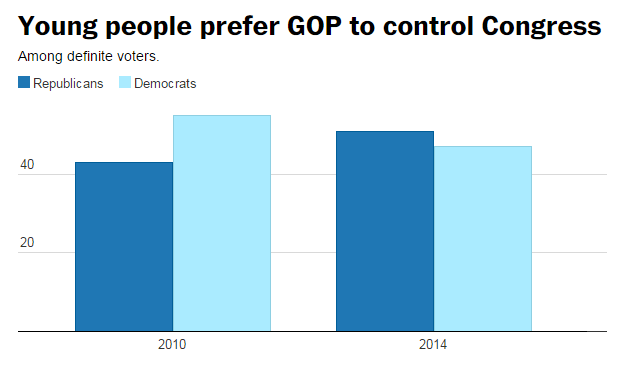 Young people in this poll are defined as those 18-29 years old. So what has changed since 2010? The most obvious possibility is that 33% of this 12-year demographic range has turned over. Those who were 26-29 in 2010 are now in their 30's, and those who were 14-17 in 2010 are now able to vote.
We have several data points which reveal a delta between older millennials and the newest crop of voters. In 2012, Mitt Romney won 18-year-olds with 57% of their vote. He won 59% of 19-year-olds, and 54% of 20-year-olds.
How is this possible when Republicans are so eager to ban sex, and kill baby seals? Allow the Washington Post to explain.
The reason is this: The dominant party identification of any new generation depends on the political and economic fundamentals in the country when that generation enters young adulthood. A booming economy and a popular president will push young people toward the president's party. A recession and an unpopular president will push young people toward the opposite party.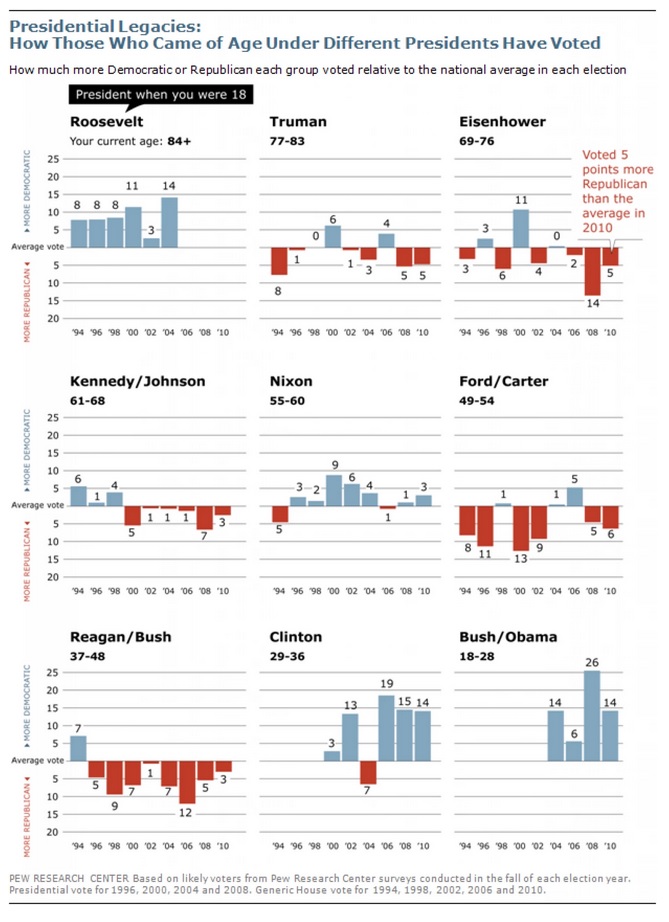 Popular presidents create many new voters for their party among young people. Unpopular presidents create new voters for the opposition party. It's really that simple. The preferences of these voters do not change much over time after initially being set.
During the Carter and Reagan years, a massive shift towards the Republican Party took place among young people. Those young people are now in their 40s and 50s, and vote reliably Republican. During Clinton's second term, and the tenure of Bush the Younger, a shift towards the Democrats took place. Those voters are largely older millennials, and vote reliably for Democrats.
The incompetence of Barrack Obama has created new batch of young Republican voters. A competent Republican who can turn the economy around by rolling back some of the worst of Obama's regulations will earn the party even more young voters. With luck, one day in the not too distant future, we will be able to enjoy the tears of EJ Dionne, as we did in 1988.
It is said that the future belongs to the young, which gives the Republican Party a lot to look forward to.

Whoever wins the 1988 Presidential election, the Republican Party has made major strides in this election year and in the previous seven years, not only holding but expanding its advantage among young people, largely because of the appeal that Ronald Reagan, the nation's oldest President, holds for the young.

Younger voters are poised to vote heavily for Vice President Bush, and their long-term inclinations represent the party's best hope of escaping the minority status it has held since the New Deal.
Demographics are destiny, but only if you can read the chart. Older millennials as a group will never convert to the Republican Party on mass, just as voters who turned 18 during the presidency of FDR never did. Fortunately, the next generation awaits conversion, and all that is necessary to see it happen is for the next Republican president to be reasonably competent when compared to his predecessor.
Even if your trust of the Republican Party is low, you have to admit, that is a low bar to clear.