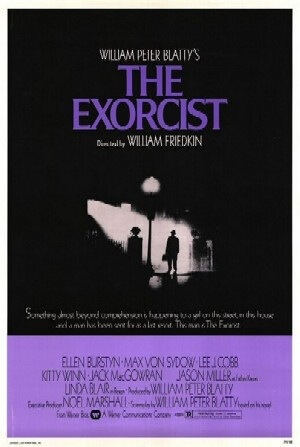 It's nearly Halloween, which means a cornucopia of horror movies on TV. Most of them are just awful, with a few masterpieces occasionally making the grade. Last night some cable channel featured Friday the 13th, Nightmare on Elm Street, and a couple of zombie features I'd never heard of. Frankly, the horror movie genre is in a slump. It's zombies, zombies, zombies, all the way down and I've never understood their appeal. I have a pretty strong stomach — I always have anchovies on my pizza — but I demur when it comes to people eating people. I just don't understand how they can be the luckiest people in the world.
For just over 40 years, The Exorcist has been the magnum opus of horror films. I've never completely understood how such a frankly religious movie has been transformed into a Halloween staple. Yes, it's terrifying and — for whatever reason — people love to be terrified. But what makes it a perennial favorite, I think, is the gut deep fear that demonic possession may be possible. Nobody's going to turn into a zombie or be resurrected as a member of the fraternity of the undead. But at a visceral level, most people believe fallen angels are more than superstition who literally, in the words of the Prayer to St. Michael, "prowl about the world seeking the ruin of souls."
Satan is out of style, nowadays, which is a very bad thing. Archbishop Fulton Sheen pushed the idea of the devil with a great deal of fervor. Satan's untimely death in the psyche of present day man is, he said, his greatest triumph. Modern man may be numbed to evil given the terrors of the present age. But when beheadings are all the rage in ISIS land, it might be wise to re-think our dangerous conceit that evil lives only in the hearts of men. Evil is personal. It may be ISIS policy to chop off heads, but individuals carry out the orders. And it could well be that a person — one of unfathomable power — and who is supernaturally skilled in the art of deception, tempts us to break free from the "superstition."
I watch The Exorcist whenever I see it on my channel listings. If you ever decide to watch it, make sure you have a healthy and stout heart. It is very difficult to watch, and not just because of the sickening special effects — which I've never seen surpassed — but because of how well they fit into the story. The demon is the very epitome of darkness and ugliness. St. Faustina, who was given the fearsome privilege of actually seeing the chief of the fallen angels, described him as horrifying beyond conjuring. The unbounded ugliness in The Exorcist is a slim representation of the evil one.
That ugliness is the heart of the film. The demon is so perfectly horrible that no science — not even the magical theories of modern psychiatry — can begin to grasp his awesome power. That is where the priests come in. Here are two weak men, one elderly and sick, having battled the demon once before. The other spiritually sick, haunted by his own demons, and at the near end of his faith. Yet these two men, mortal and spent, finally stare down the evil dweller—and pay the price for their efforts.
I believe in the evil one. In fact, I suspect it would be easier for me to lose faith in God than in the demons. If that sounds strange, remember that we see God only darkly and through a glass, as St. Paul tells us. But if we're attentive, we see Lucifer every day. And we see him not only in such manifest horrors as IS, or spree murderers like the one in California who gunned down two policemen. If we are attentive, we'll see him in ourselves.
The Exorcist is the story of Satan run amuck. He rarely infects us so grotesquely. But every day — again and again — we hear his invitation to evil. It's usually in the petty things: an unkind word, a bit of gossip, or looking too attentively at an attractive member of the species. Maybe these are too small to matter much. But maybe they are far more deadly than a thousand demonic possessions.
The great Catholic writer Frank Sheed observed that tiny wrongs accumulate like dirt and sweat; over time, the spirit comes to reek. And like physical stench, we tend not to be able to smell our own. Just as our family members may finally have to intervene and tell us that our bodies offend, so God may have to open our spiritual noses to encourage us to wash away the crapulence heaped upon us by Satan and his minions.
Philosophy and theology have long explained that evil is a deprivation of the good. In this sense the evil one is, as Mephistopheles said to Faust, "he who negates." In Old Possum's Book of Practical Cats, T. S. Eliot gives evil a name: McCavity, the one who "is not there."
But Lucifer is obvious to me. Some of the things I've done over the years simply defy another explanation. I could not have dreamed them up without a little help. I've never killed a man, committed adultery, or robbed a liquor store. But I've hurt others in my words, and offended God in my thoughts, and done some nasty stuff. If Satan is real, he's offered these up on a platter, and I've gorged myself on his fare.
How science can explain evil — a negation — is beyond my understanding. In The Exorcist, Fr. Karas, a psychiatrist, exhausts every scientific means to explain the phenomenon he sees. In the end, though, he can find no consolation in the tools of men. He sees evil for what it is, or more accurately, who he is.
The chances of my being possessed are roughly equal to being killed by a watermelon dropped from an airplane. But when I spread my life out in front of me — and when I am attentive — I see the crooked smile of the one who isn't there.
That's knee-buckling horror that no movie can match.