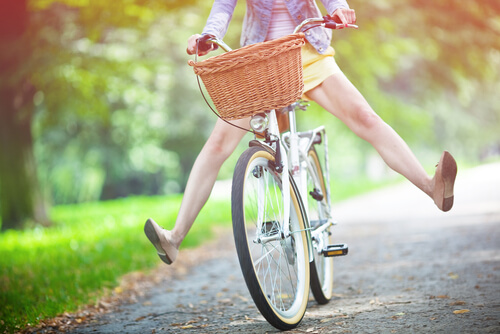 Every Friday, Dennis Prager devotes an hour of his radio show to the subject of happiness, a subject he also wrote a book on. Last week, he raised some questions that got me thinking. One of his points was that true happiness is earned. Do you think this is true? I guess I'd say that sometimes happiness is earned, the type that is akin to pride in accomplishment. Sometimes it's nice to think, "I did that, even if no one else appreciates it, it took struggle and work and I didn't think I could, but I did that hard thing." That's a good, happy feeling.
But sometimes, happiness just kind of alights upon you in the moment. You don't earn it, it just finds you. Maybe something you did or are allowed that moment to happen, so perhaps in a sense you earned it, but that sure isn't always obvious to me. So I guess I'd argue with Dennis a bit on that one; I don't think happiness is always earned. I know I really treasure those occasions, sometimes full days, when I just feel happy and contented for no obvious reason.
Dennis also says happiness is a moral obligation. Do you think that is true? I do. We owe it to the people we love and spend our time with not to inflict our troubles and bad moods on them. We want to share our troubles in a sense, but at the same time we want to do it with grace and gratitude for the good things in our lives, which I hope is those people we live with. Sometimes it's a challenge to (almost) always present a happy face to those we are closest to, but I think it is a kind of moral obligation because those are the people we influence the most.
I've noticed, however, that it is much easier for some people to be happy than others. My oldest grandson is pensive and prone to worry, while another grandson is always smiling and assumes everyone likes him. And they do. They were born this way. Are they both equally morally obliged to be happy for the sake of others? It will be much harder for one than the other to fulfill this moral obligation.
Is it possible for you to be happy when you have troubles in your life? I know it depends on the troubles, but — life being what it is — we are likely to be troubled a good part of the time, whether by health problems, finances, or difficult interpersonal relationships. How can we be happy when we are constantly troubled?
I know some people who seem to actually enjoy having a lot of drama in their lives. That would not be me. I work very hard to maintain good health, stable finances and good relationships because worrying about those things makes me unhappy. Sometimes, though, troubles make you appreciate small moments of happiness more than you would when life is humming along smoothly.
So, are you happy?
Image Credit: Shutterstock user Rafal Olkis.