Actress Lena Dunham, a big supporter of President Obama, is embarking on an elaborate book tour, which will feature warm-up acts chosen from an open casting-call via video. From the New York Times:
Three of the videos were disturbing, but the rest were super awesome," Ms. Dunham said, adding that she spent several hours screening the auditions in bed.
Apparently these performers will not be paid. "Performing free of charge" is how the Times puts it. About which, Gawker offers this analysis: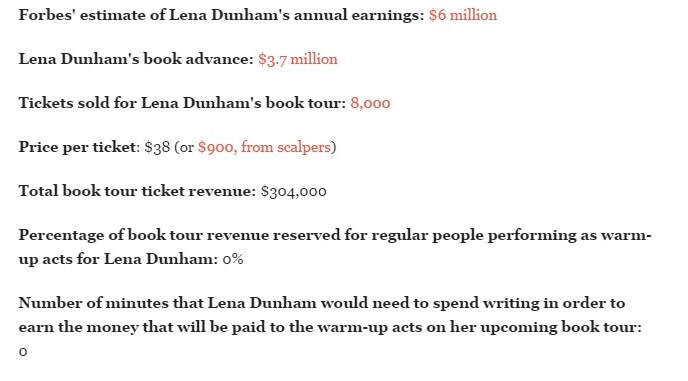 As one reader of the Gawker piece put it: "It's amazing how lax some fairly liberal people can get with minimum wage laws when it comes to their own hires." Yes, it is amazing how people promote certain issues in the abstract, but act quite differently in their own lives — especially when they have to dig into their own pockets. Another example might be, say, celebrities who march against global warming but show up to protests in a yacht. Then again, perhaps Dunham is actually an opponent of the minimum wage and favors rather an expanded Earned Income Tax Credit or other wage subsidy. I doubt it, but will certainly update this post if that turns out to be the case.