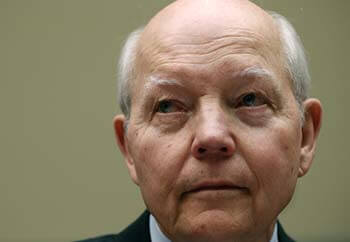 While the circle tightens around America's least popular commissioner, a far more important commissioner again revealed the contempt for the law to which we've all grown accustomed:
During another grueling hearing on the ObamaCare rollout, the head of the IRS tried to offer lawmakers an assurance about the soon-to-open enrollment period.

"Whenever we can, we follow the law," IRS Commissioner John Koskinen told the House Ways and Means subcommittee on health on Wednesday.

Rep. Kevin Brady (R-Texas), who leads the subcommittee, immediately expressed his concern with the remarks.

"I encourage you to follow the law in all instances," Brady said.
I know that a violent NFL player is the only news story going on right now, but could our ADHD press cover the IRS mess for a while? Though not filmed in a hotel elevator, Koskinen's comments are below: