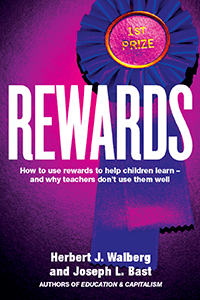 Nearly all children are "home schooled" during their first four or five years before being enrolled in a formal school. Growing numbers of students – approximately 1.7 million to 2.1 million – continue to be schooled at home after they are old enough to attend conventional schools, but in some capacity all students continue to be, or should be, substantially "home schooled" for their entire K-12 careers. This is because in their first 18 years, only about 12 percent of children's time (when they're not sleeping) is spent in school.
Some parents do all they can to ensure their children rank first in all their academic classes in school. Best-selling author Amy Chua, for example, described herself as a "Tiger Mother" and was much ridiculed for her impressive and successful efforts to gain her daughters' entrance to Ivy League universities and for one to even make a solo performance at Carnegie Hall. Her book, Battle Hymn of the Tiger Mother, noted that rigorous family emphasis on achievement is common in Asian cultures. It sparked a national debate about parents' roles in educating and pushing children to achieve.
Research shows children with devoted parents are likely to learn far more than others. Parents can create a learning environment at home by having on hand age-appropriate personal or library-borrowed books and if they can afford it, art supplies, musical instruments, and electronic devices such as personal computers and tablets, which continue to fall in price. Many of these items can be purchased inexpensively at second-hand stores, such as Goodwill. Since children quickly outgrow many of these learning aids, it is a good idea to get in the habit of buying them used and then donating them when finished.
An extensive array of educational software is available from which parents can choose. Leaders in this field are Broderbund, creator of the Mavis Beacon typing software and Carmen Sandiego games, and Knowledge Adventure, with online and downloadable games in all fields for all age ranges. The Core-Learning Web site offers a treasure trove of software and other resources for parents along with extensive reviews of education software.
Excessive time spent watching television and playing video games is negatively associated with academic achievement, as well as positively correlated with child obesity, although the research is somewhat causally inconclusive. While television may appear to be a free substitute for a babysitter, it can distract children as well as their parents from activities more likely to prompt learning and instill good habits such as playing board games, reading, painting, drawing, dancing, and participating in sports.
Activities that encourage learning should continue all the way through high school. Even though mom and dad may not be able to help much with chemistry, biology, and calculus homework, they can make sure there is a place for quiet study, that books and online resources are available, and that the usual preoccupations of young adults do not interfere with school work. At each stage of a child's development, age-appropriate rewards – from fruit or a trip to the park for infants to being able to use the car and staying out late on a weekend night for a teenager – are constructive parts of parenting. Reward systems need to be deliberately and carefully designed and then followed so that rewards are reliably given (or withheld) to help accelerate children's learning.
Herbert J. Walberg and Joseph L. Bast are chairman and president, respectively, of The Heartland Institute and authors of Rewards: How to use rewards to help children learn – and why teachers don't use them well (October 2014; ISBN 978-1-934791-38-7). this article is excerpted from Chapter 5, "Rewards at Home."