Of the 10 men who have won either the Democratic or Republican presidential nominations since 1988, three (Michael Dukakis, John Kerry, and Mitt Romney) have been Massachusetts officeholders. The trend, of course, goes back much further, with the Commonwealth always over-performing in presidential politics. Massachusetts, you might say, has a bad habit of imposing its elected leaders on the rest of the country.
With that in mind, it's worth keeping an eye on the state's most prominent politicians. Senator Ed Markey is too old and explicitly left-wing to be of much danger (thank goodness). His colleague, Elizabeth Warren, is more worrying because she can spout lefty nonsense and sensible advice in similar tones. Governors, however, are usually the most obvious presidential candidates, and the Bay State has an open seat now that Deval Patrick is retiring.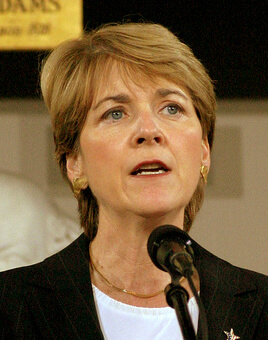 The Democratic nominee to succeed Patrick is state Attorney General Martha Coakley, one of the few political types that genuinely scares me: the self-sure and aggressive Leftist prosecutor. While working at the District Attorney's office in Boston's Northeastern suburbs, she oversaw the final stages of the prosecution of the Arimault family, who were falsely — and preposterously — accused of molesting and violently raping children at the daycare they ran. Since then, she's spearheaded a number of prominent cases that smell and feel much more like activism than law enforcement. As one rather minor (though unsettling) example, she's used her office to effectively outlaw private ownership of post-second-generation Glock handguns in the state on specious safety grounds … despite the fact that they're apparently safe enough to be standard issue for most police officers in the state.
The good news is that Coakley is not a great politician. You may remember her, for instance, as the Democrat that assumed she was a shoe-in to take Ted Kennedy's seat four years ago, only be be trounced by Scott Brown. Much like Hillary Clinton, "likable enough" is the most she can hope for … on a good day.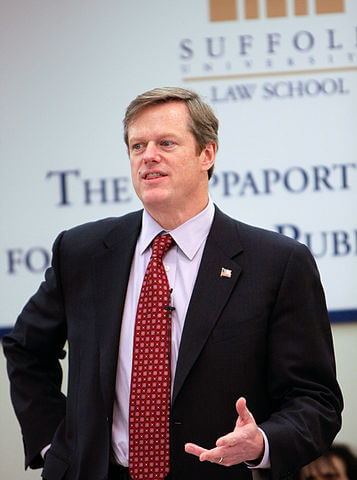 On the Republican side is Charlie Baker. To get a sense of Baker, imagine a 2002-era Mitt Romney, but without the movie star looks or whistle-worthy resume. He's been appointed to various state offices, and ran one of the state's largest healthcare providers, both with success. Baker's first run for elective office was in 2010, when he lost badly to Governor Patrick.
Ideologically, Baker is New England squish with above-average FiCon credentials. He's pro-choice and pro-SSM, but also favors more school choice, and helped co-found the Pioneer Institute, a Boston-based FiCon/Free Market think tank (yes, you read that right). He's the kind of conservative who prescribes moderate exercise and diet when others might order a gastric bypass.
The latest polls show show that the race has tightened since the primaries earlier this month, with Baker and Coakley neck-and-neck; this race was never a completely foregone conclusion, and it's now more uncertain than ever.
Coakley has the Democratic machine behind her. That's no small thing: Democrats currently hold all statewide offices, a super-majority in both houses of the legislature, and every single seat in the state's congressional delegation. She's also got a thoroughly demoralized Republican Party that's lost any of the momentum it thought it had following Brown's victory in 2010.
All's not lost for Baker, however. Coakley isn't very appealing and Massachusetts has a reputation for not being terribly enamored of lady politicians. Moreover, Baker is exactly the kind of Republican Bay Staters tend to elect: the inoffensive, socially liberal, competent, establishment type. He's also got the benefit of much better name recognition than he had during his first run.
Given the state's history, you're likely to hear from one or the other of these two again in the future. Here's hoping we turn the state's deep blue into something ever-so-slightly purple.
Images: 1) "Martha Coakley crop" by Martha Coakley speaking at Faneuil Hall.jpg: Fogsterderivative work: Abovedrew23 – This is a retouched picture, which means that it has been digitally altered from its original version. Modifications: cropped. The original can be viewed here: Martha Coakley speaking at Faneuil Hall.jpg 2) "CharlieBakerFeb2010" by Gingerbella282 – Rappaport Center for Law and Public Service. Licensed under CC0 via Wikimedia Commons.