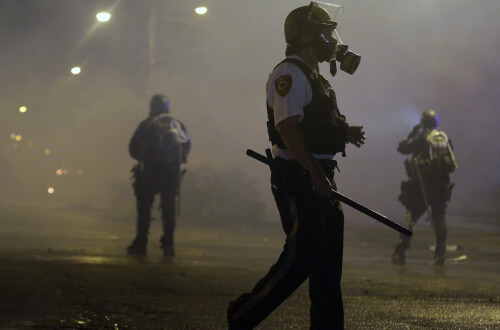 I've not yet written anything about the situation in Ferguson, Missouri for the simple reason that I haven't had to. On stories like this, that's the singular luxury of not having to fill column inches or airtime — you simply don't have to speak up until you have something to say. I've often thought that's the poverty of 24-hour cable news — when the red lights comes on, you start talking, whether or not you have anything intelligent to say and whether or not you have a clue in hell as to the facts of the story you're supposed to be covering (I've just described CNN's business model).
As the situation presently stands, we still seem to have remarkably little information about the shooting of Michael Brown. It's plausible that information yet to come out may either vindicate the outrage over the incident or demonstrate at least some measure of culpability on Brown's behalf. Those who are leaning strongly towards one side or the other are probably telling us more about their ideological priors than about the case itself. Still, a few words deserve to be said about some of the events that have followed in the wake of the shooting.
— Ricochet was littered last week with posts decrying the militarization of law enforcement, a trend that's been on display in Ferguson, but one that the libertarian right in particular has been calling attention to for years now. (This is only part of a broader trend of civic-police disconnect: I believe I'm on record as noting that, in America, the indiscriminate killing of family dogs is probably the most expedient route by which law enforcement can lose the public trust).
I'm broadly sympathetic to the militarization concerns, although one can imagine rare, limited scenarios — out-of-control riots, for example — where a different class of hardware might be needed. That said, Ferguson seems the worst of all possible worlds on this front — a place where the police ostracize the citizenry with martial aesthetics, yet stand down as looters go to town (presumably to avoid inflaming racial tension). How "America's Last Days" is that?
— With respect to the looting, every member of the media or the local community who has uttered a word that is less than condemnatory is an accessory to cultural barbarism. No matter how legitimate you think the outrage over Brown's death is, this is a giant, violent non sequitur.
There is nothing about Brown's demise that gives license to his sympathists to go about stealing or destroying anyone's property, let alone that of people who had nothing to do with the incident. Yet we've come to confer such exalted status on victimhood — especially when there's a racial component — that it's considered gauche among elites to refer to the looting as anything more than a perhaps intemperate method of seeking legitimate redress. Here's an alternative diagnosis: every one of those looters should be sitting in a jail cell. And every store owner in Ferguson should be arming himself, especially given the fact that law enforcement's willingness to … well, enforce the law … seems to run only as far as it imagines its public relations strategy will allow.
— As for that emphasis on PR, the phrase "a day late and a dollar short "comes to mind. Here's a tip for Ferguson officials: if you don't want the media to go to war with you, don't be the one to initiate hostilities. The needless arrest of reporters and the repeated threats against those who are attempting to film events on the ground aren't just counterproductive; they're self-destructive. One of the reasons that the militarization issue sticks in people's craws is that it lines up with a broader notion that modern police forces define their relationship with the broader public in adversarial terms. If you're a public official doing public business, you can't be threatening people for attempting to record it. If anything, more footage would have helped this situation. Much of the ambiguity around Brown's death likely wouldn't exist if Ferguson police had been using dashcams or body cameras.
— The cops have been taking a lot of heat for releasing a surveillance video that shows Brown (I'm not going to use the "allegedly" nonsense because his family has basically conceded that it's him) stealing from a convenience store and assaulting a clerk shortly before the shooting. In keeping with their all-thumbs approach, law enforcement officials subsequently clarified that the officer who shot Brown wasn't actually aware that he was a suspect in that robbery, leading to allegations that they were just trying to muddy the narrative. Then they doubled back and said the officer may have had his suspicions after all.
Regardless of whether law enforcement bolloxed this, the new talking point that the release of the video amounts to an attempt at "character assassination" (a phrase employed by, among others, the president of the NAACP) is ludicrous. Understandings of what constitutes character assassination may vary, but any definition so capacious as to include documentary evidence of criminal behavior surely stretch the term to its breaking point. That's not character assassination. That's character suicide.
 — A final thought: the intervention of Eric Holder's Justice Department has been profoundly (and predictably) unhelpful. Thus far, the DOJ has launched an investigation into the shooting that involves the Civil Rights Division of the Justice Department and the U.S. Attorney's Office in Missouri; intervened in crowd control; and now, stunningly, even ordered a new autopsy (the third) on Brown's body.
What justification there is for the feds to be running a process parallel to state and local officials is beyond me — besides Holder's instinctive need to insert himself in the middle of any aspect of American life with racial undertones. Writing about Ferguson, the great Joseph Epstein recently noted in the Wall Street Journal that "One of the small but genuine accomplishments of President Obama has been to keep [Jesse Jackson and Al Sharpton] from becoming associated with the White House." He's right about that— but I can't help think their absence is more than compensated for by the presence of Holder, who, while less theatrical, is every bit as corrosive.