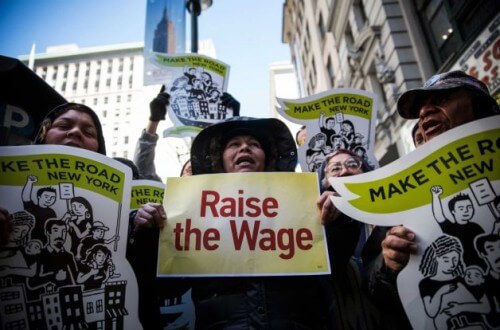 As I sit here typing, I can scarcely comprehend the work it takes to be a farmer—even moreso a farmer of 100 or 200 years ago. Early mornings, sowing seeds, tending to the animals, all while keeping the house, the children, and life in order. By the time one day was over, it was about time to start the next.
In many ways, the farmer (either of today or 100 years ago) serves as an example of the kind of person America was designed for: hard-working, self-reliant individuals who add to the country's growth and value.
For the farmer of old, the responsibility of provision laid squarely upon his shoulders. There was no government bailout and certainly no standing before the cows with a sign demanding higher milk output for the same amount of work. It was do or die — in the most literal sense.
The Hobbesian generation of today, on the other hand, feels entitled to just about anything — justified, of course, with some of the most trivial excuses man can invent.
Rather than coming to the conclusion of "gee, maybe I continue to earn minimum wage because I've yet to show the company I am worth a higher salary," we have "minimum wage is not enough to support my kids! Greedy business, do you care if my kids starve?" Because, you know, it's the company's fault you decided to have children. There are, of course, families hard-pressed through genuine misfortune, but more often than not these excuses emerge as a way to shift blame from the person being "unjustly" asked to take responsibility for his or her life decisions. In short, it is someone else's fault.
We are all well aware of minimum wage, "free" birth control, Detroit water, and the endless list of other things that have become, as Thomas Hobbes would put it, "a right by nature." However, this dystopian fairytale has progressed to the point where writers are now at work attempting to persuade the masses that procrastination is — you guessed it — someone else's fault. As explained in this article by Alisa Opar in Nautilus:
[British philosopher Derek] Parfit's view [that humans are not a consistent identity moving through time] was controversial even among philosophers. But psychologists are beginning to understand that it may accurately describe our attitudes towards our own decision-making: It turns out that we see our future selves as strangers. Though we will inevitably share their fates, the people we will become in a decade, quarter century, or more, are unknown to us. This impedes our ability to make good choices on their—which of course is our own—behalf. That bright, shiny New Year's resolution? If you feel perfectly justified in breaking it, it may be because it feels like it was a promise someone else made.
Emphasis mine.
Did you catch that? In a longwinded (the article is much, much longer) manner, the writer uses a philosopher to attempt an explanation of why it is someone else's fault we procrastinate.
Rather than stating plainly, "you know, I just don't feel like doing that right now," then admitting the laziness and getting over it, we have to build a juggernaut of words to excuse — or rather "explain" — why we procrastinate.
At least the fast food worker places blame on an actual person or corporation. The "psychologist" of this age is attempting to blame procrastination on an imaginary version of yourself. Yep, sanity set sail from that article within one paragraph.
So it goes—as the necessity of blame-placing grows, so will the absolute absurdities of those seeking to create a rationale for why it is so.
It is little wonder why so few cry out at this country's leadership and their blame-shifting—doing so, for many, would hit too close to home.
Image credit: CT Post