Just hours ago, I proposed to Ricochet's Liz Harrison that comparing the United States under Obama to Turkey under Erdoğan reflected a failure of imagination. I was remembering, among other things, the circumstances under which I left Turkey, which I detailed at length here:
June 1: Hundreds of thousands of demonstrators in more than 40 Turkish cities keep protesting. The protesters move to the office of Prime Minister Erdoğan in Beşiktaş, providing the police with an excuse for even harsher retaliation. Every living being in the district gets showered with tear gas—including, I'm told, the officials in the office, which at least was satisfying to imagine, if it's true. Ankara and Izmir rise up in force.Snippets of conversation: "They've got to be running low on tear gas." … "They saturation bombed this part of the city with gas, how much can they possibly have?" … "This is just ridiculous. What the [redacted] are they thinking?" … "Why the [redacted] are they provoking this, I wonder? Completely lost it? …
… And as all of this is happening—and broadcast around the world by foreign news services—Turkish television is showing anything but these scenes. CNN Türk aired a documentary about penguins.
I posted a link to that for Liz, then checked Twitter. God help us. My timeline looked just as it did last summer in Turkey, but it was happening in the United States, down to the most painful details: arrests of journalists, no coverage on the network news, and a police chief blaming "outside agitators."
I saw images like this, again: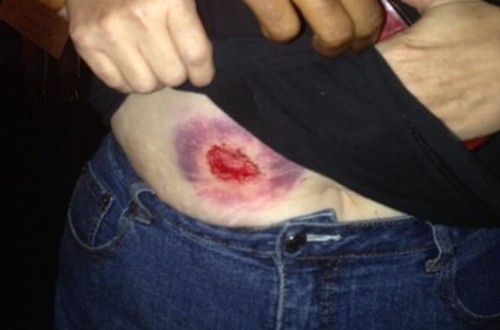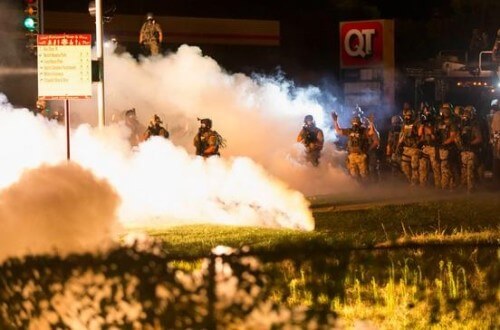 And Tweets like this, again:
Innocent people are dying and being hurt in #Ferguson please spread the word of #mediablackout Our world needs help. pic.twitter.com/NfMag9Uesu

— Charlie B (@TheCharlieB) August 14, 2014
"Young man gives cops the finger immediately laser-targeted with an AR-15 assault rifle in #Ferguson pic.twitter.com/GKKyv0DqY3"this is so scary

— ㅤ (@ramenIoudles) August 14, 2014
#Ferguson police are literally rolling up to reporters and tear gassing them to keep reports from getting out. pic.twitter.com/sSFmTRPJFc

— The Illuminati (@TheEyeOfControl) August 14, 2014
Be aware. What you are seeing, isn't Middle East. This is United States, a War Zone in little city #Ferguson. pic.twitter.com/9580CYs9Mq

— Most Valuable (@NikeFamousss) August 14, 2014
And as all this was happening, it seems, our news stations were preoccupied with deep thoughts about Robin Williams.
This video establishes clearly that the police attacked people who were running away. Police in military garb, with military gear, attacked the very kind of assembly our Constitution was designed to protect, and terrorized an American city. There wasn't a word from the White House. Obama was too busy hugging it out with Hilary Clinton on Martha's Vineyard even to issue a statement.
This is both a domestic disaster and a foreign policy disaster. Turkish officials are already gloating, joined by tinpot thugs the world around. I cannot count the number of times I told people in Turkey that what we were seeing would never happen in America. I was wrong.
There can be no minimising or excusing this. The entire world saw this, or will see it soon enough. This, as Julia Ioffe wrote, is not what I told people America was. 
The photograph below is from Turkey, last summer. The photographs above are all from America, yesterday.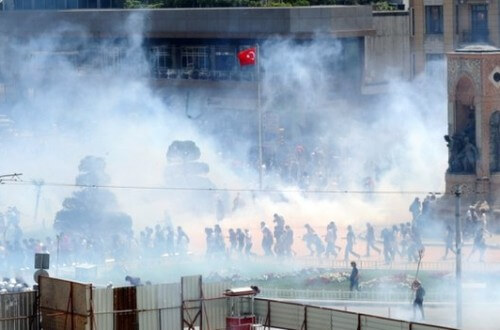 Can you tell the difference?