With the Ebola virus making its first appearance on America's shores in an effort to aid two American doctors who have become infected with the disease, frightened citizens have begun scouring the internet for any information they can gather. Unsure what the virus wants, or whether it will beat them up before taking their lunch money, some desperate souls have turned to Vox, the world's foremost explainer of things that require little explanation.
To no one's surprise, greedy corporations are the root of all evil.
Here's what's surprising and interesting about this state of affairs: it is not caused by a lack of human ingenuity or scientific capacity to come up with Ebola remedies. It's because this is an African disease, and our global innovation system largely ignores the health problems of the poor.
Better strap in. We've haven't nearly reached peak cringe worthiness yet.
This shouldn't be news. Most all of the money for research and development in health comes from the private sector. They naturally have a singular focus — making money — and they do that by selling patent-protected products to many people who can and are willing to pay very high monopoly prices. Not by developing medicines and vaccines for the world's poorest people, like those suffering with Ebola.
How do the authors reach the conclusion that Ebola research is getting the shaft because of greedy capitalists? Remember that the left is not a movement of ideology, but of empiricism. They go only where the evidence takes them, even if that means chasing their own tails.
The left's aversion to holistic understanding leaves them forever prone to seeing statistics in a vacuum, and drawing over broad conclusions from them. Though they comprehend only small facets of the whole, they move forward with supreme confidence. After all, they have a chart.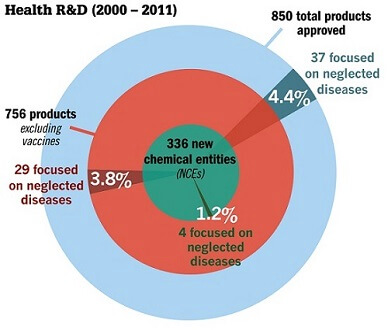 The data the author's rely on primarily deal with "neglected" diseases. Per the NIH, neglected literally means that these are diseases which primarily affect the poor. Much like Vox, the NIH explains that one of the reasons these diseases do not receive much in the way of R&D funding is that private pharmaceutical companies cannot recover the cost of developing and producing treatments for them. Then they drop this doozy which the wonks neglected to mention in their piece.
"Neglected diseases also lack visibility because they usually do not cause dramatic outbreaks that kill large numbers of people."
Ebola is the example par excellence. Prior to this year there had been 1,310 deaths from Ebola since the virus was first discovered in humans in 1976. How does that compare to other medical problems which were competing for R&D dollars?
There are between 250,000 and 500,000 flu deaths worldwide each year. Since 1976, more people have died of influenza than Ebola by an order of magnitude.
Cancer killed 8.2 million people worldwide in 2012. Heart disease killed 17.3 Million in 2008. The list of diseases more deadly than Ebola includes nearly every disease now discovered, including the common cold.
Data which breaks down research dollars per disease are a wonderful tool for analysis; until you pretend that is all you need to know before demanding the entire system of medical funding be overhauled.
Step one in such an analysis would be comparing those dollars to the actual deadliness of any given condition, in order to see if it is at all proportional. That not even this first step was taken before publishing such tripe is clear evidence of the left's impulse to play at empiricism, rather than engage in it.
But perhaps I am being unfair. After all, I haven't included the money quote of the piece yet.
Right now, more money goes into fighting baldness and erectile dysfunction than hemorrhagic fevers like dengue or Ebola.
A point as frivolous as it is misleading, this sentence betrays the utter lack of holistic understanding that I'm talking about. In Vox's kindergarten version of the world, if Propecia and Viagra didn't exist, that money would be going to more noble causes such as Ebola.
It does not enter their thinking that if the profitable venture of giving old men hope that they might get laid via hair and erections were to vanish, that these investment dollars would simply go elsewhere in the economy: such as making sports cars to give old men hope of getting laid.
Young liberals cannot help but engage in the same mistakes as their intellectual forebearers in the Soviet Union; mistakes which Hayek identified long before these wonks were born. No bureaucracy can as efficiently distribute resources as the market. Their meddling will primarily cause price distortions and shortages.
Government can effectively achieve any one goal which it sets for itself, as success can easily come at the expense of other goals. What government is bad at is balancing competing priorities.
Unfortunately for the pseudo-empirical left, humans have many priorities aside from protection from diseases: food, water, shelter, knowledge, family, comfort, leisure, getting laid after the age of 40, and so on. These priorities cannot be ranked empirically, as their value is largely subjective. Even when approached from a stand point of the hierarchy of needs, one cannot make very much progress.
Do we have to eradicate all diseases before any of us gets an iPad? After all, much research has been dedicated to the common cold, with virtually no effective drugs to show for it. Can we have steak in this Maslowian world, or are we all going to have to eat nuts and berries? If the latter, may I requisition the supplies to end my own life?
Even within a single priority, there are competing priorities. The FDA is the gatekeeper when it comes to new drug treatments, and they demand exhaustive proof of not only efficacy, but safety in all new drugs. But it's not like there is an Ebola vaccine stuck in bureaucratic hell right now though. I mean, that would be beyond parody when the left is demanding more government control over R&D.
This lack of faith in the market cannot stem from any holistic look at the empirical evidence. The correlation between capitalism and prosperity is too strong. Instead, it is driven by these micro-aggressions; Deep dives into very narrow aspects of the economy, where a supposed injustice can be seen. In this way, the faithful on the left hope to inflict a death of a thousand cuts on the most effective tool for improving the quality of life for human beings.
The wunderkind anxiously await their turn at the helm of America's resource allocation in place of the market, like newly licensed teens trying steal the keys to their dad's sports car. Sadly, we all end up wrapped around a tree when they get their wish.