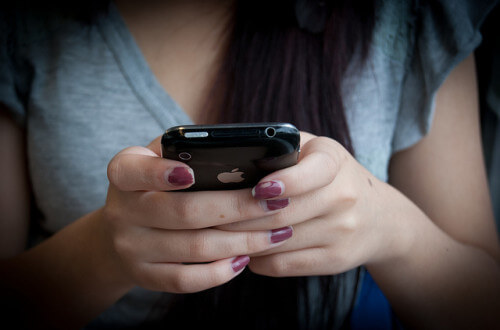 I like texting. For conveying short bits of information, it is much more convenient than having a conversation over the phone and there are numerous situations in which texting is an ideal means of communication. For example, if you're giving someone an address or asking them to pick up milk on the way home from work, it is easier and more convenient to text than it is to call.
For someone my age I was fairly slow to adopt texting. I steadfastly refused to text at all until I bought an iPhone in 2007. Since then, I've come to realize texting can be a valuable medium of communication and I believe that it has generally made me more efficient person. Nevertheless, two recent experiences have led me to conclude that texting is destroying America.
The first experience was two weekends ago when I was in the (novel for me) situation of having houseguests, one of which was my friend's 13-year-old daughter. Now, like any reasonable adult, I do my best to limit my interaction with adolescents and teenagers to the absolute minimum, so I was completely unprepared for the way texting dominates the lives of America's youths.
The girl in question, though unobjectionable other respects, spent the entirety of the weekend (meals included) texting. While I'm generally sympathetic to the plight of a 13-year-old who is separated from her peers and forced into the company of a group of adults (and lawyers at that), I couldn't help but notice that over the course of the weekend this girl did not have a single verbal conversation, either with the people she was around or even over the phone. The few times I tried to engage her in conversation were notable for their lack of success. The girl's mother appreciated my efforts to engage her daughter in conversation and, somewhat apologetically, told me not to take their failure as a personal rebuke. She assured me that the girl's verbal taciturnity is not limited to me or to adults generally. She apparently has a boyfriend with whom she communicates almost exclusively via text. I am reliably informed that this is not at all uncommon.
The second experience occurred yesterday. In the course of preparing for upcoming litigation I had to review the phone records of one of the witnesses. The records in question cover a period of two days, during which the witness was asleep for sixteen hours. Over that period of time the witness sent or received 936 text messages. This means the witness either sent or received a text approximately every two minutes she was awake.
This would be a prodigious feat even for the above-mentioned 13-year-old, who had no other real claims on her time or attention. It is all the more astonishing when one considers that the witness in question is a college educated 28-year-old single mother of two who is employed in a fairly responsible position at a major corporation. With all that texting one has to marvel that she is able to find time to feed and clothe her children, let alone accomplish anything at work.
The sheer volume of texts provoked astonishment, but their content caused me to despair. In addition to being depressingly crass and banal, they were so riddled with flagrant departures from the norms of grammar, syntax, and spelling as to be virtually incomprehensible. In fact, it took me several hours before I felt confident in my comprehension of the texts. I actually consider this no mean feat, as they were written in what can best be described as a unique dialect whose relation to standard English is on par with Jamaican patois or Glaswegian (the latter of which I was only able to understand passably after living in Scotland, with a Glaswegian roommate, for some months).
So I understand American society is facing a number of serious problems. We can't control our borders, the rate of out of wedlock births continues to rise, and the leviathan state is an increasingly ubiquitous presence every facet of our lives, but I submit these threats pale to insignificance when compared to the deleterious effect texting has had on our society.
What do you think? Do you text? If so, how much? Has texting had any effect on your interpersonal relations or on your general ability to communicate?
Photo Credit: Flickr user jhaymesisvip.