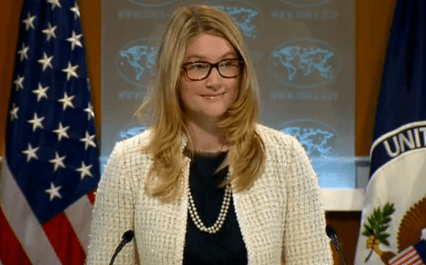 I turned on the TV last night just in time to catch Megyn Kelly's calm evisceration of State Department deputy spokesperson Marie Harf. You've seen Harf: The young blonde with big glasses who clumsily lies about Obama's foreign policy with all the gravitas of a cashier at The Gap.
Harf usually appears when State's usual spokesperson is indisposed. Jen Psaki also has a CV filled with cringeworthy gaffes, most famously the hashtag diplomacy photos that forced Putin to return Crimea to Ukraine.
To echo @BarackObama today-proud to stand #UnitedForUkraine World should stand together with one voice pic.twitter.com/VeMt578UdY — Jen Psaki (@statedeptspox) March 26, 2014
Wait, I think Putin kept Crimea. But just wait until Jen gets her "Yay Ukraine" Pinterest board going.
Yesterday also featured IRS commissioner John Koskinen grinning like a creepy leprechaun as he deceived, inveigled, and obfuscated about the agency's "lost" emails. As average Americans catalog each pay stub and lunch receipt in fear of an audit by the merciless tax collectors, the IRS boss was smugly indifferent when questioned by elected representatives.
How do such weak, feckless non-entities get so far in the federal bureaucracy? In the real world, highly skilled engineers, accountants, developers and other workers are putting in 70-hour weeks and still getting laid off. Meanwhile, dithering incompetents in D.C. preside over failure after failure only to receive huge bonuses to augment their six-figure incomes and spruce up their regal homes.
If any one of us had fallen on our faces like Koskinen, Psaki and Harf (there's a law firm you'd never hire), we'd cringe from the embarrassment the rest of our lives. But these three pop up the next day with their ignorant grins, vacant stares and unmerited condescension. No one likes an arrogant success, but even worse is the arrogant incompetent. Why is our political class is so full of them?
If Harf was forced to earn her way in the private sector, I'm thinking her uniform would look something like this: