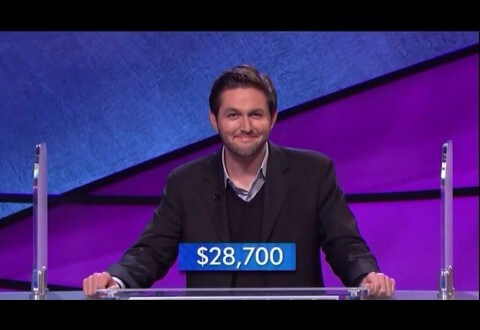 What Ricochet members have long suspected has now been confirmed on national television: soy un perderor. I'm a loser, baby. Last night, 24 hours after my inaugural appearance on Jeopardy! ended with me perched atop a throne of skulls, viewers got to witness the fall of the House of Senik (in case you can't tell, I'm using this post to disgorge all the references I had been husbanding for my appearance). And you know what? The loss was probably worth it to be the guy who got to avenge all the past Jeopardy contestants who have had their interview segment (or, as I call it, High-Functioning Autism Theater) hijacked by Alex Trebek making the story about himself:
A few reflections on the experience:
Jeopardy! producers will tell you that the answers that haunt contestants aren't the ones that they just flat didn't know; it's the ones that were entirely in their wheelhouses … where they just went blank. I would've notched my second win if I had only been able to call to mind GM as a company that had been removed from the S&P 500 and then relisted — not an unreasonable expectation given that I was actually serving in the White House at the start of the auto bailout. When it didn't come immediately to mind, however, I made the mistake of racking my brain instead of rereading the clue, wherein the superfluous use of the word "big" is a tipoff that the writers were looking for a big three automaker. That, by the way, is one of the keys to show — reading the signposts that the writing staff is giving you.
A Jeopardy! appearance will forever toy with your Google search results. I have now uttered "666" on national television. The devout amongst you can read into that what you will.
Depending on who you talk to on Twitter, my celebrity doppelgangers are Adam Scott (the actor, not the golfer), James McAvoy, Luke Bryan, Blake Shelton, or a wrestler who fights under the name Bad News Barrett. I was also compared to an evil version of Wil Wheaton and — my personal favorite — the pregnant man. Kudos, also, to the person on Twitter who noted "Troy's eyebrow game is too strong. He looks like a super villain."
Speaking of social media, there was a subset of Americans who were rooting for my defeat based solely on my friendship with John Yoo. They are currently on their way to CIA black sites.
Some kind, but deeply misguided, soul announced on Twitter yesterday that I had surpassed John Podhoretz as Ricochet's most impressive Jeopardy! player (John made it into the 1987 Tournament of Champions). Do not turn to this person for financial advice. John remains the king and it bears noting that I'm only now catching up to James Pethokoukis and James Poulos, both also one-day winners.
Contestants who live in Southern California are usually called in as alternates, meaning you might sit through one whole day of tapings (Jeopardy! tapes five shows for each day of production) and not actually play, at which point you're asked to come in again at a later date for a guaranteed appearance. This happened to me and one of the shows for which I was not chosen featured categories on football and conservative books. Had there also been categories on fried food and dark liquors, I would have been certain that God had dusted off the old Job playbook for use on me.
All in all, it was an extraordinarily fun process and the people who make Jeopardy! are really fantastic, from the producers all the way down to the intern who defrosts Alex's heart just before he goes on stage. If you didn't see the shows, the videos are down in the comments.