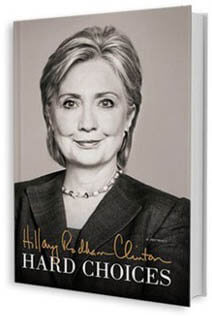 From Bret Stephens's devastating review of Hard Choices, Hillary Clinton's memoir of her years as secretary of state, in today's Wall Street Journal:
[I]t's not really a book at all. It is an artifact containing printed words, an event conveying political seriousness. Perhaps it could have been written at half its length (635 pages) with twice the interest. But that would have made it easier to read from start to finish, defeating its own purpose of being big and therefore, presumably, weighty. Ceci n'est pas une pipe, wrote (or painted) Rene Magritte. Just so with "Hard Choices": Ceci n'est pas un livre…

Mrs. Clinton… doesn't really have a story to tell. Her book is an assemblage of anecdotes, organized geographically, held together by no overarching theme, or underlying analysis, or ultimate accomplishment. In April she was asked to name her proudest achievements as secretary. She fumbled for an answer, as well she might. There are none.
If any among the Ricochetti has read — or, rather, skimmed, since the volume is unreadable — Hard Choices, would you let us know what you made of it?