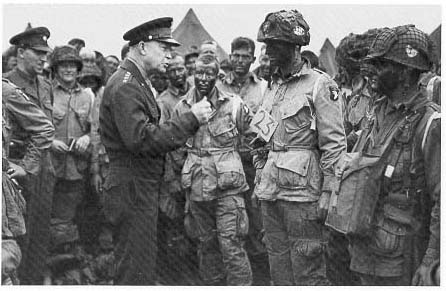 While Peter and Jeff are rightfully reminding us of the legacy of D-Day on its 70th anniversary, here's a different angle from which to consider the commemoration: what didn't happen.
As Jeff noted in his earlier post, the number of unforeseen variables were legion. That tends to be the case in wartime, and especially in an undertaking of this scale and complexity. Thankfully, it wasn't enough to thwart our efforts … but what if it had?
Two years ago, I posted here the speech that had been prepared for President Nixon should the moon landing have been a failure. It's a fascinating peek into alternative history and as moving as you'd expect given that it came from the pen of Bill Safire. Here's another document that never saw the light of day: the statement that had been prepared by General Dwight D. Eisenhower should D-Day have been a failure:
"Our landings in the Cherbourg-Haver area have failed to gain a satisfactory foothold and I have withdrawn the troops.

"My decision to attack at this time and place was based upon the best information available.

"The troops, the air, and the navy did all that bravery and devotion to duty could do. If any blame or fault attaches to the attempt, it is mine alone."
Oh, that last sentence. General Eisenhower, attempting one of the most ambitious military assaults of all time — the failure of which could conceivably have been explained through an endless array of rationalizations — stepping up and taking full responsibility. Would anyone have thought less of him if he issued the exact same statement minus the final sentence? And yet one imagines he couldn't live with himself had he done so. 
Our culture has a bad habit of overusing the word "hero." Ike, however, deserved the designation — as did so many of the men who lived through that day … and so many who didn't make it to the dusk.