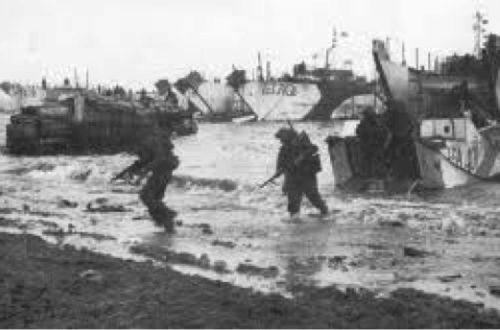 Each June 6th, those words leap to the front of one's consciousness. They were the code names of the five most important beaches in the history of the United States — and the free world. (Ok. The men who landed on Iwo, Tarawa, Guam, Saipan and dozens of others in the Pacific might argue that point).
Seventy years ago, the largest armada ever assembled crossed the Channel from England headed for Normandy. It was called "Operation Overlord" and it almost didn't take place.
A few days before it was to begin, the word "Overlord" appeared in a crossword puzzle in the London papers. Intelligence assumed it was a signal to the Germans about the upcoming invasion. To this day, it has never been explained–except to call it an untimely coincidence.
Operation Overlord had originally been planned to occur a month earlier — something about the moon and tides. In fact, the French Resistance had been alerted to start destroying the railways back in May, before the original plan was aborted.
Unbeknownst to Ike, German intelligence knew that when the first line of Verlaine's poem, "Chanson d'Automne",was broadcast on the BBC, the French Resistance was to gear up, and when the 2nd line "Blessent mon coeur D'une langueur Monotone" ("wound my heart with a monotonous languor"), was transmitted over the air waves, the attack was imminent.
On June 5th, when "wound my heart…" was broadcast, German intelligence alerted their High Command. As they had been alerted just a month earlier, they assumed the alert was routine, and didn't react. Blind luck.
Hitler always believed that the attack was going to come at Calais under the leadership of Generals Martin and Patton. Thinking that the original invasion (5,000 ships and eventually 3,000,000 men) was a "feint," he held back some panzer divisions for a few crucial days.
In a political compromise (reminiscent of what's being argued in D.C. today), the German defenses had been weakened because Rommel had insisted that the Panzer Divisions be close to the coast, reasoning that it would be better to have one Panzer Division fighting next to the sea than three divisions fighting troops that had moved inland.
General Gerd Von Rundstedt had argued for the Panzer Divisions to be centralized around Paris and Rouen.The argument went all the way up to Hitler, who imposed a compromise solution. Three Panzer divisions were given to Rommel, too few to cover all the threatened sectors, and three to Von Rundstedt, not enough for a decisive intervention. Hmm. Politicians calling the shots for generals, with disastrous results. And Harry Reid thought he had the market cornered.
The Brits landed at Sword and met "light" resistance. The Canadians landed at Juno and sustained 50 percent casualties the first day. The British 50th Infantry Division landed at Gold, where the casualties were also quite heavy. Utah beach turned out to be relatively "easy" (197 casualties out of 23,000 who landed). The U.S. 1st and 29th Infantry divisions landed at Omaha and ended up fighting the German 352nd division, one of Germany's finest. They'd been told that they were going to face the 714th (one of Germany's weakest), but intelligence had failed to discover that the 352nd had replaced the 714th just a few days before. Poor intelligence? I'm shocked.
You've all seen the pictures of the 2nd Ranger Division scaling the 100-foot cement walls at Pointe Du Hoc. They took heavy casualties, and when they reached the gun emplacements- they found the cupboard bare. Intelligence failed again. (The guns had been moved further inland).
The 82nd Airborne and the 101st dropped in from the sky in operations code named Chicago and Detroit, but, due to bad weather, unmarked landing zones, and simple bad luck, they missed their marks and took many casualties.
Every schoolchild knows all this. Still, then as now, Monday morning quarterbacking and pointing fingers are decidedly unattractive actions when a country is at war. Can you imagine how the modern news networks would have reported this decisive battle back in the day?
Since man began to fight, a few things have remained constant. Intelligence often gets it wrong. Luck happens to both sides — good and bad. The expected rarely happens — and that which is unexpected often does. All one can hope for is that men of good will are doing the best they can against unseemly odds.
To point out failures — to castigate men for decisions that appeared right at the time, but proved to be wrong after the fact — is somewhat nefarious. Should those Panzer divisions have been on the coast? How about Pointe Du Hoc? 225 Brave Rangers set out to scale those cliffs and only 90 remained combat-fit after the battle. Should men have lost their lives scaling walls where no guns existed? Of course not. But who knew? (Actually, they found the guns hidden a bit further back — but the intel was not quite accurate). 
The same is true regarding modern wars. Mistakes were occasionally made in Iraq and Afghanistan, but only because one can't fight a war without mistakes. Sure, we didn't find the WMD's we expected. But what if we had? And everyone else — the Russians, Israelis, French and English — also believed they were there. Sure, maybe we should have had more troops. Would you or I be willing to sacrifice our kid so that Iraqis or Afghanis might breathe free? Maybe not. But we think daily about those parents who sacrificed theirs so long ago on those (almost) forgotten beaches in Europe that we might live free.
So many families make the ultimate sacrifice. Where do they get the courage? All we know is that then, as now, there are young boys and girls (and selfless parents) willing to give their last full measure that so that people worldwide may someday be free. It boggles the mind. Always has. We shall never forget.