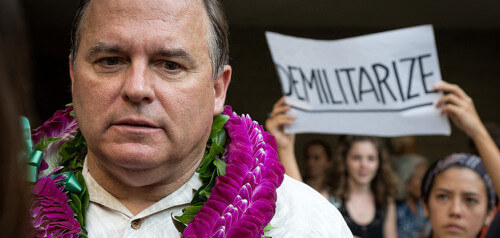 As a graduate student at Texas A&M, and later at Princeton, I studied how unfair allegations and unfair investigative practices had chilled freedom of speech in the United States during the McCarthy era in the 1950s. Having suffered from the political repression of China's Cultural Revolution, I can testify to the collective madness that destroyed the lives of millions. I consider McCarthyism a similar political horror, though generated by the American Right and less destructive than the Chinese nightmare.
Yet today, more than half a century after the death of McCarthy (and, we had thought, his method of waging politics) Left-wing McCarthyism dominates the discourse of too many college campuses, supposedly the home of learning. Unfortunately, the campus where I teach, the University of Hawaii, is among them. With collective identities of gender, race, and class dominating practically every discussion, both in and out of classes, professors seek to protect themselves from attack from the politically correct through ritual obeisance. Liberal arts education is no longer even slightly "liberal," (a word derived from the Latin "libertas," or liberty, subsequently resurrected by the civic culture of early modern Europe). Students are systematically discouraged from questioning the new orthodoxy, sometimes through bullying and sometimes through the threat of ostracism, enforced by "speech codes." Administrators have at best become apathetic in promoting a free exchange of ideas and have signed on as sensitivity police.
 Consider Rutgers, "The State University of New Jersey." Condoleezza Rice had been scheduled to give the commencement address this spring. An African-American success story, Dr. Rice has served the academy as a professor of Political Science and Provost at Stanford University and has served America as both National Security Advisor and Secretary of State. Who can doubt that, having risen from modest beginnings in the hothouse environment of the 1960s South, she would have much of value to impart to the graduating class at Rutgers? And yet, the faculty approved a resolution calling for the university to disinvite her. Dr. Rice gracefully withdrew from the graduation ceremony in order to preserve the harmony of the celebration. It should have never come to that.
It was even worse at Brandeis University. There the administration withdrew an honorary degree to be awarded to Ayaan Hirsi Ali, the Somali-born critic of Islamic Sharia law and Islam's treatment of women. While the Brandeis "community" was busy protesting and harassing an individualist feminist who does not adequately embrace its identity politics, radical Muslim groups such as Boko Haram were committing real violence against women in West Africa. Founded in 1948 as a Jewish community-sponsored (though nonsectarian) university, Brandeis was named for Justice Louis Brandeis, a notable advocate of free speech. The intolerance exhibited by the university dishonors its name. "Feminist" faculty are once again opposing real champions of women's rights by opposing recognition for a rare voice from Africa willing to speak out against religious oppression of women at the cost of her personal safety.
I have had my own encounters with Left-wing McCarthyism in the Political Science Department at the University of Hawaii. I have refused to accept the norms of political correctness, which require both criticism of capitalism and oversensitivity to the concerns of whichever minority group happens to be favored at the moment. I assign readings with diverse viewpoints, and have invited Republican, Independent, and Democratic politicians to speak to my students. As a result, some years ago the then-department chairman first asked me to leave the department, then, when I refused, made baseless accusations of anti-semitism against me. Finally, he tried to block my appointment as a full professor by refusing to send my second book to outside reviewers. Thanks to the help of a supportive dean, none of this worked — though it is a sad fact that only one of 22 departmental faculty members came to my defense. You see, my ideas were considered immoral and deserving of suppression. I have fought against all forms of discrimination throughout my life, from the time I was a child and my parents were imprisoned during Mao's Cultural Revolution and throughout my time in America. The sandbox authoritarianism of university politics is far different in degree from Red China but similar in its disposition.
A particularly egregious instance of Left-wing McCarthyism occurred at the University of Hawaii on May 6. Two finalists for the position of president of the university system had been invited to speak at the Manoa (Honolulu) campus to share their respective visions for the future. About 50 faculty and students (mainly from the English, Ethnic Studies, Political Science, and Hawaii Studies departments) staged a protest, targeting one of the candidates, retired Army General Frank Wiercinski. The protest banner held by one of my colleagues made it difficult to enter the auditorium. Constant rude comments, insults, and shouts made it impossible to hear much of what General Wiercinski had to say. It was less a legitimate protest than an attempt to shout down a voice with which the protesters disagreed. It reminded me of the bullying tactics during the Cultural Revolution, when Red Guards "struggled against" teachers, administrators, and anyone considered an "enemy of the State." This disgusting performance was far from the Aloha spirit of Hawaii, although, ironically, there were signs in the auditorium proclaiming the need for "Hawaii Values." It was also destructive of the spirit of any institution of higher learning worthy of the name, where rational deliberation and respectful mutual discourse are to rule the day.
A petition has been circulated in opposition to the appointment of General Wiercinski, ostensibly due to his lack of academic credentials. Of course, considering the fact that recent UH presidents with sterling academic credentials have failed to effectively lead the university, perhaps a degree from West Point, plus 34 years in the military — including 8 years as the head of Pacific Command in Hawaii — might provide the relevant leadership skills our community needs. I am encouraged that only 600 signatures were obtained (students, faculty, and alumni were all solicited). Perhaps, in that sense, a silent majority has spoken. That such a paltry number of the university community (consisting of more than 20,000 students and 1,200 faculty) could be roused to formally sign up for the political repression of divergent ideas perhaps indicates that it's only a tiny minority of bullies cowing the vast majority. Might this be the case elsewhere?
Things don't seem to get quite as ugly when the source of controversy is on the left. In 2004, the Political Science Department and the University of Hawaii invited a certain Ward Churchill to speak to our community. Churchill had achieved notoriety by calling the victims of September 11 "little Eichmanns" because such "technocratic corps" had worked in the World Trade Center. There were local protests then too. But there was also a civilized response that spurned censorship. Churchill was allowed to present his views without disruption. Dissenters were told not to speak until the question and answer period, a stipulation they respected. There was, as there always should be (though it seldom occurs when politically incorrect ideas are expressed), an orderly exchange of viewpoints.
Today, a faculty well aware of the fallout from the "red scare" of the 1950s seems unconcerned about the dangers of political correctness to academic freedom and to the lively exchange of ideas that is supposed to characterize liberal education. There is little value placed on intellectual diversity, and UH, as is true of many universities today, is in danger of becoming a univocality, a monotone of the righteous (just as Mao Zedong's 1956 call for a "Hundred Flowers" of diverse ideas turned into 99 weeds and the communist line).
In 2009, outside academic auditors had this to say about my department: 
The department's singular epistemology ignores a range of approaches that have proven valuable in the discipline. It ignores large segments of the discipline. We know of few departments of this size…that have staked out as narrow a focus within the discipline as the UH department has….The department's niche strategy has resulted in a narrow undergraduate curriculum….The individual comments revealed concerns about tolerance for different points of view.
It has only grown worse since then. There are no Hundred Flowers in the Aloha State's centers of learning, just a single set of politically approved ideas and a conviction that all contending points of view are evil. What must be the message delivered to young minds from such an environment? Recently, a Harvard student wrote chillingly to the student newspaper that "academic freedom" should be sacrificed for "justice." To a growing extent, that goal has already been achieved in America's universities.
One wonders how much longer students and their parents will tolerate the ever-increasing costs and ever-decreasing intellectual diversity of today's politically correct campuses. How much longer will Left-wing McCarthyism be allowed to dumb down higher education in the liberal arts? The politically correct professoriate may well be signing its own death warrant. Alternatives are arising in the "MOOCs"—massive open online courses—and other internet offerings. People who prefer education to indoctrination can now find it outside the confines of the traditional classroom. Those of us with the best interests of the university in mind suggest the time for reform is now. The university must once again become a place where students can encounter and express diverse viewpoints, where differing ideas are celebrated rather than suppressed (or disinvited, or shouted down). Decades from now, the university may survive. But today's univocality most assuredly will not. If the spirit of liberal learning is to be resurrected, it must not. 
Editor's note: Please welcome a special guest contributor to Ricochet — Kate Zhou, professor of political science at the University of Hawaii and author of the book "How the Farmers Changed China: Power of the People"