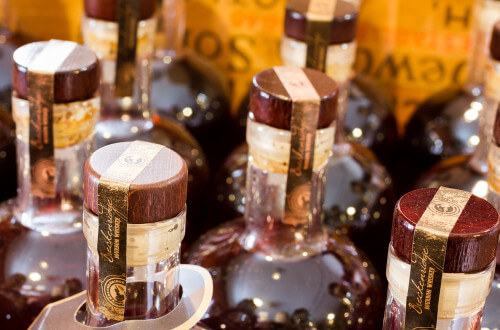 The prophecies were true: a "whiskey apocalypse" threatens to ravage the lives of brown beverage producers and enthusiasts alike. Hootch experts explain that the public is downing bottles of premium whiskey faster than the barrel-aged libations can be produced.
"Despite the increase in distillation over the past few years," says the Buffalo Trace Distillery, "bourbon demand still outpaces supply." That goes for fine scotch and other top-shelf potables as well, all of which became trendy overnight. "Ten years ago everybody drank vodka, and Scotch was something you kept around for when your dad visited. Now, whiskey of all kinds has become a fetish object of the young, urban, and image-conscious."
The Four Horsemen of the Whiskey Apocalypse are sporting Selvedge denim, fancy beards and ironic fedorae:
See, whiskey — good whiskey — is kind of like the ultimate slow food. It takes years to produce the aged stuff, and even though whiskey distillers are generally pretty good about being able to see into the future and match supply to demand, what none of them saw coming 10 years ago when today's aged whiskey was first being put to bed was the massive spike in whiskey drinking occurring today.

As just one example, the folks at Buffalo Trace note that while bourbon overall is seeing a 5% growth rate (a nice, manageable number with current stock levels), the thirst for premium brands (of which Buffalo Trace is but one) is up something on the order of 20%. Which would've been great if, 10 years ago, someone had gone around to all the whiskey producers and told them that they really ought to up their production and storage by 20% to compensate for some mystical time when every hipster worth his mustache and tiny hat would be drinking Redbreast and Pappy like water.
Making matters worse, the American oak used to make bourbon barrels and impart its unique flavor is getting hard to find due to surging popularity and poor weather for logging.
"There is definitely a shortage of barrels on the marketplace," said Paul Hletko, founder of Few Spirits in Evanston, Illinois. "I have friends that have had to spend US$100,000 on new stainless steel tanks to put their new make spirit into while they wait for new barrels. People have been talking about it for a few months, but the full pain is just starting to be felt."
Which chapter of the Book of Revelation are we on now?
Regardless, I'm stocking up on booze, canned goods and ammo so I can survive this dystopian hellscape. (Since my fallback drink is gin, I better grab some olives while I'm at it.)