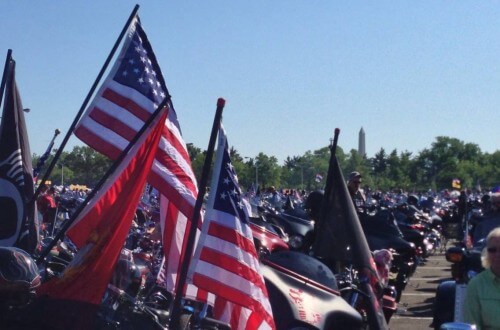 And here I thought this piece on Rolling Thunder would be a difficult one to write. After a phenomenal escort by upwards of a hundred motorcycles, two fire trucks, and a special response vehicle Saturday, which ushered in six Ride of Pride trucks to a veteran's observance, I thought there would be too many events this weekend to synthesize into a coherent essay. Then there were the two young children who stood and saluted the bikes and trucks as we rolled into the parking lot.
And let's not forget the Mastery Gunnery Sergeant who led the assemblage in prayer before yesterday's lunch. Or the 6'5″ gentleman they call Mongo, who is in reality a retired Command Sergeant Major, with seven combat tours and multiple Purple Hearts to his significant and eternal credit. A man large enough to command his own zip code, and yet humble, gentle and unassuming enough to befriend the most sour disposition.
Then came the assemblage at the hotel Sunday morning as another massive group of motorcycles prepared to escort us to the Pentagon. At dawn the very ground seemed to rumble as the bikes roared to life and the voice of the formation's leader was heard on our radios saying, "Good morning boys and girls!" It seemed for a short while that we had cheated time itself while we made our way, as if on patrol, to the Pentagon, the chatter on the radio brimming with military terms and precision. We were young again, and on a mission.
At the Pentagon's north parking lot, we cleaned our trucks to a sparkle and put our flags on display, before watching as over 700,000 motorcycles made their way to the staging area. There were patches and shirts on sale, petitions for future parking to be annotated and flags remembering our missing to be signed.
There were people to greet and cameras to be avoided, this latter point being an important one. With six show trucks parked in a group and many thousands of people aiming their cameras at them, one cannot move out of one person's way without getting in the way of at least a dozen other people. Move from in between a camera and a truck and you'll run into a whole family of people standing in front of another section of the truck as they smile for yet another camera. Round the corner to head for another safe patch of real estate and you'll hear the exasperated sigh of the person whose "shot" you just destroyed. Best to grab a bottle of water and head for the shady patch of solitary grass, where underneath that lonesome tree you'll see 20 people sprawled out like Civil War actors.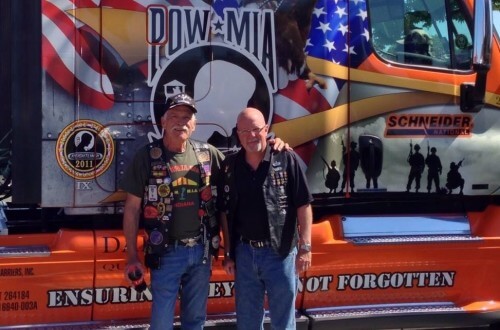 Then there was Doc, who spent 1966-1971 on combat tours in Vietnam. While the flower children explored their inner stoner and bit the hands that fed them, Doc fought for his country. As good natured as the day is long, he exhibits the humble and gracious nature of someone who has seen some of the worst that man has to offer and now seeks out the best. He reminded me of TSgt Palmer, my chief Security Forces instructor, who spoke softly and could freeze water with a smile. While he kept me laughing nonstop, I had the distinct impression that Doc is tougher than most of us ever thought about being.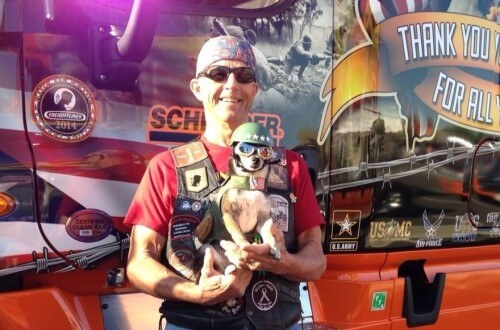 And I would be remiss if I didn't mention the antics. From the woman who was old enough to know better but nevertheless insisted on spontaneously striking an absurd pose for a photograph on some truck tires (which prompted a really large beefy biker guy to do the same thing to howls of laughter), to a little dog named Patton who was outfitted to match, there was no shortage of things to giggle about.
When noon approached and people began to saddle up for the ride, a more somber mood settled on the gathering. Someone brought bagpipes, a fitting tribute against a backdrop of flags and chrome, and leather jackets adorned with medals. This wasn't a party. This was a protest, begun in the 1980s, as it began to dawn on Vietnam Vets that our government really did intend to leave American POWs to their Vietnamese captors. Absconding the name of the bombing campaign, Rolling Thunder, veterans from all corners descended on Washington DC riding many thousands of motorcycles, the roar of their engines thundering their protest against a government that requires the last drop of devotion from the soldier, but will return the favor only if it's convenient.
The police arrived and told us it was time to make our way along the protest route. People, lining the streets of the nation's capitol, were ready for motorcycles. They hadn't quite bargained for a formation of semis, adorned as rolling tributes to those who serve, flags unfurled and flying in the breeze. We were greeted with such hoots and yells as I've never seen, such applause and thumbs up and salutes and fists pumping in request of a blast of air horn as to get a grown man emotional.
That's when the highlight of the event took place. Several years ago, Marine Staff Sergeant Tim Chambers, in his dress uniform, spontaneously stepped to the middle of the Rolling Thunder procession and rendered a perfect salute — and held it for the duration of the protest until the last motorcycle went by. He has been an iconic figure at each Rolling Thunder event since, holding that salute for hours on end, and every one of the Ride of Pride drivers were waiting for the moment when we would see him.
Each of these magnificent trucks came to a complete stop as the driver rendered a slow salute to the man who embodies the very best of the American spirit. But nothing could have prepared me for the sight that unfolded as the truck in front of me cleared the path, for there, seated in front of the Marine, sat a man in a wheelchair also holding a salute. He is young. Too young to be in a wheelchair. He is a double amputee wounded in battle. Overwhelmed and choking back tears, I brought the Ride of Pride to a complete stop and slowly raised a salute. Sgt. Chambers eyes met mine and with a slight nod of his head, he acknowledged and returned the honor, and it gave me chills.
There were those along the route who waved and shouted, and we waved back and obliged them with the airhorn. But there were those, like Sgt. Chambers and his comrade who understand what Rolling Thunder is about. With their discipline and endurance, their dedication and love for their brothers and sisters in arms, these men give the rest of us hope. Their solemn and silent vigil speaks more eloquently of sacrifice and devotion than all the combined windy speeches of all the silver-tongued jackasses seated at either end of Pennsylvania Avenue.
Let me hear no more about the virtues of "public service" from people who enter office as meager citizens only to emerge years later rich as potentates. One doesn't serve by enriching oneself while confiscating the citizen's earnings and suffocating commerce in a regulatory chokehold. Those who didn't come home and were abandoned by their nation, those who came home in flag-draped coffins, the hundreds of thousands who, each year "ride for those who can no longer speak for themselves," they know more about real service than the pampered class of condescending elites will ever understand. As long as we have these vets, and like-minded men and women, we still have a fighting chance.