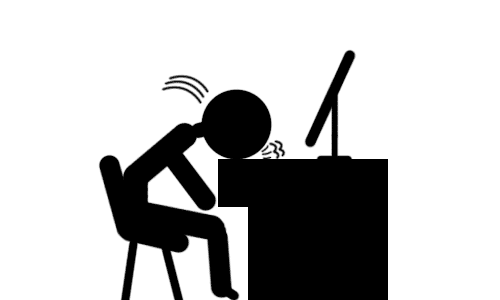 There's something about liberals* when they talk about libertarians. From their point of view, those troglodyte conservatives are at least understandable. But libertarians bother them because they manage to hold a lot of "correct" positions yet are somehow wrong on things as basic as the minimum wage.
When it comes to talking about libertarians, liberals* seem to lose their minds.
A recent example of this comes courtesy of Salon.com, in a piece entitled "3 Inconvenient Facts that Make Libertarians' Heads Explode," by someone named Lynn Stuart Parramore.
Because I love everyone here at Ricochet, I have, not unlike Atlas himself, taken the weight of the world on my shoulders and read this so that you don't have to. And I'm going to give you the highlights and dissect Lynn Stuart Parramore's "facts," because these kinds of things needs to be answered.
1. The inequality problem: Why do some people end up with most of the toys? The fact that in a capitalist system, money seems to flow into the hands of the few is a source of big headaches for many libertarians, though not all—some seem to regard any market outcome as the hand of God herself.
When Lynn Stuart Parramore is talking about "inequality," she's not talking about equal justice under the law; she's actually talking about wealth distribution. In her mind, wealth is a bag of gold coins distributed to the lowly peasants by the lord.
The problem (as if there was only one) with this idea is that wealth isn't distributed like that. Wealth, in essence, distributes itself. It flows to people who actively seek it.
Wealth inequality isn't a problem in itself. To think so assumes that everyone has the same values. If one wished — if one only valued wealth accumulation for its own sake — one could work 18 hours every day, seven days a week, for decades and die alone in an apartment surrounded by mayonnaise jars stuffed full of hundred dollar bills.
That may be great for some people, I am not going to do it. Not only do I have a wife that would take issue, but I also value other things besides wealth accumulation. Therefore, I'll have less than someone else.
Wealth inequality is a problem in two cases. First, if the wealthy prevent anyone else from gaining wealth. This does not happen in a free market based on voluntary transactions. It requires coercion and government. Second, it's a problem if the poor are starving to death and cannot earn bread to live. Both were the case in pre-revolutionary France. Neither of them are the case in the United States. Neither of them can occur in a free market.
Lynn Stuart Parramore goes on to complain about bankers and their role in the financial crisis, using fraud to cheat the public somehow.
The questions I have to ask are
1. How did that work out for them in the long run?
2. What's your solution?
What Lynn Stuart Parramore does not understand is that bankers play the long game. Liberals* seem to think that all capitalists are like train robbers. A train robber is good for one big score, then they run off to South America. There's no long game involved. Bankers play the long game. The very long game. The centuries long long game.
In the long run, a massive fraud or a ponzi scheme self-destructs. It cannot be sustained. That goes for all businesses. Honest dealings and free exchange for mutual benefit is sustainable. Fraud is not. Crooked businessmen either get a reputation as crooks or flame out in a spectacular way.
But the solution to this alleged fraud is… what? More regulation? Yeah, sometimes banks do sleazy things to their customers with fees, but if Lynn Stuart Parramore is complaining about banks screwing customers, she needs to recognize that this screwing happens despite regulations. Short of nationalizing all banking, you're not going to regulate that kind of thing away.
2. The public goods problem. In the libertarian utopia, you would find nothing but individuals making private transactions in private markets. Those exchanges between individuals would always be fair, because the laws of supply and demand would make sure that you got the things you need at a fair price. You want a pizza, you buy a pizza from a pizzeria, which makes it for you at a reasonable price. Everybody's happy.

Only, what if you want to buy your pizza in the evening, and you need streetlights in order to walk to the pizzeria? Now you've got a problem, because you can't go out and buy a streetlight.
She continues
Libertarians will try to argue that many things considered public goods can, in fact, be supplied by private markets. How would this work in the case of streetlights?
This streetlight thing is why you're reading this. The ignorance that allows that argument really sets me off.
How would this work in the case of street lights? Easy: People light their own stuff. If I have a storefront, it's in my interest to have my customers feel safe, so I can light my own section of the street. If you're talking about a housing development or an apartment complex, those things could be handled by the property owners. Absent a government, property owners could band together and provide street lights if needed.
It doesn't require a government to do these things. Private individuals acting in their own rational self-interest will do them without being prompted. Security cameras do good work in crime fighting. Notice how malls and stores install their own? No command needed to come down from on high to install them. It was done spontaneously.
I'll give another example. I live in upstate New York. Every time there's a snow storm, I have to wait for the government trucks to plow the government roads. But when I go to any private establishments, every parking lot is already plowed and salted. It's done quickly and neatly. No government needed to command them to do that. Businesses do it on their own because its in their rational self-interest to do so. If I have a choice between trudging through a snowy parking lot to a store or walking through a clear parking lot, I'm going to choose the latter every time.
The problem with trusting "public goods" to the government is that the government is bad at providing services. It misallocates resources based on other considerations. It lights streets nobody needs lit. Those government streetlights are great, but what happens when there's a budget shortfall? Suddenly there's fewer lights.
Another thing you can point out to libertarians is how many public goods, like research and infrastructure, are necessary for all those wonderful market products they are so fond of. The iPhone would not exist if the public had not invested in research to develop GPS and touchpad technology, or developing the Internet, or creating the highways on which Apple can move its products.
Oh good. Well, I'm glad the government invented the Internet. See, I'm sure that if the government hadn't spent millions of dollars on it, no one would have ever thought of connecting computer networks together once the technology had matured to that point,
I am reminded of a quote from Frederic Bastiat
Socialism, like the ancient ideas from which it springs, confuses the distinction between government and society. As a result of this, every time we object to a thing being done by government, the socialists conclude that we object to its being done at all. We disapprove of state education. Then the socialists say that we are opposed to any education. We object to a state religion. Then the socialists say that we want no religion at all. We object to a state-enforced equality. Then they say that we are against equality. And so on, and so on. It is as if the socialists were to accuse us of not wanting persons to eat because we do not want the state to raise grain.
Lynn Stuart Parramore is of this same mindset. If the government didn't fund the research that created such-and-such, the thing would have never happened. I reject that. If anything, government funding retards research. Government funding comes with government strings, it misallocates resources and the funding is often directed to serve political aims.
3. The regulation problem. Libertarians famously oppose government regulation of business. They assume that markets do not need any regulation because they are naturally competitive, and in competitive markets, good ideas and products will flourish, and bad ones will be punished (clearly, they haven't watched cable TV lately). For them, competition is the great creative force of the universe and the best human endeavors are the result of people beating their rivals.

Reality check: Markets are not invariably naturally competitive. In fact, many have a tendency to move toward harmful conditions like oligopoly, which turns them into anti-competitive entities.

The libertarian will try to say that oligopolies are the fault of government intervention. But there are plenty of examples to refute this. If you look at history, even at periods when governments have been quite limited and have served as little more than a night watchmen, you'll find big, nasty oligopolies, like the 19th-century railroads, or steel. Today, we find computer operating systems (think Netscape and Microsoft) as examples of oligopolistic conditions.
 First, how did that work out for Netscape?
See, usually when I hear this, they say "monopoly" instead of "oligopoly." Lynn Stuart Parramore was smart enough not to say monopoly. An oligopoly is when a market is controlled by a small number of sellers. She goes on to give a few more examples, including automobiles and healthcare.
Lynn Stuart Parramore, do you know what cable TV, railroads, steel, the auto industry and healthcare all have in common? They're all massively regulated!
Over and over again I encounter liberals* who blame free markets for being "messed up," and the examples pointed to are almost invariably examples of massive government interference in markets.
Lynn Stuart Parramore bemoans instability in markets. Instability in markets is a good thing! That's how we get new products! That's how we get innovation. Markets get "messed up" because governments interfere in them in an attempt to maintain stability. Oligopolies are a problem only when a few companies collude with the government to keep out competition!
Of course they seem like "inconvenient facts" to you, Lynn Stuart Parramore, because you have a fundemental misunderstanding, not only of libertarians, but of each of these examples you're complaining about!
*Author's note: I don't like calling them "liberals." It irks me that such a beautiful and noble term should be subverted to serve the ends it now serves. But the term "progressive" is just such a corruption of the language that I prefer not to use it. So, for lack of a better term, I'll use the term liberal.