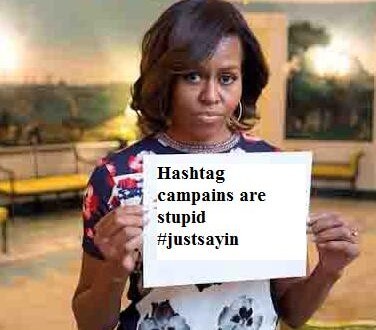 Let me get something out of the way: Hashtag campaigns are stupid. That being said, those who are complaining that this is a weak response to the Nigeria situation are off base. Yes, its asinine. Yes, it's unseemly. Yes, it's inappropriate for a First Lady to get caught up in it. And yes, it's a really bad idea to create a blank slate like the one above an release it on the Internet. But you're missing the value of the thing.
The way a republic works is:
1. There is some dramatic event or an ongoing situation.
2. Groups of people cry out in a hysterical voice to "Do something!" (Often with an appeal about the children.)
3. Politicians, wanting to remain in office and having a keen understanding of the incentive structure of electoral politics, respond.
This response comes in two forms:
1. Actually doing something.
2. Looking like you're doing something.
It should be noted that the second option is often more powerful than the first, although they're not mutually exclusive (see the Gun Free School Zones Act of 1990).
The hashtag campaign for the Nigerian situation is a classic example of option #2. They look like they're doing something without actually acting. In the most recent Ricochet Flagship podcast, Rob Long thought this was extremely cynical. Perhaps it is, but it's just misdirection, like a magician distracting you attention from a trick.
This misses the value of the campaign: the inaction. This "weak response" is as far as it'll go. And I'm okay with that. I must recall at this point my favorite Winston Churchill quote "To jaw-jaw is always better than to war-war."
If they want to have their stupid little hashtag campaign, I'm okay with that. That's just jaw-jaw. It's mostly harmless. The potential danger isn't from the jaw-jaw.
When people cry out "Do something!", especially when it involves children, I'll take a hashtag campaign over US military action. The former costs me nothing. The latter is very expensive.