When University of Missouri defensive lineman Michael Sam was drafted by the St. Louis Rams on Saturday — becoming the first openly gay player in the NFL — he laid a big wet one on his boyfriend in front of the cameras. In response, Miami Dolphins Defensive Back Don Jones tweeted out "OMG" and "Horrible." The Dolphins were swift in their punishment. Jones has been fined and suspended.
But what about all those nasty tweets leveled against openly Christian Tim Tebow? Oh, that doesn't matter. Because, you know, Christians deserve it. It takes courage to come out as an openly gay player in a society that is orgasmic about everything gay. But to stand up for your faith in the midst of a culture that is hostile to it, well, that's just "annoying," as one tweet said about Tebow.
The hypocrisy isn't going unnoticed. According to The Blaze, DeMarcus Walker—a sophomore defensive end for Florida State—tweeted: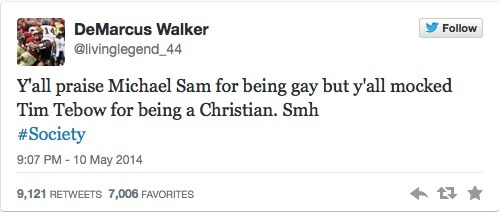 Later, Walker posted the following cartoon:
He got some backlash: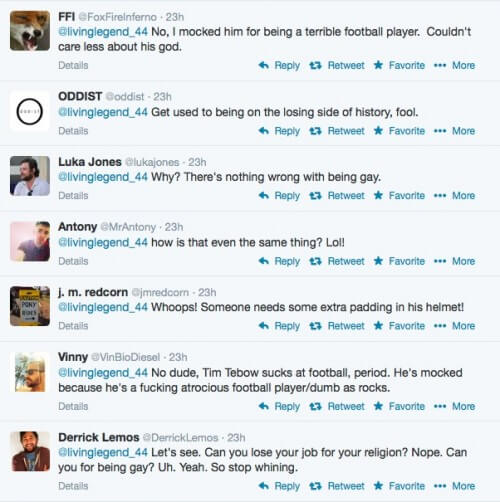 That last tweet is not exactly right. You can't legally lose your job for being gay or for being religious, not according to the EEOC. That's called discrimination (more specifically stereotyping when applied to sexual orientation) and it's against federal law.
And how about the one that implies there's something wrong with being Christian. But being gay? There's nothing wrong with that? Maybe not, but now it's wrong to be a Christian? Since when? What was it Isaiah said? "Woe to those who call evil good and good evil, who put darkness for light and light for darkness, who put bitter for sweet and sweet for bitter"? We live in those days (and, yeah, go ahead and crucify me for quoting Scripture). 
So now we have it straight: We can tweet all sorts of nastiness about Christians with impunity, but if we tweet anything remotely negative about a gay person, then we will be punished.
The hypocrisy is stunning. But more than that, we have on display—once again—the cultish mindset of an influential portion of American society. The central doctrines of the cult (of which uncritical support of anything related to homosexuality is one) must be upheld, and anyone who criticizes those doctrines—or anyone who does not submit to them—must be demonized. This is why the brainwashed masses don't care about or even see the hypocrisy. Their "truth" is all that matters.
Victor Davis Hanson recently lamented the hypocrisy of the left in a post at National Review Online and concluded that if you say the "right things" it doesn't matter how much of a hypocrite you are. Al Gore can live lavishly, leaving behind a massive carbon footprint wherever he goes, and it doesn't matter. The NAACP can honor people like Donald Sterling as long as they get a big check. And now, the NFL can punish anyone who criticizes a gay player while turning a blind eye to those who malign Christians. 
Hanson believes liberalism will fall under the weight of its own hypocrisy. That would be true if people cared about truth. But they don't. They care only about the cult doctrines. The hypocrisy of the cult leaders or even the hypocrisy of the group doesn't matter. All that matters is the "truth" they have created. Hold to the truth as defined by those in power and you won't be punished—in fact, you'll be celebrated. Don't submit to the teaching of the cult, and you will be excoriated. Just ask Brendan Eich. Now ask Don Jones.