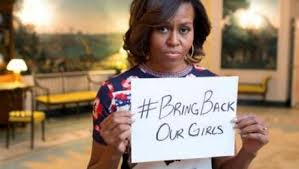 A chilling picture has been making the rounds lately. It shows our First Lady with a sad face, holding up a hand drawn placard with #Bringbackourgirls written on it, a response to the abduction of more than 250 Nigerian schoolgirls by the islamist group Boko Haram. Though Mrs. Obama's feelings are no doubt sincere, her actions will not bring one child back.
I'm glad neither my father nor my grandfather is alive to have seen this photo. They never had to teach us German or Japanese due to the fact that they were willing to don dog tags. I'm sure they would have preferred hashtags, had they been the rage back then.
I realize that's not politically correct to say today, but those men understood the code. It goes back to before Herodotus and was memorialized in The Song of Roland in the mid-12th century. Call it chivalry, call it the "Knightly code of honor," call it what you will: it is the bedrock of Western Civilization.
The strong are obligated to succor the weak. It's that simple.
We're not talking about military expansionism, gunboat diplomacy, or imperialism here. This isn't about the less technologically advanced being conquered by the strong at the point of a gun, long bow, or sarrisa. This isn't about Commodore Matthew Perry sailing into Edo (Tokyo Bay) and forcing a weaker nation to open its ports to a stronger one. This is not about coveting future military bases in the Philippines, galloping up San Juan Hill, or annexing land from Mexico. This is about adhering to the code, especially when the weak are being exploited by those who operate on the simplistic moral principle of "might makes right."
I'm a Westerner. I have no truck with Abubakar Shekau, the leader of Boko Haram. Perhaps he is on solid moral ground. Maybe it is immoral to educate young women. Perhaps in Allah's eyes it is a sin. I was raised differently, but that does not make me correct.
I actually have great respect for Sharia law. However, having been raised in a liberal democracy, Sharia appears to me to be packaged with traditions that are not only literally "foreign," but quite incomprehensible as well. That doesn't mean that severing wrists of thieves or stoning adulteresses or homosexuals is wrong. It's just not the way we were raised.
If Abubakar Shekau's interpretation of the Quran is that the swiftest way to heaven is to slit the throat of the infidel, who am I to argue? If he thinks genital mutilation is the path of the righteous, where do I come off telling him he's in error? He was raised by his parents, neighbors, and teachers with a certain belief system, just like I was raised by mine with a slightly different one.
He is free to swing his fist whenever or wherever he wants—with the possible exception of when it interferes with my nose. I would never lecture him regarding the route to heaven and slitting the throat of the infidel. Perhaps he is spot on. However, as an infidel, it is incumbent upon me to take certain precautions—even if I'm disposed to helping him (or any of my human brothers) achieve salvation.
And just as he was raised to believe what he does, I was raised to believe that both good and evil exist. We were taught that there were evil people out there who would hurt you, sometimes just for sport—and certainly for gain.
Some were mentally ill. Others were sociopaths, alcoholics, drug addicts, had been molested as children, or came from dysfunctional families. Some were victims of extreme poverty or injustice. Whatever the cause of their evil, each family member was raised to be alert to possible rape, theft, kidnapping, even murder. It was incumbent upon the father to protect the family, the mother to protect the children, and the older brothers to protect the younger siblings. It was the way of our world.
We weren't supposed to just help old ladies across the street. We were expected to come to the aid of any lady being attacked by a man, or any child being bullied by someone bigger or stronger. If we couldn't handle it on our own we were taught to go to the police.
That's where we are with Boko Haram. In our world, kidnapping children is not "on," even if it is viewed as a religious obligation by Mr. Haram and his friends. All Western nations should unite behind this concept. It was the original reason for the United Nations: that, together, nations could jointly use force to prevent bullying nations from extending their borders unilaterally, or to stop warlords and political or religious groups from terrorizing innocents. If sovereign governments couldn't do it, the United Nations was meant to step in. Of course, today, for a myriad number of reasons, they are powerless and incapable of coming to anyone's aid—even little girls.
We wish we never had to call a cop, but not one of us would hesitate to do it if we saw a group of men abducting children on a street in our own community. The world stage is no different. (And let's suspend the canard that "we can't be the world's policemen." Of course we can — and we should, with the aid of other western countries). In fact, if we interceded earlier and more often, there would probably be fewer large military conflicts.
The French Special Forces did it in Niger a year ago. They, we, or, even better, a coalition of the willing should just go — sovereignty be damned — and clean up the mess in Nigeria — as we should clean up the minor messes with the Somalian pirates, Yemen, etc.
Not every one of these things need turn into an Iraq (which clearly would have been safer today had some troops stayed) or Vietnam. And no, I would not volunteer my child to go. But I'm in awe of people like my father and those parents who do let their kids join the military, serve their country, and live up to the code.
Trust me. A few dozen members of Seal Team Six wearing dog tags could accomplish a whole lot more than 10 million Michelles and Beyonces sporting hashtags.