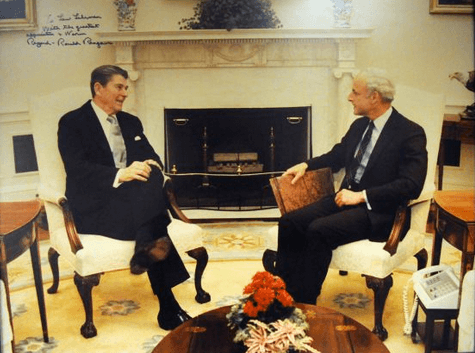 In 1982, New York businessman Lewis Lehrman won the Republican nomination for governor of New York, running that November against Democrat Mario Cuomo. I myself recall the Lehrman campaign fondly—because I almost joined it. (If I joined the Lehrman campaign, my parents, eager to see their son employed at last, drily noted, I might be out of a job the day after the election, whereas if I went to work for Vice President Bush, my other option, I'd be safe until at least 1984.) I'm reminded of all this because a young friend just sent me the link to one of Lehrman's campaign commercials.
As you'll see—if you'd like a summary of his positions, start the clip at 2:25—Lehrman ran on tax cuts, economic growth, standing up to the teachers' unions, and getting tough on crime.
He lost to Cuomo, as you will already have guessed, but—and this is what's striking—only by 3.5 percent, capturing 47.5 percent of the vote to Cuomo's 50.9 percent.
Lehrman went on to lead a good and full life, remaining active in business, raising his five children, writing invaluable articles on monetary reform, and joining investor Dick Gilder in turning the Gilder Lehrman Institute into one of the most important repositories of original source materials on American history anywhere in the nation. In business, in philanthropy, and in conservative circles (such as they are), Lehrman remains a revered figure.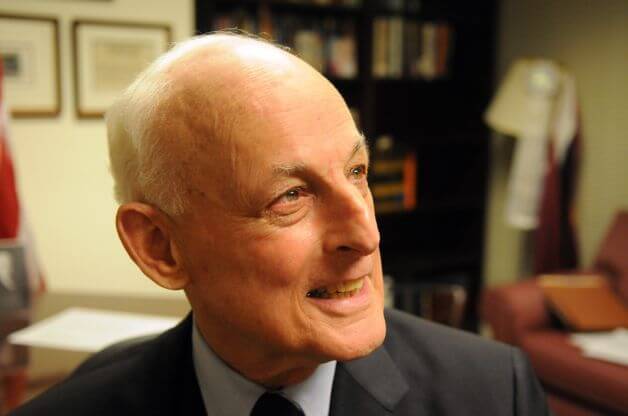 And yet, just imagine what would have happened if, back in 1982, he had won. With lower taxes, New York State would have experienced some of the growth in the last three decades that has instead been centered almost entirely in the financial services industry in Manhattan. Buffalo, Binghamton, Rochester, Utica — those would have remained viable towns. New York City itself would have thrived — working with Mayor Koch to get tough on crime and clean the place up, Lehrman would have enabled New York to turn around a full dozen years before the 1994 election of Rudy Giuliani finally accomplished the feat. And New York politics would have set an example for the entire Northeastern United States.
In one election in one state back in 1982, had there been a swing of a mere 3.5 percent of the vote, everything —everything — would have been different.ould have remained sane and healthy, offering New Yorkers a vigorous GOP and not the go-along to get-along GOP over which the next Republican governor, George Pataki, would wanly preside. A healthy, growing New York would have set an example for the entire Northeast — and benefitted the entire nation.
Politics matters.
Anyone among the Ricochetti care to name an especially consequential election of his own?