Just to be clear, former New York City mayor Michael Bloomberg doesn't believe in your God or heaven. But if you happen to be right about their existence, he is quite certain he's in.
"I am telling you if there is a God, when I get to heaven I'm not stopping to be interviewed. I am heading straight in. I have earned my place in heaven. It's not even close."
Get to one side, Saint Peter: Bloomberg is coming through. Apparently God has installed an EZ pass lane accessible to those with connections. Assuming his head can fit inside the pearly gates, what exactly has Bloomberg done that gives him such confidence in his eternal destination?
Apparently his efforts to oppose obesity, guns, and smoking have him in good with the man upstairs (even though he doesn't believe the man — or the upstairs — exists).
It is convenient for Bloomberg that God's priorities so closely align with his own. But what can those of us who don't have $50 million dollars lying around to oppose guns do to curry favor with this leftist deity?
Fear not, unwashed masses! You too can be saved if you allow the nanny state into your homes. Let us turn now to the book of Bloomberg for sage advice on right behavior.
At MikeBloomberg.com under the philanthropist header (it is always good form to describe yourself as a philanthropist – why else would you be one?) we find the priorities of our gold standard for righteousness.
Obesity Prevention:
Approximately one-third of the world's adult population is overweight or obese, which places individuals at greater risk for cardiovascular disease, diabetes, and certain cancers. If current trends continue, nearly 60% of adults worldwide will be overweight or obese by 2030. Low- and middle-income countries are projected to bear the brunt of this increase.
Step one to right action: Preventing an overabundance of food in low-income countries. Check.
Sustainable Transportation:
Roads are made safer by reducing car travel and designing secure modes of transit, including mass transportation systems, walking infrastructure, and bike routes. One example of mass transport is the bus rapid transit system, which can reduce fatalities and crashes by 40% to 50%.
Bloomberg won't be waiting in line for heaven, but you'll be waiting in line for buses and trains.
Climate Change: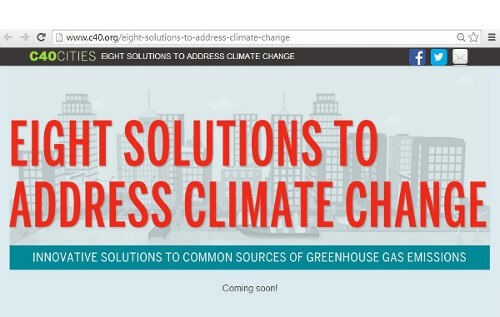 I guess he'll get back to us on this one.
Honestly, I'd be surprised if God doesn't just step aside once Bloomberg gets there.
Obedience to your liberal masters is the key to bliss in the afterlife. Which, they want to make sure you understand, probably doesn't exist.
So render unto Bloomberg your sugary drinks and tobacco, and rejoice in the knowledge that you are better than other people.