[Editor's Note: This post was published earlier this year, but we're re-posting it once more as a tribute to our late friend Christopher Hitchens.]
Below, I posted a reply from Christopher Hitchens.  Here, a word about what Hitch was replying to—and my reply to him.
Just over five years ago, I recorded an episode of Uncommon Knowledge with Christopher Hitchens (to whom, let the record show, I am personally devoted) on Hitch's support for the war in Iraq.  At one point in the program, I attempted to probe an inconsistency in Hitch's position.  Hitch instantly denied that any such inconsistency existed.  Below, our exchange:
ROBINSON:  Why should you oppose totalitarianism in the Middle East, which is what you called—one of the words you've used—for Islamist approach in the Middle East.  Why would you oppose totalitarianism in the Middle East, but support the totalitarian intentions of the Vietcong toward the South Vietnamese?  Why should you have considered American involvement in Vietnam imperialist when you consider the American involvement in Iraq liberationist?

HITCHENS:  Well that's easy…

ROBINSON:  Okay.  Happy to hear it.

HITCHENS:  Well, for one thing, I think the Vietcong in many ways were the South Vietnamese.  There is no doubt in my mind now, there wasn't then, that the revolution in South Vietnam was, well, part of the old Vietnamese revolution.  I don't think there were ever two states in Vietnam.  That's an artificial partition imposed by the superpowers.

ROBINSON:  So this is the argument…

HITCHENS:  And the Vietnamese revolution, among other things, cut with the grain.  First, with the reunification of the country and second with the expulsion of foreign colonial forces.  It was the continuation of the struggle that began before the Second World War.  

ROBINSON:   But the problem is there were Vietnamese who got expelled as well.  How do you handle the Boat People in that argument?  

HITCHENS:  Well, I believe myself that had it never been subjected to a quarter century of imperialist war that there wouldn't have been a large amount of this terrible suffering in Vietnam.  

ROBINSON:  So your argument then is the…

HITCHENS:  But I…you force me to say, and I will say, with great reluctance, so as not to seem to be avoiding your question, that terrible as the sufferings of the boat people were—I've been in Vietnam and talked to many of them, many of whom have come back by now—it's nothing to the near-destruction of the whole ecology and society of Vietnam, the planned destruction of it by American imperialism in the 1960s.  That was a very serious war crime and a very serious political crime too.

ROBINSON:  Alright, so that's…why is that imperialism?

HITCHENS:  Well, because it's the direct descendent of the French colonial enterprise.  The American intervention—invasion, I should say—in Vietnam is designed to rescue the French possession, which is disgraceful…

ROBINSON:  Certainly not.  Roosevelt leans on Churchill.  Part of the reason they are cold to each other, or much less warm than they were originally, by the end of the Second World War is that Roosevelt will have nothing to do with colonialism.

HITCHENS:  How right you are.

ROBINSON:  Eisenhower refuses to permit the Suez invasion to go forward and, by the time it comes to Vietnam, they're not trying to prop up any imperialist French colonial venture.  They're trying to stop the Communists in China and the Soviet Union.

HITCHENS:  Everything you say there that's right is that Roosevelt was opposed to, not just imperialism in general, but very opposed to French colonialism in Indochina.  It's fascinating to speculate what might have happened if Roosevelt had been around for the post-war, certainly.  But the facts cannot be other than what they are.  The United States offered, at one point, to use nuclear weapons to defend the French position in Vietnam.  It was paying for the cost of the French war, until the shattering defeat at Dien Bien Phu, from which it did not learn, and it then took over the French colonial role, including…the imperialist partition of the country was an operation that deserved to be defeated.
Just under two weeks ago, Ricochet member Michael Labeit put up a post about this very exchange:
While perusing Hoover's library I stumbled upon this gem: a conversation between Peter Robinson and Christopher Hitchens on past and contemporary American foreign policy.  What interested me in particular was Hitchens' assertion that the American campaign in Vietnam was not intended primarily to contain the spread of communism/socialism…but rather that its purpose was to salvage French imperialism….I wonder what my fellow members think about this, if they have any thoughts?
Michael's fellow Ricochet members did indeed have thoughts.  Overwhelmingly, we found Hitch's assertion impossible to swallow.  (I'm bound to note, though, that in post after post Ricochet members displayed respect, and even affection, for Hitch.  As Rob Long put it:  "[I]t's a stretch to think that our involvement in Vietnam was to salvage French imperialism; we abandoned European imperialism a few years before than, when Eisenhower allowed the Suez crisis to run its course—but Hitchens is never boring, never puerile, and always bracing."
Which brings to me to the day before yesterday, when I discovered this message in my inbox:
Dear Peter,

May I use this means [here he attached the reply I have already posted] to join your discussion on the late unpleasantness in Indochina?  Sorry that I only recently became aware of it….As always, and with love to your tribe.

Christopher
I registered a thrill of delight—both that Christopher had become aware of Ricochet and that he was hale enough to produce such prose, remaining, completely himself.  Since I myself was running a fever that made it difficult to stare at a computer screen, though, I was unable to share Christopher's message here on Ricochet until this afternoon.
How do I reply?  By making a few points, the first of which is that Christopher has cleared matters up.  
On Uncommon Knowledge, as we have just seen, Hitch claimed that the American intervention in Vietnam was "the direct descendant of the French colonial enterprise.  The American intervention—invasion—I should say—in Vietnam [was]…designed to rescue the French possession, which is disgraceful."
At the time, that struck me (to use the word I employed in a Ricochet post) as "silly."  The French suffered the critical military defeat at Dien Bien Phu in May 1954, and the next month, in the Geneva Agreements, France surrendered its possessions in Indochina outright, granting them independence.  In our exchange, Christopher seemed to suggest that the United States, which was still fighting in Vietnam almost two decades later, wished only to hand Vietnam right back to Paris.  In his reply, Hitch makes it clear that he was speaking about the origins of American involvement.  Which means that his point, I am perfectly happy to grant, is indeed non-silly.
But still not quite correct.
If the first American involvement took the form of propping up the French, that was a means, not an end.  Roosevelt, Truman, Eisenhower—these were men who had no truck with European colonialism.  What moved them—the end they had always in mind—was containing Communism.
Here Hitch says in effect, Well, then, more fools they.  What Ho Chi Minh wanted was Vietnamese independence.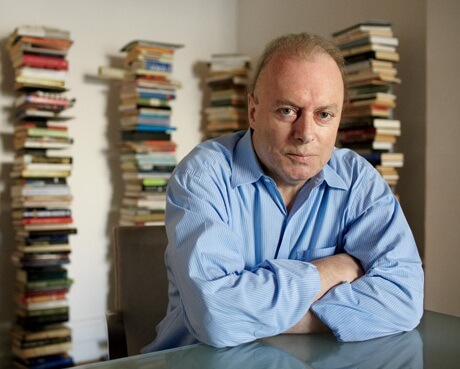 Ah, but this is merely the old trope.  If Ho Chi Minh wanted independence, Fidel Castro wanted to overthrow the corrupt regime of Fulgenico Batista—and, for that matter, Lenin wanted to consummate the revolution of 1905.  Over and over again, Communism battened on legitimate movements and aspirations, seeking to advance them, at least in part, but also seeking to use them as cover for a specifically Communist agenda.  Ho Chi Minh did indeed pick up the pieces of the Vietnamese struggle for independence that began before the Second World War—indeed, that had expressed itself in outbreaks during the nineteenth century.  But Ho Chi Minh was also a Communist.  The United States made error after error in Vietnam, but not in supposing that Ho had allied himself with our enemies.
My final point?  That I cannot permit Hitch's assertion that the war was "lost" as early as 1954 to go unchallenged.  The French certainly lost in that year.  And Gen. William Westmoreland seems to have done his best to squander vast resources, and do largely useless damage to Vietnam, when he commanded American forces in the mid-sixties.  But then came Gen. Creighton Abrams, and, the more I read, the more I incline to the conclusion that Gen. Abrams very nearly won the war on the ground.  The war was finally lost 1974—twenty years later than Christopher supposes—not on the ground but in Washington, when Congress cut military aid to South Vietnam.
I will now send all this to Hitch, offering him the last word.  As Rob says, Hitch is always—always—worth reading.