ParisParamus: Again, why is a mandate like Romneycare less conservative than raising everyone's state income taxes to pay for the free riders? Or, why isn't Romneycare fundamentally different than having raised everyone's state income taxes and then offering a credit if you get private health insurance for not being less of a potential burden on the state? WHY? · Dec 28 at 10:28am
There is a simple answer to the question posed by ParisParamus. Government exists first and foremost for the sake of our protection. Without it, our lives and our property would not effectively be our own.Government exists also to promote our well-being. For its support, however, taxation is necessary, and we have tacitly agreed that, to be legitimate, these taxes must be passed by our elected representatives. By our own consent, we give up a certain proportion of our earnings for these purposes.
The money left in our possession, however, is our own — to do with as we please. It is in this that our liberty largely lies. Romneycare and Obamacare, with the individual mandate, changes radically our relationship vis-a-vis the government. The former presupposes that state governments have the right to tell us how we are to spend our own money, and the latter presupposes that the federal government has that right as well. Both measures are tyrannical. They blur the distinction between public and private and extend the authority of the public over the disposition of that which is primordially private. Once this principle is accepted as legitimate, there is no limit to the authority of the government over us, and mandates of this sort will multiply — as do-gooders interested in improving our lives by directing them encroach further and further into the one sphere in which we have been left free hitherto.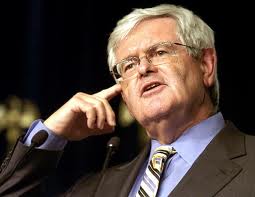 Managerial progressives see only the end — preventing free-riders from riding for free. And they ignore the collateral damage done by way of the means selected. Mitt Romney and Newt Gingrich have no understanding of first principles. For both of these social engineers, citizens are subjects to be worked-over by the government for their own good. Both men are inclined to treat us as children subject to the authority of a paternalistic state under the direction of a benevolent and omniscient managerial class.
There is, however, this difference between Romney and Gingrich. The latter may or may not fully grasp why the Tea Party rose up against the individual mandate, but he recognizes that they did so, and he knows what is good for him — so he has now backed away from the fierce advocacy of this despotic measure that once characterized his posture. The former is more stubborn. Politically, he is tone deaf. He seems constitutionally incapable of grasping the argument, he insists that the individual mandate is consistent with conservative principle, and he will not back off.

Raising taxes to reward free riders is, of course, objectionable. We should oppose it on principle. But it does not in and of itself narrow in any significant fashion the sphere of our liberty. It is a question of the proper use of the public purse. The individual mandate sets a new precedent. It extends government control to the private purse.
Back in May, in a post entitled The Last Man Standing, I wrote, "Frankly, I shudder at the prospect that Mitt Romney will gain the Republican nomination." And I offered the following as an explanation:
As I argued in my book Soft Despotism, Democracy's Drift, there is built into liberal democracy a natural tendency to drift in the direction of the administrative state with its concentration of power in the executive branch of the central government and its entitlement programs. This propensity can only be successfully resisted if we understand its origins and if we take cognizance of the manner in which the American regime, as envisaged by the Founding generation, was designed to stand in its way. This propensity has been systematically and quite effectively exploited by the Progressives and their heirs now for something like a century. What they understand that we need to understand is that a reversal of the trend is well nigh impossible – well nigh, let me add, but not quite. Well nigh because those in possession of entitlements will scream bloody murder if they are threatened. And not quite because, thanks in part to our unwitting benefactor Barack Obama, we no longer have the resources to support the entitlements state. We can certainly raise taxes, as President Obama and the Democrats intend to do, but that does not mean that in the long run we will take in more revenue – and it is massively increased revenue that the entitlement state needs. The Progressives are banking on the unwillingness of a considerable part of the electorate to give up the subsidies on which they live, and on this they have always to date successfully banked. Right now, however, the fiscal crisis of the welfare state offers us an opening, and I am confident that Mitt Romney will miss it. He is the sort of man who never misses an opportunity to miss an opportunity.

Since 1928, when Calvin Coolidge relinquished the Presidency, the office has been held by a number of Republicans – Herbert Hoover, Dwight D. Eisenhower, Richard M. Nixon, Ronald Reagan, George H. W. Bush, and George W. Bush. Only one of these has displayed an understanding of the problem we face, and he was, for understandable reasons, too preoccupied with wining the Cold War, to confront that problem with all of his energy. Hoover, Eisenhower, Nixon, Bush père, and Bush fils were all what I call managerial progressives. Their claim over against the liberals was that they could manage the administrative state more efficiently and effectively than their counterparts. Rarely if ever did any of them mention the Founders. Rarely if ever did they appeal to the first principles of our form of government as they are expressed in the Declaration of Independence. Rarely if ever did they appeal to the Constitution in opposition to the jurisprudential drift of the Supreme Court. Limited government was not part of their vocabulary. They were without clue.

The reasons are simple enough. Not one of these men was properly educated in the principles of American government. They had their virtues. They were practical men, can-do sorts with a pretty good understanding of how to get from here to there. In terms of moral understanding, as it is applied to political matters, however, they were bankrupt or pretty nearly so. The ordinary senior at Hillsdale College these days has a better grasp of the Declaration of Independence, the Constitution, and the conditions of freedom than did any of these men.

The same is true of nearly all Republicans. They come into Congress, the Senate, and state government from the Chambers of Commerce. Few of them have any sort of political education. Most are businessmen. If they have something more than an undergraduate education, it is reflected by their possessing a law degree or an MBA – which is to say, they have been trained to be managerial progressives. Our law schools and our business schools owe their origins to the Progressives. They were created for the purpose of encouraging what Franklin Delano Roosevelt called "rational administration."

The reason why I oppose Mitt Romney is simple, He was born to destroy everything that we have accomplished since the Tea-Party Movement emerged in the Spring of 2009. Romney is the very model of a managerial progressive. He has one great virtue. He knows how to run things; he knows how to organize things. He would make a good Secretary of Commerce. He has no understanding of the principles that underpin our government. And, in fact, like most businessmen, he is a man almost devoid of political principles. Give him a problem, and he will make a highly intelligent attempt to solve it. Ask him to identify which problems should be left to ordinary people and what are the proper limits to government's reach, and he would not understand the question. He is what you might call a social engineer; and, in his estimation, we are little more than the cogs and wheels that need to be engineered.

Not surprisingly, Romney is a political chameleon. When he ran for the Senate against Ted Kennedy in 1994, he rejected the legacy of Ronald Reagan and embraced abortion. When he ran for the Republican presidential nomination, he altered his profile in both regards. It seems never to have crossed his mind when, as Governor, he confronted a Democratic legislature in Massachusetts intent on introducing socialized medicine that the individual mandate is tyrannical. Flexibility is what substitute for virtue in his case.

Romney's political instincts are disastrous. He will betray the friends of liberty and limited government at the first opportunity. If he is nominated, the people who joined the Tea Party and turned out in 2010 to give the Republicans an historic victory are likely to stay home. If, by some miracle, the progenitor of Romneycare actually defeats the progenitor of Obamacare, he will quickly embrace the entitlement state and present himself as the man who can make it hum, as he did in Massachusetts. He is not better than Hoover, Eisenhower, Nixon, Bush père, and Bush fils. He is cut from the same cloth, and in practice he is apt to be far, far worse. The consequence will be the death in American life or at least the decay of the impulse embodied within the Tea-Party Movement.
Everything that I have learned about Mitt Romney in the six months that have passed since I wrote these words has served only to confirm my fears. I have no idea whether the Republicans will prevail in November, 2012. That they have an historic opportunity is clear. But it seems highly likely that their standard-bearer will be a man firmly and fiercely committed to the very same progressive principles that animate their opponents.
In 2002, while running for the governorship in Massachusetts, Mitt Romney said, "I have progressive views." In the most recent Republican Presidential debate, held shortly before Christmas, he strongly denied that his views had changed in the interim on anything but abortion. For the most part, I think, we should take him at his word. He was in 1994 and in 2002 a man with "progressive views," and he still is.
I would like to believe that, if Romney is the Republican nominee (as I have long believed he will be), conservative voters will hold their noses and vote against Barack Obama (as I will do). The support that Ron Paul is now drawing in Iowa and elsewhere suggests, however, that this is in no way certain. Even, however, if Romney and the Republicans win an historic victory in 2012, I doubt that anything will be done by this managerial progressive to roll back the administrative entitlements state. If I am right in my fears in this regard, the Tea Party impulse will dissipate; the Republican party will split; the Democrats will return in 2016; and 2012 will be seen in retrospect as just another bump in the long, gentle road leading us to soft despotism.