With all the Sturm und Drang over the 2012 nomination fight, it's easy to lose sight of the equally important, if not more important, battles that are occurring across the country in what may be one of the most significant Senate elections in the modern era. 
To set the scene: The Democrats are defending horrid ground this cycle, truly horrid. They have seven open seats to defend, including two—replacing Nebraska Cornhusker Kickback King Ben Nelson and liberal bichon frise lover Kent Conrad of North Dakota—which are, barring the arrival of a sweet meteor of death, almost assured to end up in the Republican column.
And for the Republicans, the opposite is true – they have just two open seats to defend. The first is in the strongly red Texas to replace Kay Bailey Hutchison (where the powerful and rich as Croesus Lt. Gov. David Dewhurst is the significant favorite over rising conservative star and Tea Party favorite Ted Cruz). The second is in the significantly red Arizona, where Republican Congressman Jeff Flake is the near-certain victor, to replace conservative stalwart Jon Kyl.
There are numerous races out of the remaining seats which could be included as the top ones to watch. Ohio, New Mexico, and Montana will be significant battles. Republican primaries in Indiana, Utah, and the aforementioned Texas could prove surprising. Nevada is one area of Republican concern, when it comes to holding John Ensign's seat with current Sen. Dean Heller. But in my view, these are the top races to watch for 2012.
5. Wisconsin
A state that has only gained in national prominence thanks to the heated battles with Gov. Scott Walker and Paul Ryan's ascension as liberal boogeyman, Wisconsin's Senate seat is being sought by Rep. Tammy Baldwin for the Democrats, who awaits the victor of a primary contest where the two major contestants are former four-term Gov. Tommy Thompson and former Rep. Mark Neumann. I've known both men for years (and worked for Thompson at HHS), and their styles are widely divergent. Neumann, a businessman and a deficit hawk, has attempted to build Tea Party credibility to gain traction against the still popular Thompson, who has caught a bit of Washingtonitis (many of the charges against him seem similar to those brought against Newt Gingrich – questioning the lines of influence and lobbying). But even though he hasn't run for anything in more than a decade, Thompson is still a capable politician and well-connected. In chatting with some contacts in Wisconsin, they emphasized his surprising ease in returning to the campaign stump without skipping a beat. If this continues and gaffes are avoided, Neumann will have a tough time beating him.
This race may end up resembling Indiana's 2010 race, where retired Senator Dan Coats returned to electoral politics and beat out John Hostetler and Marlin Stutzman in a closer than expected primary. The old hands tend to comfort people in tough times.
4. Missouri
Democrat incumbent Claire McCaskill is just not a very good politician. With a tin-ear and a tendency for gaffes, she is currently benefiting in polls from a divided GOP field, which includes Rep. Todd Akin, businessman John Brunner, and former State Treasurer Sarah Steelman. But that benefit is quite small. According to Democratic polling firm PPP, "McCaskill's approval numbers have hit their lowest mark since Democrats' disastrous summer of 2010, and that she no longer leads any of her potential Republican opponents for reelection." Akin and Steelman have tangled in a couple of debates, with Steelman accusing the Congressman of being a bit too Washington (particularly on earmarks, which Akin supports). Brunner has spent a good deal of money raising his name ID, but has yet to debate. I'd put the odds slightly in favor of Akin taking the primary—Steelman is short on cash, and Brunner is unproven—but with any of these three, the race is likely to be close and hard-fought.
McCaskill may be a poor politician, but she's likely to get a significant amount of financial backing from national Democrats in an important state.
3. Virginia
Another former Senator trying to win his old job back is Virginia's George Allen, ousted by the now-retiring Jim Webb in a 2006 election that saw the most prominent YouTube casualty since the site's inception. Allen is the odds-on favorite to win the nomination, but his path became more difficult with the entrance of social conservative hero Del. Bob Marshall, who nearly beat former Gov. Jim Gilmore for the GOP Senate nomination in 2008. There are key differences this time, however—that 2008 race was a convention, not a primary format, and Allen's statewide name ID is far superior. And another opponent in the race, Tea Party leader Jamie Radtke, could easily end up splitting more conservative voters.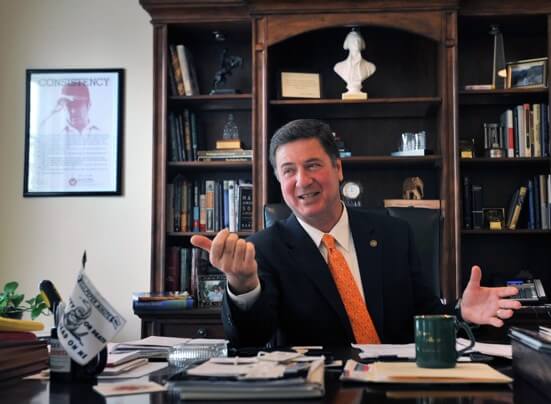 As for Allen, the son of the Redskins coach has gone through a roller coaster ride in his career—a rising star in the late 1980s, he was redistricted out of his Congressional seat after the 1990 election and decided to run for governor, upsetting a popular Democrat Attorney General and becoming one of the more popular governors in the modern history of the Old Dominion. In 2000 he took on veteran Democrat Chuck Robb for the Senate seat, becoming the only Republican in that year to knock off a Democrat incumbent (coattails in that election were not in George W.'s repertoire). Allen was viewed as a potential presidential candidate in 2008 by many—unfortunately, this may have led him to serve with too much of a mind on national politics, not the state he represented. When the macaca gaffe came, his campaign team—led by once-vaunted consultant Dick Wadhams, who would in a few short years go from being hyped as the next Karl Rove to being booted from chairmanship of the Colorado GOP—mismanaged their response to a terrible degree. Allen's inability to handle the media crush handed the election to Webb, who was barely a Democrat and never had much interest in being a Senator.
Should he take the primary nod—and I expect he will—Allen will be up against another former Governor, Democrat Tim Kaine. Kaine may be hurt by serving in his prior role as DNC chair, which doesn't play well in the more red parts of Virginia. But Kaine is still generally liked, and Virginia is very much a purple state these days. National fortunes – popular GOP Gov. Bob McDonnell is high on the list of potential Vice Presidential nominees - may play heavily into how Allen fares on Election Day. One problem for Republicans: the fact that an abbreviated primary slate (only Mitt Romney and Ron Paul qualified for the ballot) may lead to a lack of information for Republican get out the vote efforts has some GOP politicos concerned about a missed opportunity in a swing state. There will essentially be no opportunity for a test run for November, and last time around, Obama's team had a dominant ground game that turned the state blue.
2. Massachusetts
The moderate to liberal Republican Scott Brown, elected to replace Ted Kennedy as the 41st vote against Obamacare, is likely to face what for all intents and purposes is the great liberal hope of the 2012 cycle: the decidedly anti-capitalist Elizabeth Warren. Warren has pulled in an absurd $5.7 million in donations in the fourth quarter of 2011. Left-wing idol Warren is essentially the place for true liberals to put their cash this cycle, a martyr for the cause (her nomination to the U.S. Consumer Financial Protection Bureau she envisioned was blocked by Senate Republicans) who speaks in stridently leftist language about bringing the moneymakers to heel. I still can't help but laugh a bit at the New York Times headline from last year—"Heaven Is a Place Called Elizabeth Warren".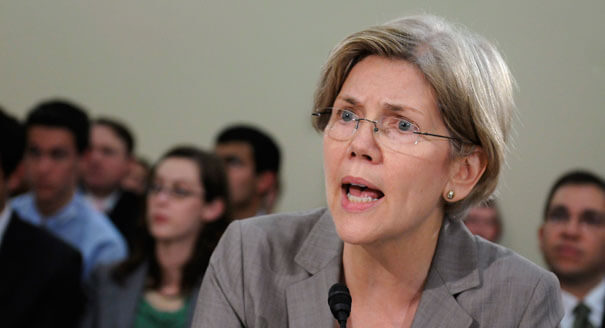 While Warren has a cult-like following of hangers-on, she is not a particularly proven general election politician. Last month, she flubbed a question on the Red Sox (something which proved the undoing of Brown's prior challenger, Martha Coakley), a big no-no in Bay State politics. But I expect that so much money will flow into this race on Warren's behalf this cycle that Brown will be hard put to defend his seat. He's responded to this by shifting to the left in numerous ways—perhaps what has to be done, but unlikely to engender him to national donors.
Will Mitt Romney step in as the nominee to bail Brown out? Does Romney even have that kind of pull in Massachusetts any more? Does Brown, who's been tying himself to Obama of late, even want the help? The candidates make this a key race to watch, and for many liberals, they'd gladly trade a few losses in other states to be able to get Warren into the Senate.
1. Florida
The big prize this cycle in my opinion has to be Florida, a state that should by all rights have two conservative Senators, but instead has the frustratingly enduring Democrat Bill Nelson. Nelson has $8.4 million in cash on hand and won in 2006 with 60% of the vote, but he faces a fresh-faced challenger with a famous name of Rep. Cornelius McGillicuddy IV… better known as Connie Mack, the 44 year old son of the former Senator Nelson originally replaced. The latest Miami Herald poll data has Nelson up slightly, with a three-point lead over Mack the younger, 45-42 percent. In Mack's favor, he hasn't come out of a crowded primary yet (he got into the race late); but in Nelson's favor, it's unclear if Mack will be able to match his war-chest, and whether his famous name will be matched by his performance down the line.
Over the past few weeks, Mack gained abundant free television coverage by being an outspoken surrogate for Mitt Romney, trailing Newt Gingrich around to various events to do offsetting interviews. The Herald pronounced him the real winner of the Florida primary thanks to his performance. But as a swing state that went for Obama last time, Florida could see a great deal of presence from the presidential candidates in the fall, and how much that changes the course of the race is difficult to predict. Knocking off Nelson would be an impressive feat, and if Mack can pull it off, Florida could lay claim to two young Republican senators with very bright futures.