First as a candidate and then as president, Barack Obama repeatedly promised his administration would "have a health care plan that would save the average family $2,500 on their premiums."
Yet since the president passed his health care law, with exclusively Democratic support in Congress, health premiums have continued to rise – and every datapoint we have indicates a significant portion of that premium increase is due to Obama's law and its impending regulations and costly mandates on what coverage must be provided.
A recent study conducted by the Kaiser Family Foundation illustrates the problem. The average employer health insurance premium rose by 9 percent in 2011, three times the increase of 2010, and family premiums exceeded $15,000 a year for the first time. In some states, premiums rose by even more – they have now risen by $2,213 since Obama took office according to Kaiser's numbers.
Glenn Kessler, the Washington Post's fact-checker, is having none of this. He says an ad that references the Kaiser survey is an overuse of a "single data point" to suggest premiums are increasing because of Obama's law. He writes:
"Six in 10 Americans are seeing their [health insurance] premiums rise. The average cost of a family policy is up $1,300. Another part of President Obama's health care takeover will cost $111 billion more than promised." –Voiceover in a Republican National Committee TV ad about the Obama health care law

Be wary of the single data point, exploited either by Democrats or Republicans.

This new RNC ad slams the Obama health care law for already causing a boost in health care premiums, even though much of the law has not been implemented. (The ad frames this as breaking President Obama's already dubious promise that the health care overhaul will result in average family premiums declining by $2,500.) …

As we said, be wary of a single data point.

Now, the RNC makes the same mistake in focusing on the increase in health care premiums. The Kaiser survey does not suggest that the premium increase has much to do with the health care law; indeed, it notes that "many of the most significant provisions of the Patient Protection and Affordable Care Act (ACA) will take effect in 2014."

The provisions that have taken effect, such as providing coverage for adult children up to age 26, thus far appear to have had modest impact on premiums. Kaiser says it will monitor the impact on employers but it generally places the year-to-year increase as part of an overall trend of sharply rising costs. "Since 2001, average premiums for family coverage have increased 113 percent," the report notes.

Indeed, when Kaiser looked at just the increase in the portion of the premium that workers contribute, the report said that neither the amounts for families nor individuals represented "a statistically significant increase over the 2010 values."
Kessler's work, particularly in the health care space, routinely displays an obtuse naiveté for how policy applies in the real world. Last year, he assigned Four Pinocchios (his suitably ludicrous measuring standard) to the claim that Medicaid gets ripped off by rich people, because after he looked into the matter, he found rich people don't qualify for Medicaid. Yes, really. (And of course, he was wrong about that BMW thing.)
Kessler makes a number of assumptions in this piece, but let's drill down to a pretty basic one: He assumes for Republicans to claim premiums are increasing means they are assigning the entirety of those premium increases to the effects of Obama's law, when in fact the ad makes no such claim. It merely claims premiums are going up, not down, as Obama promised.
This is simply a fact, one established not by "single data point" claims but by the overwhelming evidence we have on hand. I'm unsure what Kessler even means by that repeated "single data point" line. Does he mean to suggest the Kaiser survey is inconsistent with the balance of research or reports in the field? Even the estimates from the Congressional Budget Office before the passage of the law indicated premiums would increase by a significant amount because of its requirements:
Average premiums per policy in the nongroup market in 2016 would be roughly $5,800 for single policies and $15,200 for family policies under the proposal, compared with roughly $5,500 for single policies and $13,100 for family policies under current law. The weighted average of the differences in those amounts equals the change of 10 percent to 13 percent in the average premium per person.
And this is consistent with the continued projections we're seeing from across the country. These have since been supplemented by reports at the state level about expectations of premium increases relative to what would have happened if Obamacare didn't exist, such as in Indiana , where "The estimated ACA-driven premium rate change for the Indiana individual insured market beginning in 2014 is 75% to 95%." And also Ohio , where premium rates in the individual market are expected to rise between 55% and 85% thanks to the law.
We also have the estimates of Obamacare architect Jonathan Gruber, who sees increases in premiums (as opposed to the decreases he anticipated just a few years ago). In Wisconsin , he anticipates a premium increases of 30 percent by 2016 in the individual markes; in Minnesota , he claims the individual market will see increases in premiums by 29 percent. And in Colorado , he expects premiums will rise by 19 percent relative to what they would've been without Obamacare.
And this isn't just about mandates on insurers – it's also about the acceleration of health care spending. When you subsidize something, you're going to get more of it. According to Health Affairs' comprehensive look at national health spending projections through 2020 , we're due to see a 10.7 percent increase in prescription drug spending in 2014, an 8.9 percent increase in physician and clinical services in 2014, and a 7.2 percent increase in hospital spending in 2014 – all higher than the spending anticipated without Obama's law. And guess who's paying for this new spending? The insurers. What do you expect to happen to premiums, exactly?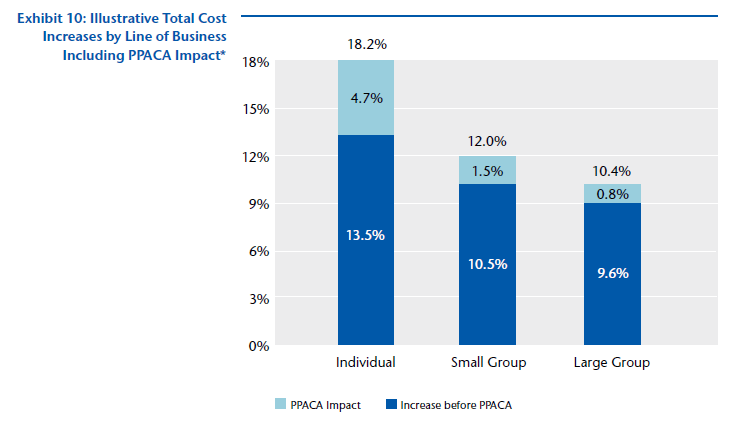 This recent AON Hewitt survey on what is driving these premium increases finds the individual market is feeling disproportionate impact from Obama's law. There's even a handy breakdown of the portion of the increase that insurance carriers believe is due to the handful of PPACA's elements which have already gone into effect. Note the range of impact on individual policies in this chart, which shows how the expenses of just the few provisions that have taken hold already. As the report notes:
[I]t is important to consider the additional factors that contribute to overall premium increases – including changes in the covered population, deductible leveraging, and benefit changes driven by PPACA. These items are usually smaller than core trend, but can still have a significant impact on premium increases. On average, reported impacts for covered population changes and deductible leveraging show that these items increased estimated 2010 health care costs by an additional 1.8% to 5.2% over core health care trend, depending on line of business. Many PPACA impacts will first be largely reflected in 2011, with average projected impacts by line of business ranging from 0.8% to 4.7%.
Now, this is just the word of insurance carriers themselves – but what do they know about costs versus a well-trained fact checker? And of course, how much of these increases on an individual policy level are due solely to Obamacare is a matter of debate. But as I pointed out at the beginning: the ad Kessler's attacking didn't claim prices were increasing solely due to Obamacare. And there is no debate about these simple facts: that every measure and datapoint we have indicates Obamacare is making premiums more expensive, not less; that they are exceeding expectations in terms of cost increases, not slowing their rate of growth relative to estimates; and that the impending mandates and regulations will continue to increase those premiums and do nothing to stop their rise. That will be up to price controls and bureaucratic regulators to do, after all.
One last point: Kessler needs to update his fact sheet on the operability of Obama's claims. He writes:
We offer no defense of Obama's claim that his health care law will reduce premiums by $2,500. (There was an asterisk to that claim – he was talking about what premiums would have been in 2016 absent the law, not an actual dollar decline from current rates.) He will have to answer to Americans if his law fails to live up to that pledge, or if people feel misled by his careful wording.
Kessler needs to re-check that asterisk he's imagining. The White House long ago backed off that $2,500 savings figure (at one point it was actually $3,000) and extended the timeline for its applicability from 2016 to 2019. Deputy Chief of Staff Nancy DeParle, one of the president's leading health care policy advisors, told ABC News last year that families won't see those savings for another eight years, until 2019 – well after Obama's second term would conclude. She also scaled the figure back to "around $2,000" in savings.
In other words, it would be well after the point where Obama would "have to answer to Americans" as Kessler claims. And that's a fact.