"I tend to stand," Paules wrote yesterday, "with the moral philosophers at Ricochet who believe that the erosion of public morality is a greater threat to liberty than any external force." Without disagreeing, Katievs said, in effect, don't frighten yourself to death. "I'm reminding myself a lot lately of the wisdom of the saints. Attend to the tasks of each day and hour. Trust that the grace will be provided for what lies ahead."
Both Paules and Katievs, I thought, reading their posts yesterday, possessed important insights–insights with which I myself agree. At the same time, I felt a certain tension between them. Paules wants to think about the future, getting a sense of where contemporary developments are heading. And isn't every thoughtful American inclined to do just that, even if the future looks unnerving? Katievs wants to put worries out of mind, directing our attention to the tasks each of us has at hand. And isn't that a perfectly sensible approach? But which is it? Are we to think big thoughts? Or confine ourselves to the quotidian? In the present moment, which so many aspects of the American experiment appear to be in danger, what are we to do?
In Washington yesterday, Archbishop of Philadelphia, Rev. Charles Chaput, addressed just that question. The Archbishop's address strikes me as brilliant, wise, learned, compelling, and–a vital point–helpful. Are things going badly? They are indeed, said the Archbishop–even more badly, perhaps, then we sometimes permit ourselves to realize:
It took less than 30 years for abortion to go from a crime against humanity at Nuremberg to a constitutional right. It's taken even less time for disordered sexuality to become sacralized in law and redirect the course of our culture….And if we think we have some kind of safe haven from these events in America's tradition of religious freedom, we should probably think again.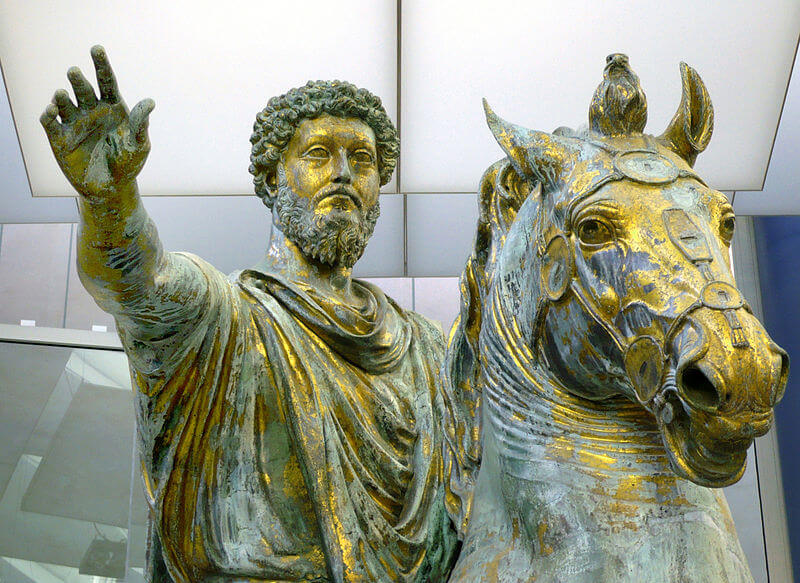 How, then, are we to lead our lives? What are we to do? The Archbishop directs much of his answer, of course, to Catholics, but–and this struck me as very nearly the most powerful part of his remarks–he also holds up an example of purely human, secular virtue: Marcus Aurelius, Roman emperor from A.D. 161 to 180.
[M]any of this thoughts, which we now call the Meditations, were written at war, at night, in winter, from inside a Roman military tent, on the German frontier….[Marcus Aurelius] fought one brutal war after another…and he did it to defend a society that had already lost the values he held dear. Moreover, in the long run he failed. The barbarians won.
Why is Marcus Aurelius worthy of our attention? Because "he chose to seek what is true and right and lasting, and he disciplined his own life accordingly." The Archbishop offers specific suggestions about what we must do to reclaim American culture–and he insists that whether or not we are likely to succeed is really not for us to say. We must, like Marcus Aurelius, fight the fight in which we find ourselves. In the words of Archbishop Chaput:
Nothing is more compelling than a good man in an evil time.