The despair was palpable as the election results came in last year, seemingly confirming for many our worst fear, namely that the preponderance of our countrymen wished to be relieved of responsibility for their own existence. Conditioned in many cases by government schools that inculcated the supposed virtue of the collective over the individual, these people grew to become reliable subjects of the nanny state, preferring the wretched dependence of Obama's "Julia," to the muscular liberty and sovereignty of their forefathers.
I, for one, had resolved to stop handing anything to the myriad panhandlers that frequent truck stops other than a slip of paper on which I had written the phone number to the White House switchboard. If Barack Obama wanted to play Santa Claus with my earnings, I reasoned, let him take the phone calls of his huddled dependents, yearning to breathe in the spoils of other people's labor.
The election seemed a horrible vindication of Benjamin Franklin's warning that, "Only a virtuous people are capable of freedom. As nations become corrupt and vicious, they have more need of masters." From the Oval Office to Congress, from the Supreme Court to a profusion of administrative agencies and czars, the American people do not suffer from a shortage of would-be masters. Rather, it seems our's is a dearth not only of humble public servants, but of citizens willing to embrace their heritage and boldly assert the unalienable rights that generations of patriots fought and died to preserve.
As Mark Levin notes in his latest work, The Liberty Amendments, it would be foolhardy to restrict our efforts to convincing the nominal opposition party to exert vigorous opposition. Indeed, aside from meaningless token votes in the House of Representatives, when a congressional Republican actually proposes substantive defiance to the ever-expanding state, he is more likely to receive a whack on the head from Karl Rove's little white board or a rebuke from Bobbsey Twin Senators McCain and Graham than an endorsement from his own leadership. What we are witnessing is a disturbing and seemingly unstoppable coalescence of both major parties into an amalgamation of autocrats, ambitious to maintain their own power and anxious to relieve us of our property and liberty.
Meanwhile, a sense of buyer's remorse appears to be growing as America emasculates itself, with our economy stuck in neutral at home, and our enemies emboldened by our own timidity and confusion abroad. Businesses from IBM to DuPont and Caterpillar move people off of company-provided health insurance plans as premiums surge upward (President Obama's promises notwithstanding). Elsewhere, local governments, universities, and smaller businesses alike are reducing employee work hours (and earnings) to avoid the crushing costs of the Orwellian-named Affordable Care Act's requirements. In an unfortunate reversal of historical trends, where six full-time jobs were created for every one part-time job last year, one full-time job is being created for every four part-time jobs thus far in 2013.
From economic stagnation to a growing list of humiliations on the world stage, Barack Obama's ability to exploit the immunities of the Limbaugh Theorem (wherein he separates himself from his own governance) appear to be diminishing. According to Gallup, the President's approval rating is suffering. After touring the country in support of his economic ideas over the summer, his approval on economic matters dropped from 42 percent down to 35 percent. Approval of his foreign policy collapsed from 52 percent in December down to 41 percent at the end of last month. Meanwhile, Gallup finds that only 36 percent of Americans support his proposed Syrian adventure, the lowest support for any military action recorded in the last 20 years, which may be less of a reflection of our supposed "war-weariness," than a distrust of half-measures destined to failure under the leadership of man who disavows his own policies and ultimatums. If change is predicated on disillusion, the time would appear ripe. 
There is a growing sense that the moment may soon arrive when the collateral damage of liberalism will become so obviously insurmountable for all but the most die-hard fans of centralized authority, that many will become receptive to an alternative. The laws of economics are ultimately no more flexible than the law of gravity after all, as that bastion of liberalism and unionism, Detroit, is demonstrating. From this perspective, the timing of Levin's sterling effort couldn't be better. 
Highlighting a method for redress which the Framers themselves included in the Constitution for precisely the time when the federal government might become incapable of reforming itself, Levin cites the means by which the states themselves can call for a limited convention for the sole purpose of proposing amendments, bypassing Washington DC altogether.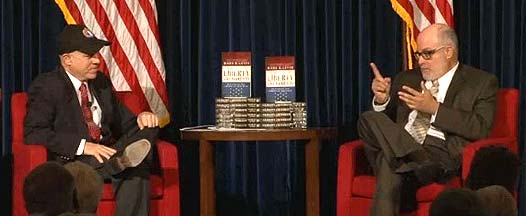 Last evening, at the Reagan Library, Levin was asked to pick which amendment, out of the eleven he has proposed, he would select if he could save only one. Interestingly, he selected the amendment in which states would be able to directly amend the Constitution by a two thirds vote.
I figure if the Supreme Court can amend it by one Justice, and if the President can amend it by refusing to comply with the law, and if Congress can amend it by writing Obamacare, then what the hell. Two thirds of the states, and that's pretty tough to get, should be able to amend it directly.
Where Barack Obama sought to "fundamentally transform" America into something the Founders risked everything to escape, Mark Levin seeks nothing less (or more) than the fundamental restoration of a great republic. From term limits on Congress and the Supreme Court to an amendment to limit the growth and reach of the administrative branch of government (which issued some 3,000 new regulations just last year), and an amendment to allow states to directly amend the Constitution, Levin proposes a total of eleven amendments geared toward reining in a runaway bureaucracy that has become unmoored from its constitutional foundation and openly mocks citizens with the temerity to challenge its incursions into their private lives.
Noting that his proposed amendments are by no means chiseled in stone, Levin was careful to make two important observations last night. First, his immediate goal is to start a grass roots conversation among the good people of this country that could spread to the state legislatures themselves, gaining momentum as citizens again realize that the country belongs to them, not to state functionaries. Second, while conservatives are perfectly capable of working at the federal level, which is to say electing the most conservative candidates possible to federal office, they would be well advised to simultaneously pursue the method that the Framers provided in Article V of the Constitution to address a ruling class that consistently and arrogantly governs against the will of the people.
Forever fearful of almost everything generally, and specifically terrified of being labeled as the, "party of no," some on our side tend to look at the Democrats' sprint to the left and offer as their alternative the idea that we should instead walk sensibly in the same direction, while chastising the rest of us to come up with a better idea. Having studied the text of the Constitution, along with the background and even the correspondence of the Framers, Mark Levin has offered a provocative and compelling alternative that deserves a careful reading and consideration.
— If you wish to join the conversation on this post, we invite you to become a Ricochet Member. Enjoy great content and podcasts, post your own opinions, converse with leading figures on the Right, and much more. Ricochet – The Right People. The Right Tone. The Right Place. —