"MSNBC is in serious trouble." That according to Dylan Byers, Politico's left-leaning media reporter and regular critic of Fox News.
The Peacock Network's crazy uncle in the attic has struggled to find a voice ever since Bush left office and Obama's halo began to fade. Shockingly, MSNBC's obsessions with racial insults, ritualistic Palin hate and New Jersey traffic reports have not translated to ratings or revenue.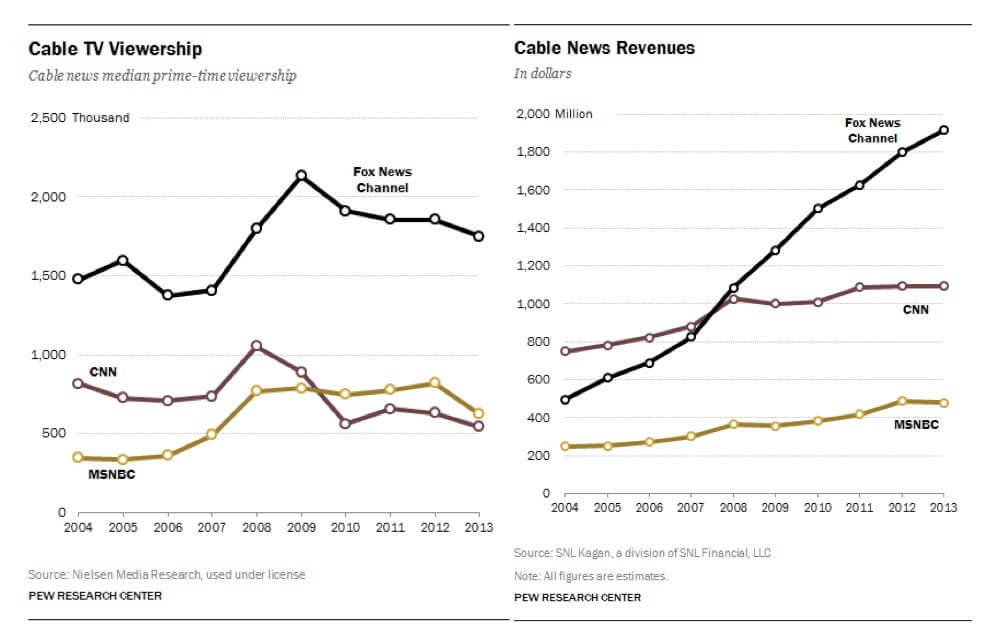 MSNBC viewership remained stable 2008-2012, but precipitously dropped as the Obama administration became mired in scandals and policy failures. Worse, the network's revenues remained anemic during their boom years; the bust seems only to have begun:
MSNBC isn't seeing that growth, and it's not clear how it will. In a world where liberals wanted to be outraged by George Bush every night, or celebrate the rise of Barack Obama, MSNBC had a theory of the case. But now Obama's presidency has turned into a slog, and MSNBC isn't compelling. Primetime is just hours of what often seems like feigned outrage. And the daytime strategy — giving shows to kids in their 20s and 30s, in an apparent bid to reach the youths — is comically bad, and rendered absurd at every commercial break when the catheter ads come on.
The network is famed for their amateurish hosts and production standards, most recently demonstrated during yesterday's Ronan Farrow Daily. As the 26-year-old host smirked about Freedom Tower BASE jumpers, the Chyron showed zero understanding of recent WTC history (shown above).
CNN also suffers weak viewership, but their revenue picture has remained remarkably stable. But their future remains in doubt, considering their ludicrous coverage of the missing Malaysian Airlines plane. (By Thursday, Anderson Cooper will be seeking clues in chicken entrails.) The original news channel is so desperate to beat MSNBC's ratings, a tacky Chyron wasn't enough:
Two CNN employees were reportedly caught trespassing at the World Trade Center site in New York Tuesday, according to The New York Post. Anonymous law enforcement sources told the post the individuals in question are Connor Boals and Yon Pomrenze, both of whom are identified as CNN producers on their LinkedIn pages.
One of the people who spoke to the Post said "they were trying to prove a point" about how anyone was able to get in.
Breaking news: OUT. Breaking and entering? IN.